Damian and I have been lucky enough to become friends with Fajer and Amani over the past year. They are a wonderful warm, generous couple who are used to helping others (Amani worked with orphaned children for the UN in Damascus) rather than asking others for help. But right now they really do need support.
Fajer and Amani came to live in High Wycombe last year after being granted refugee status. They had been apart for 18 months while their asylum claim was assessed and, after their traumatic experiences in Syria, were excited to be able finally to start a new life here.
Amani is an accomplished artist who studied at the Damascus College of Fine Art under some of Syria's leading artists. Her work has been exhibited in galleries in Syria, Lebanon and Holland. Fajer is a professional musician who graduated from the Conservatoire of Damascus as a classically-trained double bass player. As well as being a member of the Syrian National Symphony Orchestra , he has played double bass and bass guitar in ensembles covering many genres, including jazz, classical and pop.
Despite their many talents, life here has been a real struggle. Fajer has been working long shifts in factories, earning the minimum wage, while Amani has focused on learning English. Amani has also been supported by local artists and given studio space, but lost this last month when the landlords decided to demolish the building. Their income only just covers their rent and some months even paying for food has been a struggle.
More than anything, Fajer and Amani want to be independent and self-sufficient. In Syria, Fajer supplemented his income with lorry driving and he would like to do the same here. He has studied for and passed his HGV theory test but the practical test (including training and lorry hire) will cost £1400. They would love to get a small van, which would increase their work options, help Fajer to travel to concerts (it's difficult taking a double bass on public transport!), and reduce their isolation.
The money we raise through this appeal will pay for:
- Fajer's lorry driving exam
- buying a second-hand van that Fajer can use for removals and delivery work
- painting materials for Amani and possibly rent for studio space
Thank you so much for any donation you can give. They are truly grateful.
(PS If you are interested in purchasing Amani's art, do drop me an email and I will send you photos. It's stunning - we have already invested!)
One of Amani's paintings - Syrian refugee children: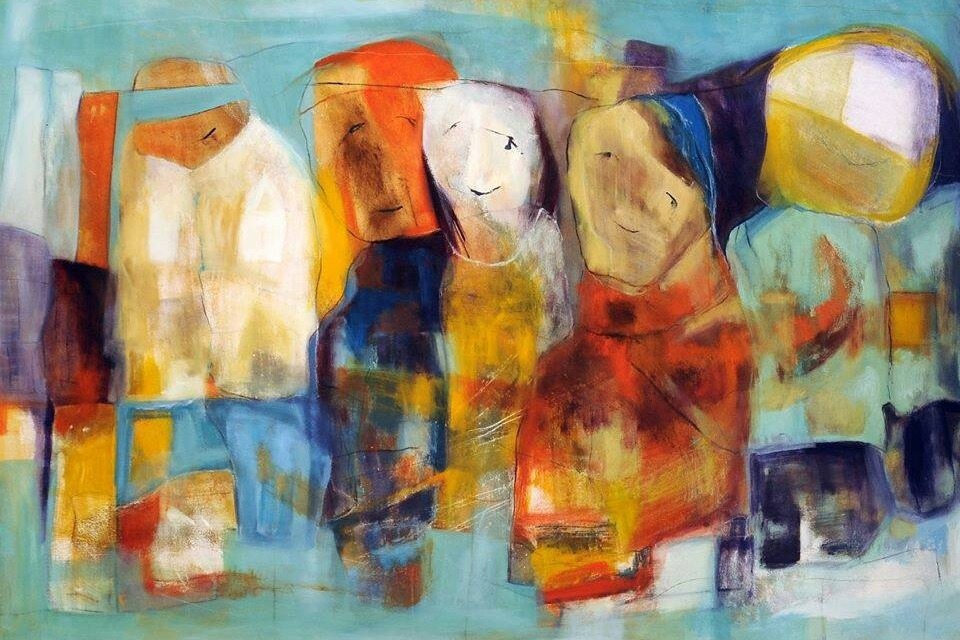 The Gofundme team have asked me to add the following information:
- I live in High Wycombe and see Fajer and Amani regulary, and I am also in touch with them by phone and email.
- I'm a charity consultant but I am running this appeal in a personal capacity.
- Every penny raised will go straight to Fajer and Amani and be paid into their bank account.
Organizer