Education and support for Yunika
Sitti, Udin and their 12 year old daughter Yunika are teetering on the edge of tragedy.
I first met the family in 2012 when I was living in Jakarta. They were living on the street in absolute destitution. I would walk past them every day, stop and chat and watch as Yunika coloured in pictures on the sidewalk.
Despite this hardship, Sitti and Udin were intent on giving Yunika an education, and so set about finding a new way to make money. They discovered a market for recycled plastic and got to work. This is back-breaking labour, and only generates enough income for the family to scrape by.
Sitti, Udin and Yunika now rent a tiny leaky room in a Jakarta slum. In this room (which is smaller than an average Australian kitchen and has a tattered sheet for a door), they sleep, cook, clean and work. And among all of this, Yunika diligently tries to do her homework.
It's hard and it's unsustainable.
Without intervention, there will not be enough money for the family to support itself and Yunika is at risk of dropping out of school in January (she'll be 13 years old by then). Without an education, Yunika's bright mind and happy attitude will be wasted in poverty. 
But it doesn't have to be this way.
Instead of giving a poor family food for a day, we can give them the tools they need to generate a sustainable income and secure an education for a lifetime. 
With $2000, Udin and Sitti can purchase the materials they need to expand their recycling enterprise and become completely self-sufficient, thereby keeping Yunika in school. Any additional funding above this amount (hopefully another $2000) will cover short term costs and provide a small reserve in case of emergencies, thereby safeguarding Yunika's eduaction.
Perhaps you're wondering "
why this family?
"... After all, aren't there many others whom we could help, both in Australia and overseas? The short answer is "
yes
" - there definitely are others in need of help. But, in my (albeit biased) opinion, this family is special. Despite all the odds, they are an incredible, loving and caring unit that keep smiling while fighting for their livelihood every day. In doing so, they have already demonstrated great efforts to lift themselves out of the poverty cycle and I am confident they will put this money to good use.
Your donation 
will
make a difference.
----------------
Udin standing in front of his single-room home.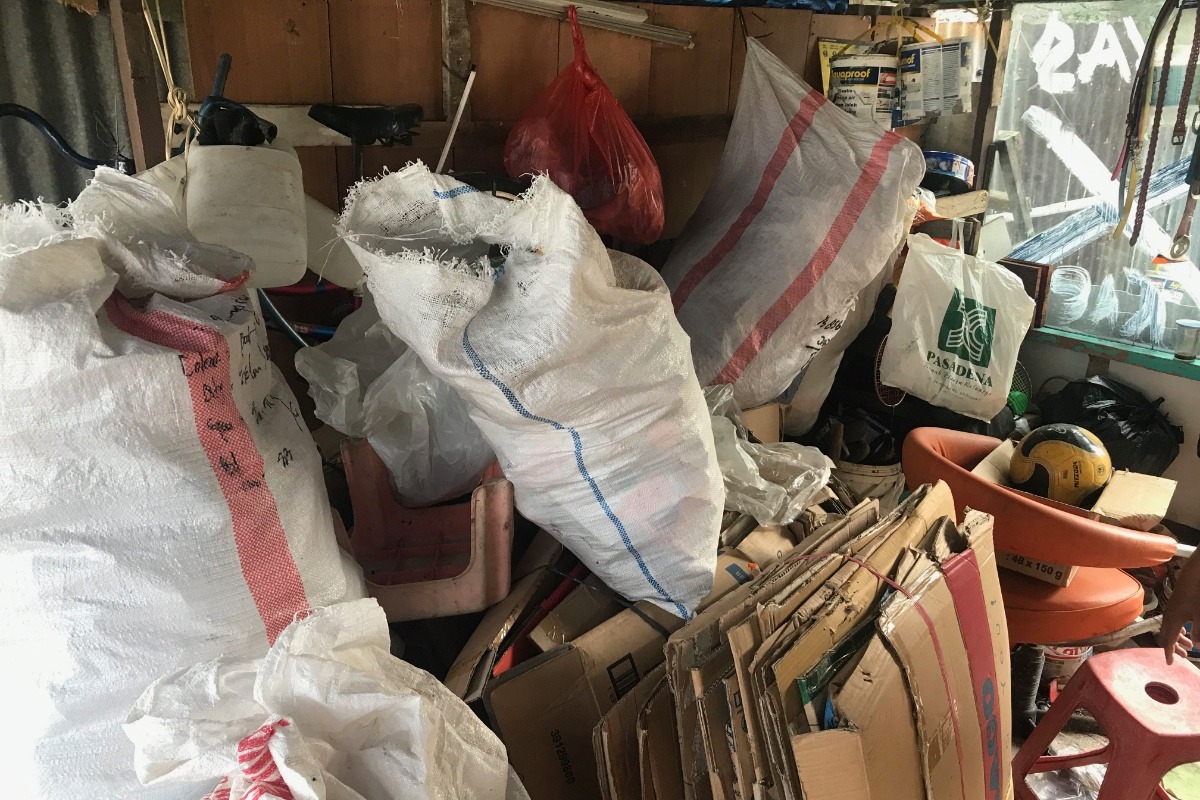 Sitti and Udin's  existing plastic and cardboard recycling operations



Inside the family's home (approx 4m x 3m) where the family sleeps, eats and works - and where Yunika studies


Udin, Yunika, Sitti and me (September 2018)
----------------
If you are minded to donate to a family in need, a family that has struggled through adversity, and a family that has demonstrated great passion and potential, then Sitti, Udin and Yunika are your perfect candidates. Having fought their way out of homelessness five years ago, they have already come so far. But now, with Yunika's education at risk, they need a helping hand.
With an injection of capital to convert their recycling enterprise from something that just barely pays the bills (and sometimes not at all), to something that will give them certainty, shelter and education for years to come.
----------------
$2,000 is required to establish the recycling business.
$500 is required to meet short term fees, including food, rent, sanitary products, school administration fees, books and uniforms.
$1500 or more is required to provide a small buffer for emergencies and thereby safeguard Yunika's education.
To be clear: I will provide all money received through this 
Go Fund Me
page directly to the family.
Your donation will mean a lot to this family (and to me).
Organizer
Jeremy Fultheim
Organizer
Northcote VIC