Support Marlin Development
About this Campaign
Since October 2014 I've had an obsession with
Marlin Firmware
 , the open source code that runs most of the world's personal 3D printers . At that time the project seemed to be languishing without much activity, the code had become a bit messy and hard to maintain, and it was fragmenting into many distinct forks without much contribution back to the project, in part because it was hard to get anything through. As a huge fan of 3D printers and Marlin this really bugged me. So I started making regular contributions in my spare time.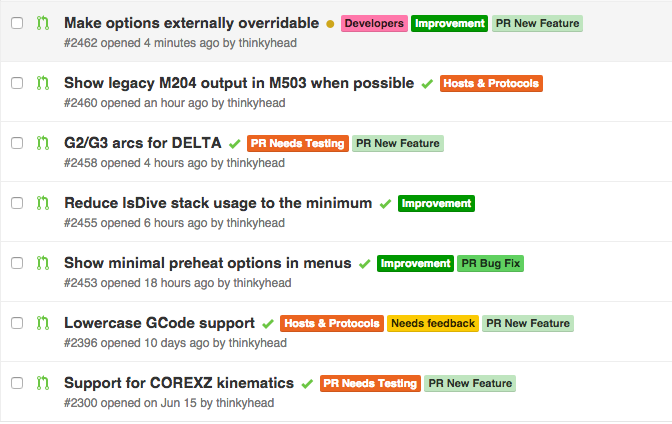 I began with small cosmetic tweaks (such as a progress bar for character LCDs) but soon I was drawn deeper into the issue queue. And very quickly I became a very active developer on the project, doing several commits every week and spearheading a major cleanup of the code. Naturally the increased pace of change roused the community, and Marlin has become far more active and vibrant in the ensuing months. As a result of this new flurry of activity, the next release of Marlin is going to be truly awesome!
(SD sorting is experimental only.)
Unfortunately, as I have been spending my days working on Marlin, I've been neglecting other paying work that I might pursue (and, to be honest, I am quite burned-out on web development). So, at the height of Summer my resources are running out, and I may have to divert my attention to other work after all. But I would rather continue to get up and work on Marlin each day and keep the momentum going, at least until the 1.1.0 release, and hopefully beyond.
That's where you come in, RepRap Community! I'm trying to raise enough money to cover my modest living expenses, rent, and food so that I can continue to contribute my programming expertise and focus my efforts on this technology that I love so much.
I'm offering a few reward levels so you can have a token of my gratitude and some of my time to help with Marlin or other printing issues. Because
everyone should build an i3
, I'm giving out Prusa i3 plastic parts (in natural and white PLA) to the first 6 Platinum donors. You'll thank me later!
Finally, as a tribute to all of my donors, I will be writing and performing a song to recount your support of Marlin and the replicating robots that changed the world, which I will post at a later date.