Support Aspen Moon Farm (Hail)
This fund is to support Erin and Jason Griffith, owners of Aspen Moon Farms.
 Aspen Moon is a small organic farm that mindfully tends to 99 acres in Boulder County at several sites, including 60 in Niwot. 30 of those are on the Boulder Valley Waldorf School, 11 of which are planted with a variety of vegetables. On June 19th an epic 30-minute long hail storm flattened just about everything on their Niwot fields, ruining the majority of the 11 acres of vegetables on the school property and 7 acres of Heritage wheat planted on the adjacent county property. 
Now you would think that this is the type of thing that farm insurance covers. But given how our food industry runs, farm insurance is really only an option for large industrial farms that practice mono-culture.  Insurance is only available from the US government, and they charge $700 per crop, regardless of acreage. So if you have 1200 acres of corn, that is a great deal. If you have 40 different crops on 11 acres, that will run you $28,000 for coverage - not really a good deal, especially since they only pay out 50% of industry-standard wholesale, and thus value heirloom grains or organic vegetables the same as the industrially-produced variety. Long story short, small integrated organic farmers don't have access to crop insurance the way big agribusiness does.
Jason and Erin are dedicate and caring people who are genuinely trying to heal the earth and feed their community the most healthy food possible. That nature has dealt them such a blow is a real tragedy. I am hoping that the community can pitch in and be their crop insurance for such a devastating blow. 
Funds raised will go to Jason and Erin to pay their end-of-season farm loans, loans that would have been paid with the crops that the hail destroyed.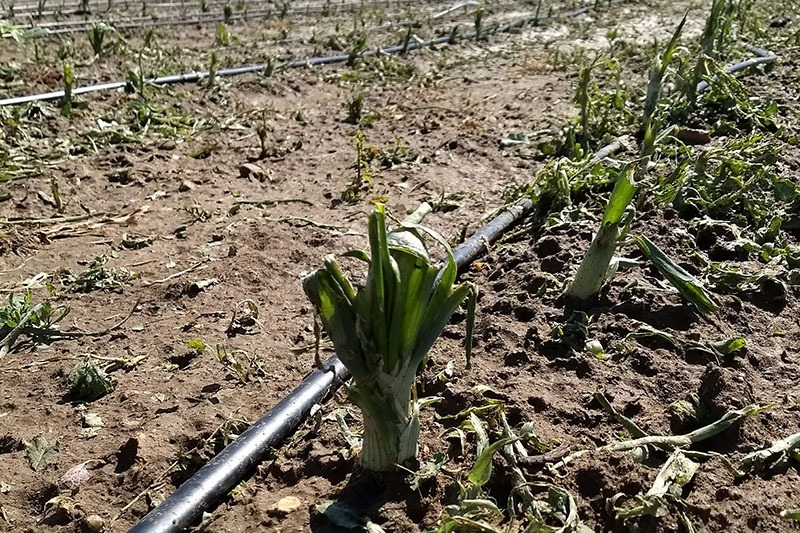 Check out these photos taken at the school the day of and the day after the hail:
Photo gallery of hail and hail damage
Organizer and beneficiary