Support a Safe Haven for LGBTQIA & BIPOC Travelers
*** SCROLL DOWN TO SEE THE AMAZING DONATION PERKS WE ARE OFFERING. SUPPORT AND GRAB YOURS TODAY!! ***

Apogeo Collective  is a bed & breakfast safe-haven for travelers of color, LGBTQIA+ travelers, and our allies that creates pop-up experiences across the globe to expand the notion of community internationally.

In an effort to establish a global presence for our communities, we are moving into the next phase of our collective— raising $150K to secure a permanent home base location for Apogeo Collective in San Juan del Sur, Nicaragua!

With a private, stand alone location, Apogeo Collective can host more LGBTQIA+ travelers and travelers of color, expand our offerings to be accessed by our communities year round, and make a meaningful social & economic investment in Nicaragua and the town of San Juan Del Sur.

WHY

A place to feel held, safe and secure is critically important, now more than ever. We are living in a time where we have been raised with a pre-existing, generational ingrained narrative of fear, while at the same time living day to day with all of our fears blatantly flaunted in front of us. Finding spaces of calm and ease are an imperative and honestly one of the most important things we can do for our individual and collective self care. 

Be a catalyst of change and join Apogeo Collective's movement to create these spaces for ourselves while expanding our cultural reach and influence. We have created Apogeo as an addition to our collective wellness resources and to inspire expansion and exploration. 

GET INVOLVED

In our creation process, we've worked to make Apogeo Collective a representation of community consensus and collective involvement. This project is just as much yours as it is ours— Apogeo is for all of us. However, up until this point, it has been a self funded project. 
Our goal now is to raise critical funds for our folks and our movement, money that will go directly into creating our collective community sanctuary.

We have already saved $30K towards the purchase of this space; please make a donation today to help us reach our remaining goal of $150K in order to secure Apogeo's home base! 

Of the $150K raised: 

~60% will cover the remaining downpayment needed to secure the property 
~20% will cover the internal and external renovations needed for the house (building an additional private bathroom, replacing the windows, replacing wooden beams, etc.) 
~15% will cover painting, design and furnishing 
~7% will cover operational expenses needed for opening 
THERE ARE A FEW WAYS TO SUPPORT

- Pledge a contribution to receive one of our community perks below or feel free to donate an amount you feel called to give! Please know that any amount of support is appreciated.
**White allies are encouraged to donate at the perk level listed below to contribute directly to a POC's healing experience at Apogeo.**

- If you can't make a financial contribution (and even if you can), please spread the word!! Consider sharing this campaign with 5-10 friends who might be interested in visiting or may want to be involved.

- Follow us on Instagram @ApogeoCollective for updates on the project (and share with all your friends!).

PERKS
**IMPORTANT INSTRUCTIONS: If you are donating for a perk listed below, please email us at HelloApogeo (at) g m a i l (dot com) with your donation receipt and your desired perk. PLEASE NOTE- This is the ONLY way to receive your perk!
All perks are disseminated on a first come, first serve basis.**

Sounds of Apogeo: $33 — A digital playlist of music from Nicaragua and sounds played at Apogeo's initial pop-up bed & breakfast experience last winter.
(up to 33 backers)

Food for Thought: $35 — Friends will receive the mailed gift of hind·sight, a poetry chapbook by Trae Harris. Trae is a multi-disciplinary artist, writer, performer, and healer that incorporates movement, writing, film and esoteric spirituality to reimagine and highlight the lives and experiences of queer Black Women in the Americas. Trae is passionately invested in art as a form of protest and praise and extends this passion as a facilitator for both youth and adults alike.
(up to 2 backers)
 
Spa Steam Herbal Bundles: $45 — We can't wait for you to experience our full body massage therapy onsite at Apogeo, but until then, relax and unwind in the comfort of your own home with Blind Seed's herbal shower bundles. Ideal for steamy showers, altar displays, holy smoke, fire ceremonies and general biophilia, sacred herb bundles are handcrafted using fresh, seasonal foliage. Elements may include purifying eucalyptus and rosemary, calming lavender and evergreens to welcome mental clarity and are 7-9 inches long.
(up to 5 backers)
 
Social Love Shoutout: $50 — A virtual thank you on our socials to live permanently in a "Community Support Highlight", highlighting a photo of you and something you're working on that you'd like shared with the Apogeo community.
(up to 50 backers)

Community through Our Lens: $55 — Backers at this level will receive a set of 7 individually crafted postcards by visual artist SHAN Wallace. SHAN Wallace is a nomadic award-winning visual artist, photographer, and educator from East Baltimore, MD.  She uses her lens, collage and in situ installations as the basis of her work, demonstrating the cultural and political narratives of black life, confronting oppressive politics and histories within communities of the African diaspora, and challenging ideas surrounding existing collections, culture and archives of Blackness.
(up to 2 backers)

Pur·Suit Card Deck: $65 — Each backer for this perk will receive a Pur·suit card deck, a project that launched last year by Naima Green. Naima is an artist and educator based in New York City. Pur·suit is an emergent archive and deck of playing cards featuring queer womxn, trans, non-binary, and gender-nonconforming people. With 54 unique photographs, Pur·suit is perfect for your favorite game of spades or solitaire.
(up to 5 backers - ALL CLAIMED)
 
Reading by the Beach: $75 — For your donation, you will receive the mailed gift of Fariha Róisín's books: the poetry collection, HOW TO CURE A GHOST and the guided journal, BEING IN YOUR BODY as well as a PDF of the novel LIKE A BIRD. Fariha is an Australian-Canadian writer whose work has appeared in The New York Times, Al Jazeera, The Guardian, Vice, Fusion, Village Voice, and elsewhere. Her work often explores Muslim identity, race, pop culture, and film. It also examines the intersection of queerness and being a femme of color while navigating a white world. She is the Director of Studio Ānanda and co-founder of The Museum Store.
(up to 1 backer)
 
Nurture Your Dreams: $100 — For this perk, backers will receive the gift of a Moon Mother Apothecary "Dreams Kit," a kit lovingly and intentionally created to support you in welcoming rest, serenity, and dreaming into your life. The wisdom and medicine will carry you gently into your divine dreams portal, encouraging the peace and openness in your body and spirit that are necessary to bring forward your wildest visionings, manifestations, and imaginings. Each kit contains: 1 tea blend, 1 dream pillow, 1 incense bundle, and 1 ritual oil (contents of the kits may vary slightly). Suhaly is an AfroDominican herbalist, artist, and community organizer.  She has hosted plant medicine-making workshops with organizations including The Museum of the City of New York, The Highline, and many more.
(up to 3 backers)

Find Us in the Sun: $200 — Receive the gift of Aziza Handcrafted's (@Aziza.Handcrafted) "Sun," a mid-finger cuticle ring in sterling silver as a thank you for your contribution. Aziza Handcrafted is a Brooklyn-based jewelry brand inspired by culture/heritage, sexuality, and lifestyle. A sustainable line of heirlooms in Sterling Silver and Gold Vermeil crafted with love.
(CLAIMED)

Movement as Self-Care: $250 — Stretch muscles, find balance, create internal space, and set an intention in this body positive, restorative private virtual yoga class led by Tara Aura of Blind Seed. Detailed verbal instructions for beginners, modifications for inflexible folks, and more challenging pose extensions for flexible students. The pace will be guided by a purpose-built playlist, designed especially for your session. Pillow and blanket suggested as props.
Up to 6 people can take your private scheduled 60 minute class once booked.
(up to 2 backers)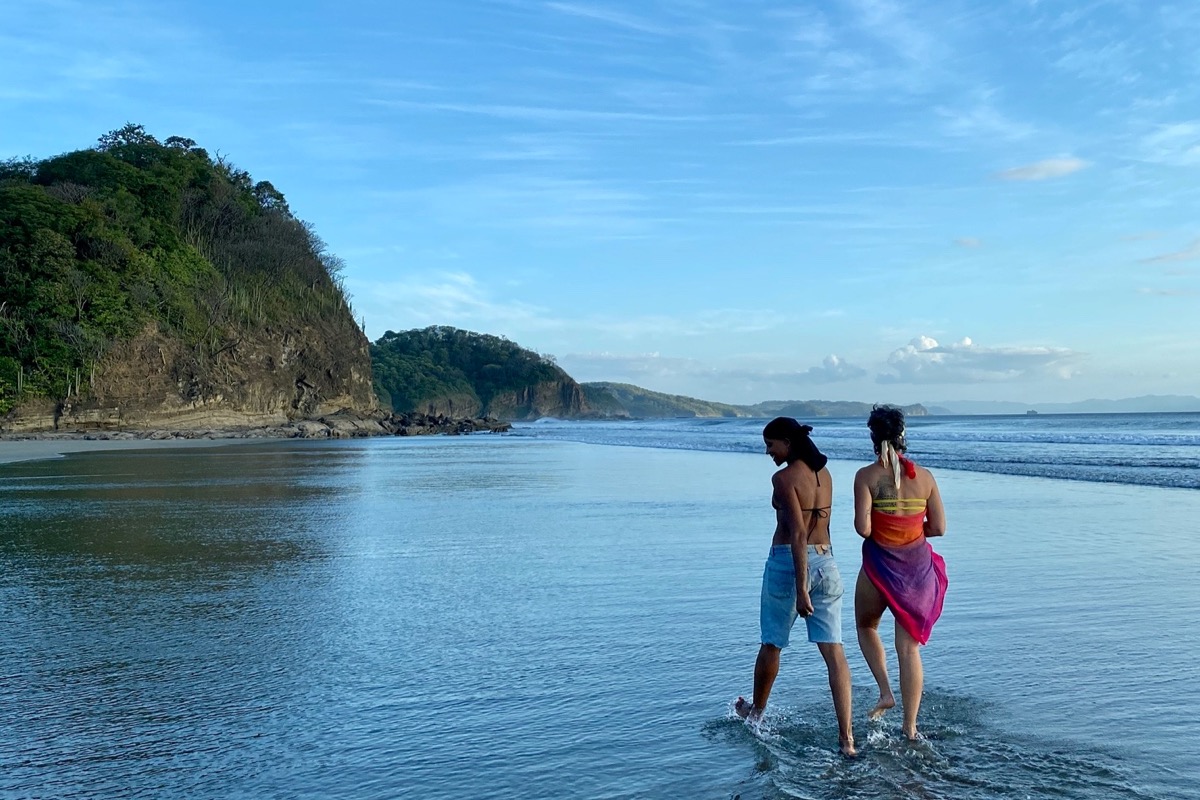 HEAR WHAT OUR GUESTS HAVE TO SAY 

"My girlfriend and I spent 4 nights at Apogeo and had an incredibly relaxing experience. At arrival we had the option to upgrade our room to a corner space that had a beautiful view of the stars from our bed. Our hosts graciously curated a tranquil home base + provided great recommendations on restaurants, nightlife, hikes and local adventures. Would highly recommend it as a safe space for all guests across the spectrum."

"If you are looking to rest in one of the most beautiful places in the world, in community, or in solitude, Amber and Sara have created an ideal space for introverts and extroverts to call their home away from home. It can be so challenging to be Black and queer in this world, and it's amazing to create spaces to just be."

"Apogeo came at a time in my life that I will remember forever - celebrating so much joy and growth in relationship, career, and mental health. This space only affirmed my growth and held space for me to dream even further of what I could accomplish once I left. I didn't feel sad leaving, I felt full."

"Every detail feels well considered and tailored to encourage peace, joy, abundance and fun. By the end, you want to make your quick getaway a permanent stay. Where Apogeo pops up, so shall I."

WHY APOGEO IS IMPERATIVE

As partners in life and avid travelers, we often have to make considerations for our travels that our hetero and/or white counterparts do not; such as:

- Can we be physically affectionate in public? 

- Will hotel staff + guests be prejudiced towards us because we're people of color? 

- Will there be anyone at the bed & breakfast that looks like us or loves like us?

- Will we feel comfortable being fully expressive during our vacation?

Unless you're a person of color, are gender non-conforming, identify on the LGBTQIA+ spectrum, or are our ally- it's likely that you have never considered these questions when choosing a place to stay while traveling.

And the more that we explored the globe, we realized that together we had the capacity, desire and experience to host our communities to share so much of the world while making travelers of color and LGBTQIA+ bodies feel safe, held and prioritized - facets of life that are so basic to (sane) human survival, but so often overlooked. It is also oftentimes a lack of these simple needs that cause our communities to not venture into the unknown based on the fear that discrimination and segregation has historically brought to light. 

To combat the fear narrative, we created Apogeo Collective to host spaces globally where we don't have to ask ourselves these questions- spaces to be open and expand in our creativity & wellness- all while feeling held, healthy, safe, and centered.

Spaces where we can cultivate joy, balance, rejuvenation and stability.

Space for us to play.

Apogeo Collective serves as both an homage to Gioconda Belli- a Nicaraguan feminist poet, activist and author of the namesake collection of poems- as well as the culmination & meeting point of the our individual work in wellness and community organizing.

With this collective, the aim is to create open space for our guests to tap into apotheoses within themselves.
SPECIAL THANKS to everyone that has supported the vision of Apogeo and the future of our permanent sanctuary:

- Mala Forever , Ace Xavier , Ryann Holmes , Trae Harris , Blind Seed , SHAN Wallace , Naima Green , Fariha Roisin , Aziza Handcrafted , Moon Mother Apothecary , Tara Aura , Hyphaerie , Hywel Francis , Tavo Dam , our fundraising ambassador family, past guests, and the communities that continue to support and uplift us.  

Please consider donating to this fundraiser to help create more options for when our communities travel and for us to feel a little bit safer doing so.

THANK YOU ENDLESSLY FOR YOUR SUPPORT!!!