*** No contribution is too small ***

Join your neighbors funding the fight against a 116' cell tower approved in October, 2019, to be built at 11 Brookside Rd, Westford, MA.
This approval is a dangerous precedent which will lead to easier approvals for cell towers all over town, including on scenic roads and in historic neighborhoods like ours.
There are many consequences to having a cellular tower built so close to our homes. These include:
- Health and safety concerns
- Environmental impact to the protected conservation land and river
- Decreased property values (>20%, in some cases)
- Alteration of the beauty of our neighborhood
We all feel strongly about preserving the beauty of our neighborhood, the value of our homes and the health of our families.
For over three years we have been fighting this tower in local hearings. We have a very good case against the tower, but we now need to continue our campaign in the courts.
100% the money you contribute will go to the campaign.
In 2017, we raised and spent about $12,000 to hire lawyers, immerse them in our complicated case, and file an appeal in MA Land Court of the initial ZBA decision. Our primary attorney is Dennis Murphy of Dan Hill Law. Recently we added Liz Pyle, an attorney who specializes in wetlands issues.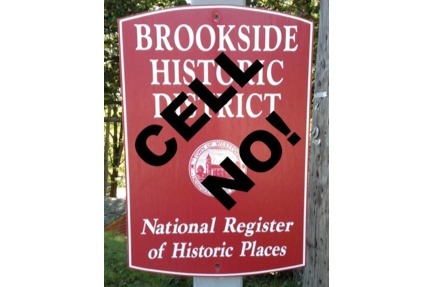 HOW DID WE GET HERE?
March, 2014: The Fletcher Club signs a lease with Varsity Wireless.
June, 2016: Varsity Wireless applies to the Zoning Board (ZBA) for variances for a tower at #11 Brookside Rd.
July, 2016: Varsity conducts a balloon test at #11, and the neighborhood starts mobilizing. ZBA, Planning Board (PB), and Conservation Commission (CC) hearings begin.
September, 2016: the ZBA sends Varsity off to consider a list of 17 alternative sites. The one they liked best was at #73 Brookside, behind the Willows.
May 2017: ZBA hearings for the #73 site begin.
August, 2017: after more than a year of hearings, the ZBA approves, with conditions, Varsity's application to build a cell tower at 11 Brookside Rd., and denies their application to build a tower at 73 Brookside Rd.
In response to those decisions, Varsity files a suit in federal court against the ZBA claiming that the conditions required in the approval are a violation of the Telecommunications Act of 1997 (TCA), which prevents towns from rejecting cell towers if the builder can show that there is a gap in coverage AND that they have chosen the best site to fill the gap.
At the same time, several of us abutters file in state land court against Varsity, the ZBA and the Fletcher Club arguing the many ways they violated Westford's bylaws by approving #11.
All parties agree in 2018 to let the federal case play out first.
Almost two years later...
July, 2019: Varsity and the ZBA settle the federal case. In a nutshell, the settlement says that if Varsity
- gets approval from the Planning Board and Conservation, AND
- our lawsuit fails, AND
- the Massachusetts Historical Commission finds 'no adverse impact'
...they can build a 116 ft. tower at the Fletcher Club and disguise it as a pine tree. OTHERWISE, hearings will resume for the tower at the Willows.
September, 2019: CC approves the tower at #11. We have appealed this to the Massachusetts Department of Environmental Protection, and are considering appealing to state court.
October, 2019: PB approved the tower at #11. We are considering appealing to state court.
Miriam Kadansky & Scott Blake