A Gift for Christian Trouesdale
Christian Trouesdale is a top guy, he's a supermarket worker at Aldi from Manchester (England) has become a internet hero after walking a pensioner home. 
We need to pull a few pennies together and get a Christian a nice internet bonus...

** UPDATE – Christian is blown away with the donations and wanted to thank you all again.  Having seen how generous people have been, he wants to do something special with Bob with the donations - watch this space...

** UPDATE (Tuesday Morning) - I have been chatting to Christian's Dad and they are blown away by the kind words and donations - A very big thank you.


More than 280,000 people have shared a Facebook picture showing Christian accompanying the 96-year-old back to his house, after his weekly shop.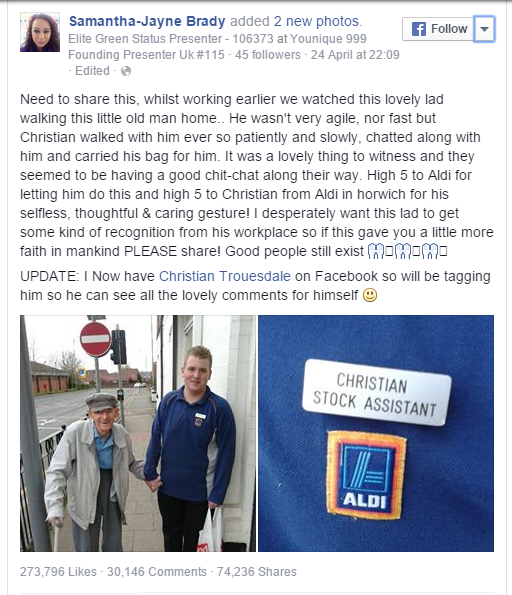 Samantha-Jayne Brady posted the picture after seeing the pair walk past, with the caption: 'High 5 to Aldi for letting him do this and high 5 to Christian from Aldi in Horwich for his selfless, thoughtful & caring gesture!
The shop worker told The Bolton News it was the second time he had walked the pensioner home.
He said: 'I asked my manager if it was ok to walk him home and he said that was the right thing to do, so I did.
'We had a good chat about everything from the general election to the history of Horwich – he knew lots about everything.'My parents have raised me to treat other people like you want to be treated yourself.'