Black History in Action—St.Augustine's Restoration
Please donate $100, $250, $500, or whatever you can spare this season. Your donation will support
Black History in Action
  (BHAC) in the urgent work of architecturally restoring St. Augustine's, and of renewing its community service mission for the Cambridge community.
St. Augustine's African Orthodox Church at 137 Allston Street in Cambridge MA has long been a religious and community-gathering center for immigrants from Africa, the Caribbean, and many other parts of the world. The CNA has partnered with the Church to fundraise to
restore the exterior of the historic building
,
insulate it properly
from the elements, and
add accessibility
to the building! This historic 1886 church is a unique architectural gem, and it played a crucial role in the history of the African American racial-religious movement and Garveyism, from the 1920s and on.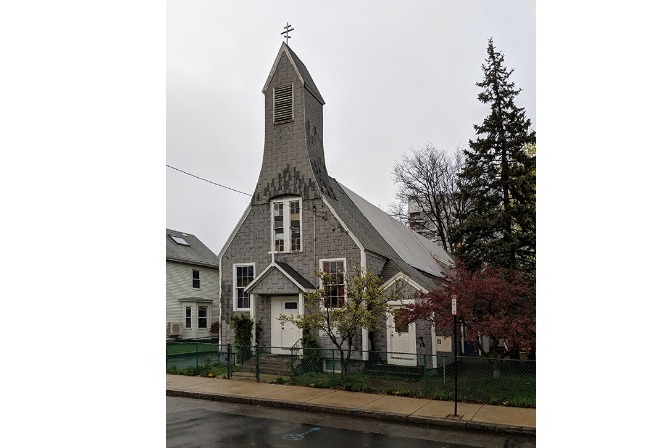 To date, this project has been awarded two grants from The Cambridge Historical Commission and two from the National Trust for Historic Preservation. The neighborhood has rallied and raised money through individual donations as well; the church and the CNA hosted an amazing open house in December, and a wonderful fundraising banquet in June.  The exterior of the building is in rough condition, as you can see, but the interior is more or less as it was a hundred years ago. 
We replaced the deteriorated roof and bolstered the building's structure, so it is no longer at risk of serious damage. Now we need to continue fundraising to complete the main phase of restoration work, which will replace the siding, do much-needed repair and restoration on the entry vestibule, and add a new front stair and accessible ramp.
The Tufts CSRD
Massachusetts African American History Trail
project lists
St. Augustine's here
 !
The project has gotten some great press from Phase 1 of the project:
Cambridge Day article
, November 18th 2019
Cambridge Chronicle article
, November 26th 2019
To learn more, visit
cambridgeport.org/fundraiser
Thank you for your help on this important community-driven preservation project!
Organizer
Cambridgeport Neighborhood Association Inc
Registered nonprofit
Donations are typically 100% tax deductible in the US.