Community Education Center (CEC) - Dahria
Who We Are:
The Community Education Center (CEC), located in Dahria town, is the first of its kind in the area to combine in-class and community-based learning to promote both learning and community development using a variety of formal and informal approaches. The CEC aims at strengthening the educational capabilities and skills of students of different age categories through a variety of specialized training courses in fields like languages, social media, planning, and arts. It also aims to enhance youth engagement in their communities through organizing voluntary initiatives and interventions in different localities. The center fills some serious educational gaps in Dahria.
What We Do:
Professional trainers with strong theoretical and practical backgrounds will lead the educational process in the center. Moreover, the center will benefit from the local expertise of people and community-based organizations (CBOs) in the region, particularly in the fields of agriculture and handcraft. This expertise will be a cornerstone on which the CEC will establish some trainings and interventions. In partnership with local actors and organizations, the CEC will constitute a safe space for Palestinian youth and children that will provide them with social and psychological support. It takes Palestinian primary, secondary, and even tertiary education into new directions based on combining non-curriculum education with practical community initiatives on the ground. This opens up new opportunities for young people, particularly women, and enables them to develop their skills and potential while enhancing their community participation. The center also has several international volunteers who work in person and online, focusing on English-speaking courses.
The Place 
 This 120 sq.m building lies in Dahria, a town in the south of Hebron governorate- Palestine. The building is more than 70 years old and is a part of the historical heritage of the town, which needs to be renovated, revived and protected. The building was 90% renovated through individual and community initiatives, that was 20% covered by GoFundMe donations. This partial renovation allowed us to conduct different activities in the place on the daily basis. In order to reach the full capacity of the center, and to expand and improve our activities, we would appreciate your generous financial and in-kind donations and contributions.
In addition to using the place for educational purposes, the center connects students with their local communities through interactive learning processes and initiatives. The center also connects them with the international community, through some exchange programs with international students, volunteers and experts in different fields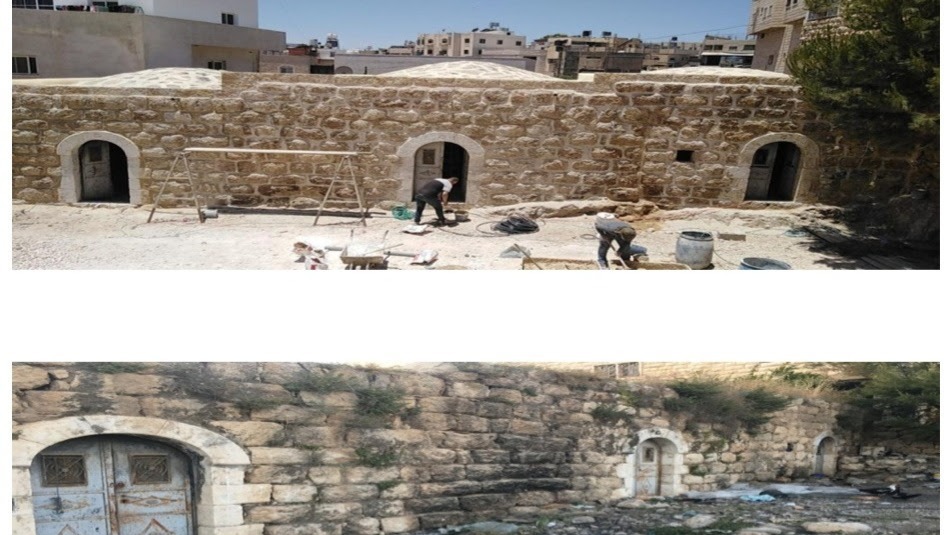 Goals of the Center
* Enhancing the educational level for school and university students in the south of the Hebron area.
* Building the capacities of students and graduates of the Palestinian universities through providing non-curriculum trainings in different fields that qualify them for the labour market.
* Enhancing youth engagement in their communities through volunteer programs.
* Connecting students with specialized trainers and professors in the different academic and vocational fields, as well as Palestinian and international student groups.
* Connecting students with training programs provided by Palestinian universities and training centers.
* Connecting students with the labour market and creating job opportunities for them through the training they receive and the initiatives they implement.
* Expanding a community library and community garden for children in the targeted area
Financial Needs
The money we have received has gone into the renovation process. Portions of the new donations will go towards developing two ideas: First, we plan on expanding our community interactive library for children, where they can conduct discussion sessions with other children, read stories, watch movies and play some mental games. This library will include both normal and audio books, and will be the cornerstone for establishing a bigger audio-visual library in the future. Second, we will establish a community garden in the center, where we provide students with some agricultural skills so they establish a good relation with the land. The community will also have the opportunity to contribute to the garden, through assisting us in the farming and harvesting processes. These two important components will help us combine theory with practice in a conducive educational environment.
Donations will also go to develop the alternative education program in the center, which includes making more educational trips for secondary school students, where they can learn more about the country, people, customs, history and culture. It also will be used to establish the debate club, through which students learn how to build a convincing argument, and present it in a good way
About Me:
I, Raed Eshnaiwer, am a researcher at Birzeit University (BZU)- Palestine, and a community activist. I obtained my PhD in Political Science from Universite Libre De Bruxelles in 2018, and since then I teach at BZU, and lead some research activities. I participated in many youth initiatives at the university and in my hometown. I strongly believe that community work is the main pillar to develop the Palestinian society and empowering the people. If you have any questions about the center or our goals, please feel free to reach out to me at [email redacted], or contact the center at [email redacted].
Budget:
Renovation expenses (tiling for the floors; new lighting; maintenance work; wooden fences): 14.000
Community Library (shelves; books (physical and audio); cushions; chairs and tables; TV; stationary): 5000
Community Garden (new walls; gate; soil; plants; gardening supplies): 7000
Electricals (2 computers; Scanner and Printer): 2000
Alternative Education Program (educational trips; non-curriculum events): 2000
Sum: 30000