Help fund Sunset Skatepark in Evansville, Ind!
RIGHT NOW YOU CAN DOUBLE YOUR DONATION!
FOR EVERY DOLLAR DONATED TO SUNSET SKATEPARK - UP TO $50,000 - WILL BE MATCHED DOLLAR FOR DOLLAR VIA A MATCHING GRANT! WOW!



Evansville, Indiana has a rich, vibrant and diverse skate and biking community that spans many age, demographic and social backgrounds. Skating and biking have provided many in the community with life-long friendships and this new skatepark will be a safe gathering space to get together, be active and create an even larger community with younger generations.

We NEED, and will give to give the youth of Evansville and Southwest Indiana, a FREE activity for our youth that reduces illicit behavior, encourages a healthy lifestyle, camaraderie, a strong sense of community pride, mental health benefits, and a safe, active, accessible space for all... and now we will have one on the Evansville Riverfront!! 

Sunset Skatepark will be the only concrete skatepark in an 82-mile radius; the closest is Hopkinsville, KY. Evansville lags behind other Hoosier cities like New Albany, Hammond, Terre Haute, Seymour, Lafayette, Kokomo, Richmond that already have concrete skateparks. SSP will replace a metal structure skatepark built in 2001 along the Greenway Trail in Lamasco Park. This skatepark met its lifespan within ten years. With metal connectors broken, shaky structural supports, and amateur repair attempts, the site is now all but closed, stripping our skating community of a safe, appropriate space to skate and build community.

The Sunset Skatepark fills voids identified in the Evansville Downtown Master Plan and the Evansville Parks Master Plan: both documents name the need for skill-based recreation to build community and socialization, while also encouraging new progressive activities that are attractive to community newcomers. Sunset Skatepark is an essential public-private tool in response to regional economic development goals and strategic enhancements for the city's historic, entertainment and diverse residential core.

The project will benefit underserved Evansville area youth and young adult skaters (experienced and aspiring), especially those residing in Evansville's federally-designated Promise Zone (PZ). Promise Zones are high poverty areas in which local and federal government partners work to leverage private investment to improve economic activity, public health, and educational opportunities, and to reduce violent crime.

For example, in 2015, the idea emerged when Leadership Everyone (LE) gathered regional youth for vision and problem-solving sessions during a sponsored Youth Retreat. Participants identified the need for more free, skill-developing activities in the area. Additionally, through LE's community-wide and citizen-driven VOICE visioning process, three themes for community growth were named: Healthy Green Spaces, City Core, and Experience Opportunities. The Sunset Skatepark encompasses all three.

Following that work, formal meetings, vision sessions, social media queries held over the last three years have also focused a strong desire to create the reality of SSP. Skateboarders, inline skaters, BMX cyclists and other skatepark fans have taken part in developing plans. All in all, over the last five years, more than 400 skaters ranging in age from 16 to 55; students and adult enthusiasts; urban, rural and regional, have or will have taken part in project development and fundraising.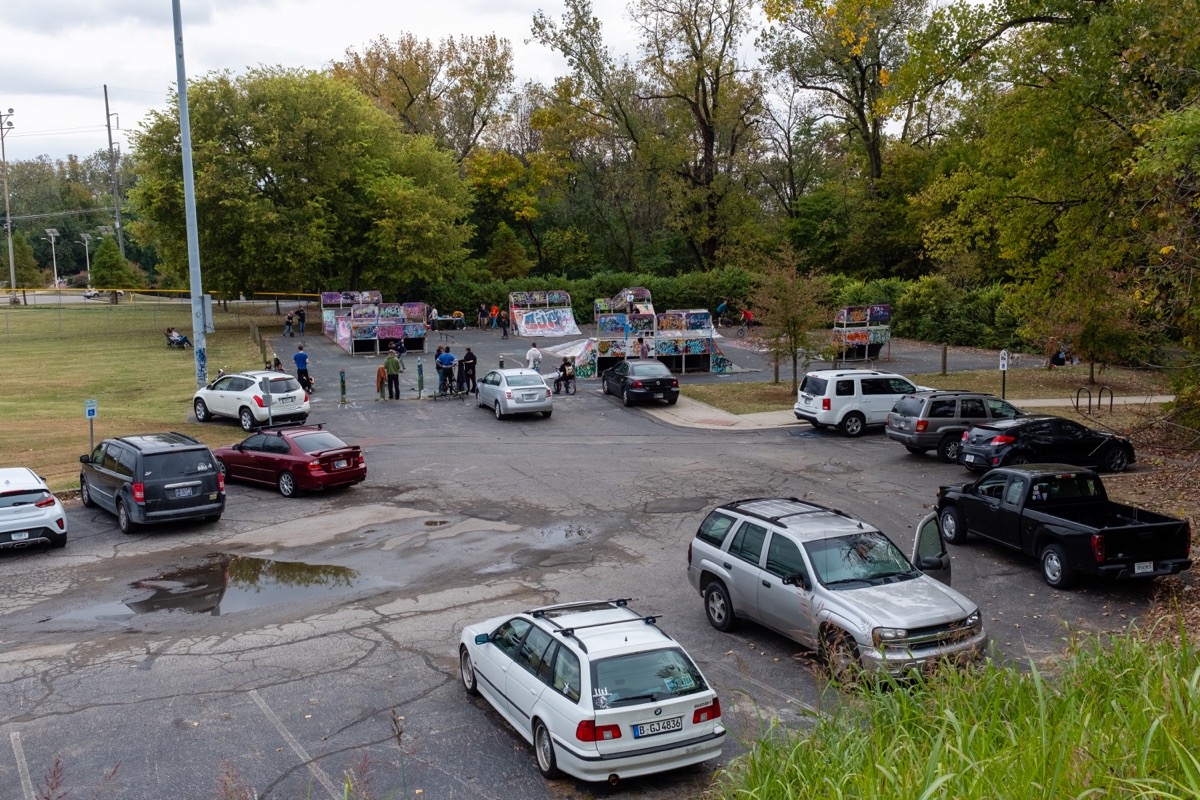 We are SO excited to be working with the amazing Bloomington, Indiana's Hunger Skateparks! Hunger is skateboarder-owned and has built over 60 skateparks in the United States (11 just in Indiana!), 2 parks in Denmark, and many private backyard bowls/projects. They will be working alongside the Evansville Parks Department to ensure this park is exactly what our skate and biking community wants (and needs)! With a series of in-person pubic input workshops, and online surveys, Hunger will put together, revise and complete our new skatepark design. This will be an accessible, ALL-WHEEL park (everything from wheelchairs, skateboards, scooters, bikes, rollerskates, and rollerblades). We want to also emphasize public art throughout the park, all while keeping it attractive and accessible for everyone!

Where are we at now? We are excited to announce that we have made great strides in making Sunset Skatepark a reality! With the help of the Evansville Park & Recreation Department, we have secured a location  This will now be a great destination for all ages! The site is currently being used for a nearby project but we hope use this time to complete our fundraising goals, get input from the community on what they would like to see there, and to start construction in 2021!

We have a great team of grant writers and skatepark designers that have been working actively over the past 18 months to get this project off the ground!

Keep up to date and find out more info at www.skatesunset.com. 
www.facebook.com/skatesunset and Instagram @skatesunset


Become the first supporter
Your donation matters
See all
Organizer
Sunset Skatepark
Organizer
Evansville, IN
Evansville Parks Foundation Inc
Registered nonprofit
Donations are typically 100% tax deductible in the US.