COVID 19 Resources
For up to date and accurate information about COVID safety, visit the Health Canada and PHAC or WHO websites.
Individuals being released from Correctional Centres in British Columbia face many obstacles and unknowns. Many individuals reintegrating into the community do not know where they will spend the night, where their next meal will come from, or where to find the support they require to start over. In addition to these burdens, they are facing the stigmatization and traumas associated with being incarcerated.
Clients who are being released to our communities are often released from custody with nothing but a clear, plastic garbage bag to carry their belongings. This can be humiliating and add to the trauma experienced through their involvement with the justice system, especially for those who will be traveling by bus or plane to get back to their communities. As someone who has been working in the justice system for three years, I would like to fix this by providing individuals with a care package upon re-entry into the community, packages will include hygiene products and other essential items to help give clients a jump start when leaving custody. This will help counter some of the stigmatization associated with incarceration and enable clients to put their limited monetary funds toward things like housing, food, and ID application fees.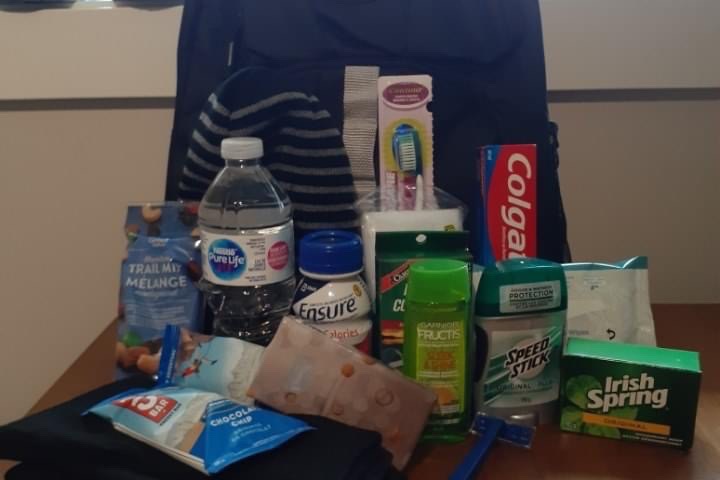 What will be included in the care packages? 
Legal documents, letters from loved ones, and other personal items should not be on display to the whole world. I believe that every individual should be treated with dignity and respect, including the respect of privacy. In keeping with these values, the most essential item being provided to the clients will be a new backpack or duffel bag, so that they do not leave custody with their personal items on display in a garbage bag. 
Secondly, each person has a right to self-determination, to participate in decision making, and to make informed choices and to act on their own behalf. Therefore, the individuals will be provided with a resource guides for local communities. If no resource guide is available for their community, a compilation of individual services available will be provided.
I  believe in appropriate interventions based on the strengths and needs of the person served. The need for hygiene products and other essential items upon immediate release from custody in British Columbia has been voiced by multiple inmates and correctional staff. Products such as toothpaste, toothbrushes, menstruation hygiene products, condoms, soap, etc. will enable our individuals to practice good hygiene and self-care within our communities while countering the stigmatization and "de-humanization" of individuals who have been involved in the criminal justice system and who may also be experiencing homelessness.
Being faced with homelessness and limited resources in after custody care has been greatly impacted by the COVID-19 pandemic. Many shelters, treatment facilities, and other community supports have had to limit their services. This is leaving individuals with an increased risk of homelessness and return to the cycle of addiction, crime, and incarceration. 
What we need? 
Backpacks 
Cost to Purchase: 
Classic 22 Litter backpack: approx. $16 
Hygiene Products 
Cost to Purchase:  Approximately $15 (prices calculated based on products on Walmart.ca) 
Toothbrush: $1.50
Toothpaste: $1.00
Bar of Soap: $0.50
Deodorant: $2.50
Razor: $.90
Condoms (4): $0.85 each
Shampoo: $2.00
Hand Sanitizer: $2.00
Total: $13.80 + $0.97 (PST) + $0.69 (GST) = $15.46 
Seasonal items such as mittens, scarves, hats, emergency blankets, bug spray, sun screen, and electrolyte packages will also be purchased with additional funds.
I am currently looking for a local community member who is willing to sew masks for the packages as well.
Where appropriate, when determined by a reliable source that an individual does not have any government issued ID, additional funds will also be used to cover the application fee for Birth Certificate applications. Proper identification is a very common and high barrier to accessing services in the community. 
* * * 
About me: I know it's not easy to give your hard earned money to someone you don't know. So I would like you to know a little bit about me. 
I currently work for a not for profit organization in Kelowna. Unfortunately, this project can not be funded through the organization I work for because it is outside of our mandate. However, it is a passion project of mine. I have worked with both Federal and Provincial inmates in Alberta and British Columbia in the past three years. I am passionate about reintegration and helping people who are returning to our communities put their best foot forward. 
When COVID-19 first brought our country to a halt, I was faced with the realization that individuals who were returning to our communities from custody now faced even more barriers to success. The rate of individuals being released into homelessness seemed to be increasing and now access to community programs and supports was very limited. I took action and funded 10 backpacks, pictured, out of my own pocket. The gratitude that I received from staff and recipients was so rewarding! I could see that it brought the individuals a little hope. Receiving such basic things showed them that they were welcome back into the community as neighbours and fellow citizens and that someone believed in them. A reminder that they are valued human beings, and that they are not alone in their journey to change. 
I want to continue being an ambassador for change and hope. I've struggled with uploading this go fund me fo months (literally). Because I doubted that anyone would contribute. There are so many causes that you can donate to, why would you bother with giving a little hope to a person who has committed a crime? A person who has "failed" society? 
We all fail in life. We all hurt people. We all do things we are not proud of and that we regret. Should we be written off for these behaviours? How can we ever change if no one believes in us?
So I'm making this plea, hoping that I am not the only one who believes that everyone needs to be shown a little grace, reminded of their own humanity in their most humbling moments, and encouraged along a path of healing and change. 
On behalf of people everywhere who have needed the grace of others to power through the difficult times of life, I sincerely thank you for taking time to consider this cause. If you do make the decision to donate, please include a message that you would like written in a greeting card for the individual receiving the backpack. This card will be part of the care package.