Save the Sun Building in Philadelphia
SAVE THE SUN BUILDINGPromoting neighborhood culture and preserving Black history in Mt. Airy


Check out our YouTube video for a project overview!


FOLLOW US ON SOCIAL MEDIA
Instagram: @
savethesunbldg
Facebook: @
SaveTheSunBuilding
Twitter: @
savethesunbldg
YouTube:
Save The Sun Building


THIS PLACE MATTERS
In the context of a rapidly developing neighborhood, we are trying to save a building that has a lot of history and a lot of culture.
Mt. Airy is where we live. It's a beautiful neighborhood, full of historic charm and character.  But lately, it has become the target of large scale real estate speculation. Developers with no connection to the community are eagerly demolishing buildings in our cherished neighborhood and constructing new structures that feel completely disjointed from the fabric of Mt. Airy. 
The Sun Building on Germantown Avenue in Mt. Airy is over 100 years old. In recent memory it was home to the Philadelphia Sunday Sun, a newspaper spotlighting the local Black community. Although the Sunday Sun is not affiliated with our project, we believe the Sun Building represents an irreplaceable piece of Black history in Mt. Airy.
We want to save a piece of Mt. Airy.

A place that represents our neighbors, our community, our culture, and our history. We want to create a space that is familiar and comfortable for existing neighbors and also welcoming to new residents. We want to honor the past while shaping our future.
Preliminary design renderings from our pro bono architect.


OUR VISION FOR THE SUN BUILDING
We will create an accessible community hub designed for the 21st century. 
Once our fundraising campaign is successful, we will begin to transform the existing Sun Building into a high-tech, vibrant meeting space for the Mt Airy neighborhood. We plan to create workstations, a private conference room, and collaborative common areas. We even hope to include a small recording studio for podcasts and musicians. The moment you step foot inside the building, you will feel the pulse of Mt Airy: diverse, eclectic, and welcoming!  Our community needs a place to gather after the pandemic subsides, and we have the expertise in public health to ensure that our space is comfortable, safe, and clean (more on that below!).  
Upstairs, we will lease two residential apartments. We are absolutely committed to affordability, and our rental prices will reflect that commitment. We will provide a stabilizing presence on Germantown Ave that is not influenced by nearby luxury real estate development.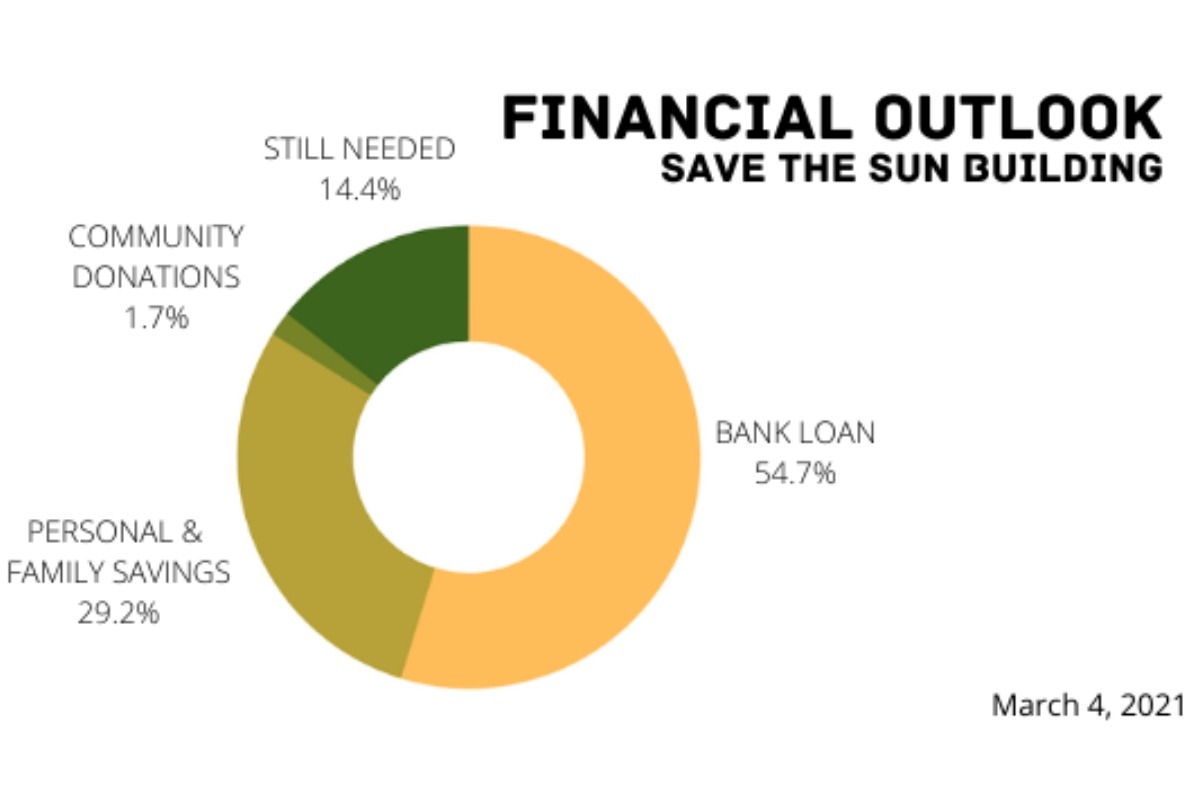 WILL YOU HELP US?
We are so excited about this project, but we cannot do it without you!
We are so fortunate. We've found an amazingly talented architectural design team who is willing to work pro bono to help bring our vision to life. As you can see, we are making progress!
However, we have not yet closed on the building. We need to complete the purchase!

We've committed all of our personal savings to the Sun Building. Many of our close friends and family have given us donations and loans to help. But we've tapped out our personal resources, and if we're going to bring this vision to life, we need help from the community. We are so grateful for the support we've already received, and we're energized by the overwhelmingly positive response from our neighbors. We've made a lot of headway, but we need one big push from the community to get across the finish line. Will you help us?
We are asking for $100,000 of community support.
The funds will enable us to secure the property, pay for all necessary construction costs, and furnish the building for immediate use.
MEDIA APPEARANCES:

6abc
 : Mt. Airy couple aims to create community space to preserve history, culture
Chestnut Hill Local
 : Mt. Airy couple have big plans for Sunday Sun building
Hidden City Philadelphia
: Mt Airy Couple Seeks to Create Community Space "For Us, By Us" in Philadelphia Sun Building
The Philadelphia Tribune
: Local couple fights to preserve the history and culture of Mt. Airy
Weavers Way Coop
 : Local Couple Petitions Community to Help Them Restore Sun Building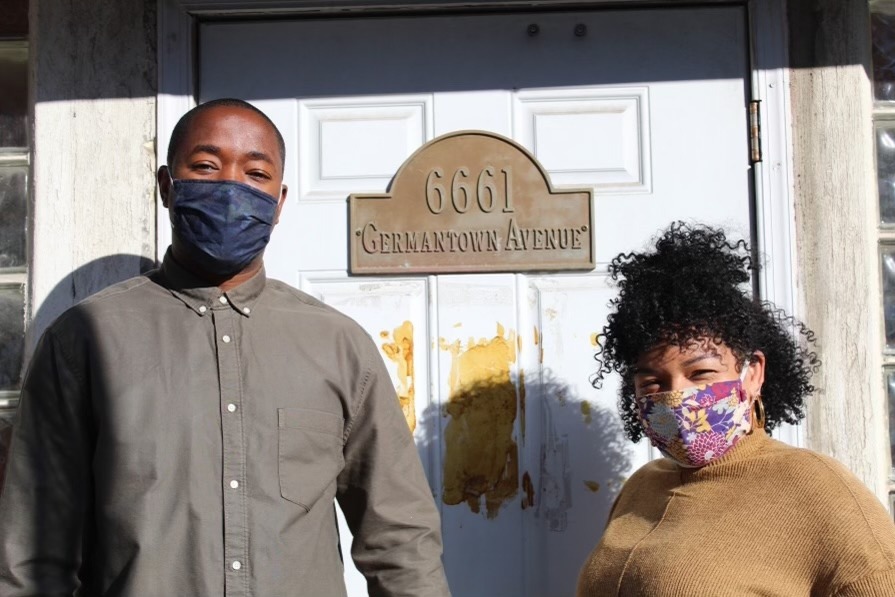 THE RIGHT PEOPLE FOR THE JOB
We are a married couple living in Mt. Airy with the perfect blend of expertise!
Antoine Joseph
Antoine is an engineer and part-time real estate agent who has worked on a wide range of projects from single family rowhomes to skyscrapers in Center City. Antoine will tap into his experience to ensure that the Sun Building receives the structural care and attention it needs, while keeping the project within the confines of the budget. 
Antoine is a lifelong Mt. Airy resident
who has seen first-hand how the neighborhood has changed over the last twenty years. He wants to create a space that is authentic to the community. He is excited about this project because he knows how much the community can benefit from what he and Samantha plan to do with the space.  
Samantha Joseph
Sam is a community health researcher getting her PhD in public health at Drexel. Her work has been focused on the health of urban communities of color specifically around reducing violence, building safety, and healing from trauma. Sam will make sure the Sun Building is a safe and comfortable place for the community to gather in the wake of the global pandemic.
Sam is a natural leader who does not sit on the sidelines.
And she's not afraid to get her hands dirty!  She will be a reliable point of contact for the neighborhood to ensure that the new Sun Building helps provide the community with the programs and resources they need.
This project combines Antoine and Sam's expertise and passions.
Over the past year, we have become more active in anti-racism efforts and more intentional advocates for social justice locally. The Sun Building will be a space that brings all of these passions together to build community capacity that will benefit Mt. Airy.
Antoine Joseph grew up in Mt. Airy and feels a strong bond with the neighborhood.
Speculative new construction is outpacing long-term residents in Mt Airy.


CONFRONTING RAPID GENTRIFICATION
Our project will provide a stabilizing presence on Germantown Avenue
On some blocks in Mt. Airy, the home value of a single-family rowhome has increased over 200% in the past 7 years. A rapid increase in home values like this is a primary indicator of gentrification. We know from observing cities all over the country that drastic increases in home values often leads to long-standing residents being displaced, along with loss of community culture and history. We feel strongly that equitable community improvement and development is essential to promoting growth and stability, while also preserving and even strengthening the existing community fabric. 
One of the many recent demolitions in Philadelphia.


PRESERVING OUR HISTORY AND CULTURE
We are at risk of losing the Sun Building forever if we don't act now
Philadelphia is seeing a significant increase in teardowns of historic buildings citywide. Rapidly increasing real estate values and the city's robust tax abatement program have made new construction projects more immediately lucrative than preservation projects. Speculative developers with little connection to the neighborhoods they're demolishing are trampling local culture and history to make a quick buck. There have been 4 buildings demolished on the Sun Building's block in just the past 3 years, putting the Sun Building at serious risk to follow suit. Our project is looking to shift the trend. 
Mt Airy residents join together on Germantown Avenue to protest the murder of George Floyd.


STANDING UP FOR A PURPOSE
The Sun Building represents equity and community
In June of 2020, we marched right past the Sun Building during the Mt. Airy protest in the wake of George Floyd's killing.  At the same time, we were considering what we could do to help our world, and more locally, help our community.  Our decision to pursue this project was an outgrowth of our desire to make a difference and to pave the way for positive change. As we mentioned, the Sun Building has a long history of being a Black space, run by Black leaders in our community. Although we don't know the full history of the building, we know that leaders honored and fought for Black lives and Black stories from this physical location. In the building's recent history, it has been an antique shop owned by a life-long educator, and home to a Black-owned newspaper run by a dynamic community leader. We will not let this space become anything less than the standard its legacy has set. The Sun building will continue to be a safe space for the Mt. Airy community to learn and celebrate our unique neighborhood.
One of many murals in Mt. Airy showcasing the eclectic neighborhood.


NEIGHBORHOOD LEGACY
We will continue to set the standard for equity and inclusion in Mt. Airy
Mt Airy is a historically integrated community. During the height of the civil rights movement, when most communities across the nation were enforcing residential segregation through redlining, protective covenants, blockbusting and other racist tactics, Mt. Airy real estate agents and religious leaders worked together to fight against these common practices to encourage integration. The efforts of these community members are evident to this day, which is why Mt. Airy is one of the most inclusive and diverse neighborhoods in the city.

ESTIMATED PROJECT TIMELINE
We will continue to keep our donors informed as we reach our goals!
The target date for purchasing the property is now April 30th. We have estimated that the construction process will take approximately one year. This includes replacing the roof, securing structural cracks and supports, leveling floors, mechanical and electrical systems, fitting out the new space and much more. We hope to be furnishing the space and preparing for our grand opening in the Spring of 2022. 

OUR STORY
We are fully committed to bringing this project to life.  Will you help us?
Pursuing this project was not an overnight decision. At first, we were simply thinking of ways to make a positive impact in our community. We noticed the many demolitions and new builds in our neighborhood and we began to worry about the Sun Building's future. After a little research, we quickly found out the building was for sale!  We hoped somebody would buy it and restore it. But then, something clicked, and we thought: why not us? We've thrown everything we have into this project, and we will continue to do so. This is something we really believe in, and we hope you'll join us by making a donation to help transform this dream into a reality. We've already come so far. The progress we've made would have been almost unimaginable when we first set out.  But the more we researched, the more we believed. 
And here we are, still believing, still trying.
We need community support to bring this across the finish line. We are so close. Please make a donation and help spread the word.

LET'S SAVE THE SUN BUILDING!

FOLLOW US ON SOCIAL MEDIA

Instagram: @
savethesunbldg
Facebook: @
SaveTheSunBuilding
Twitter; @
savethesunbldg
YouTube:
Save The Sun Building