Preserve Seattle's History to Inspire the Future
History, Culture, and Pedestrian Safety are All Endangered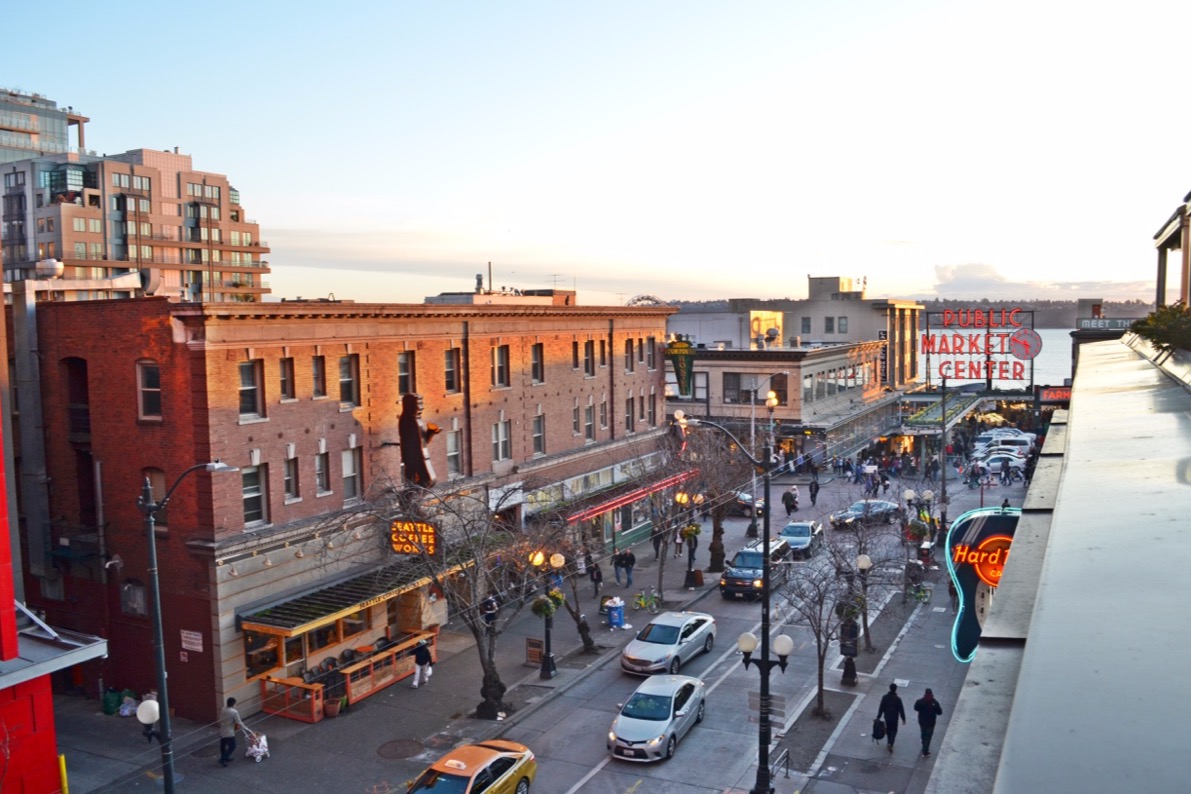 Seattle had a plan to replace the Historically and Culturally Significant Cherry Trees that line the entrance to Pike Place Public Market with hybrid elms, erasing the dedication and memory of the internment and disenfranchisement of Americans of Japanese descent during WWII. We fought them, and we won. Cherry trees will again bloom at the entrance to the Market.
Now we have to fight to protect pedestrians. Millions pack this entrance every year. The same plan that ended called for the removal of the cherry trees is in the process of creating a one-lane, curbless street to be shared by cars, nonmotorized vehicles, pedestrians, buskers, diners, and a cacophony of sounds and visual distractions. It should be fun, but it won't be if the City allows delivery vehicles to continue to back out of the VERY busy alley into the crowd.
And then there's the historic Hotel Elliott / (Hahn Building). Despite its Landmark designation status. it is still in danger of demolition to make room for a 14-story glass and steel high-rise hotel in awkward juxtaposition to the historic 2 and 3-story structures and light that grace the four corners at 1st & Pike, the iconic entrance to the National Register-listed Pike Place Market Historical District.
A
SaveTheMarketEntrance.org petition
 first launched through Change.org in 2017 has received over 91,000 signatures in support of preserving the existing human scale and symmetry at this historic Market entrance and protesting redevelopment of this southeast corner with a modern hotel/mixed-use high rise.
What's next?
We have asked the City for dedicated one-way northbound status for the alley that intersects with Pike Street.
We are urging Seattle's Downtown Landmarks Preservation Board to impose strong controls and incentives on the owners of the Hahn Building to preserve the exterior along with the sense of place that all four buildings on the four corners at this intersection represent.
We are awaiting our day-in-court to appeal the Master Use Permit for the 14-story hotel, approved without proper consideration of Landmark status, among other things.
Who are we?
SaveTheMarketEntrance.org (STME), is a grassroots non-profit community advocacy group whose mission is "to preserve affordability, sustainability, quality of life, and sense of place for all who live, work, and play near the entrance to Pike Place Market, 'The Soul of Seattle'."
How Can You Help?
4.    When a date is confirmed to consider Landmark Controls & Incentives, submit a strong public comment in writing and/or in person. STME will provide tips on how to submit a strong comment as that opportunity approaches.
View more historic photos of the Hotel Elliott/(Hahn Building)