Hotel Elliott/(Hahn Building)
The Historic Hotel Elliott/(Hahn Building) is Endangered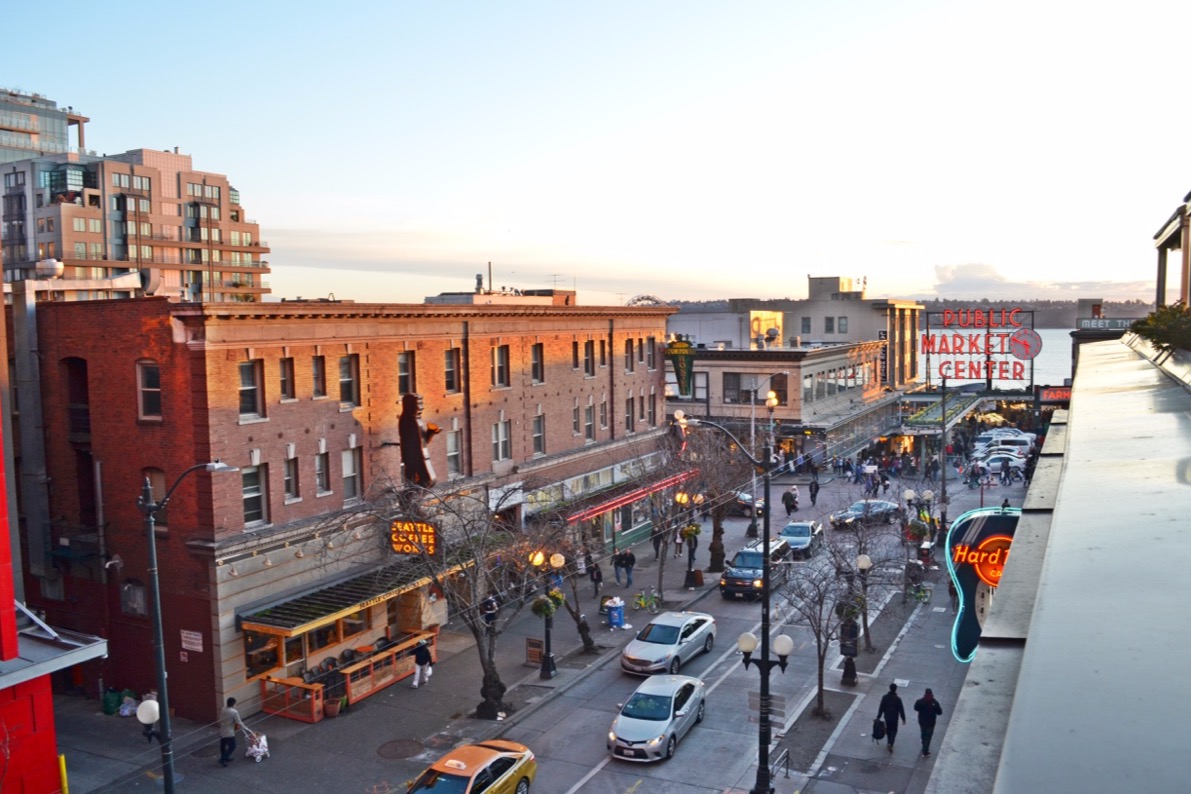 The historic
Hotel Elliott / (Hahn Building)
is in jeopardy of demolition to make room for a 14-story glass and steel high rise hotel in awkward juxtaposition to the historic 2 and 3-story structures and light that grace the four corners at 1st & Pike, the iconic entrance to the National Register-listed
Pike Place Market Historical District
.
A
SaveTheMarketEntrance.org petition
 first launched through Change.org in 2017 has received over 88,000 signatures in support of preserving the existing human scale and symmetry at this historic Market entrance and protesting redevelopment of this southeast corner with a modern hotel/mixed use high rise. 


What's next?
We have filed a new, expanded landmark nomination application with the goal of securing broad public support for the landmark designation of the
Hotel Elliott / (Hahn Building)
.  We are seeking a designation that will include controls to protect the historic structure. 
We submitted the application on  December 17th, 2019 – the 5-year anniversary of its last nomination (which was submitted solely by the owner/developer of the property).
Who are we?
SaveTheMarketEntrance.org (STME)
, is a grassroots non-profit community advocacy group whose mission is "to preserve quality of life and sense of place at 1st & Pike at the entrance to Pike Place Market, 'The Soul of Seattle'."
What makes our landmark nomination different?
This is the first time that a landmark nomination has been submitted by anyone other than the developer/owner. It is also the first time the public at large will receive notice of the proceedings, giving them an opportunity to participate and advocate on behalf of preservation as they see fit.
This is a critical time …
Our landmark nomination application has been accepted and we are now waiting for our hearing before the Landmarks Preservation Board to be scheduled.
We are waiting for a landmark hearing date while also appealing a Master Use Permit …

Oddly enough, on January 2, 2020, the City approved a Master Use Permit (MUP) two weeks after the landmark nomination application was filed and accepted, which moves this building one perilous step closer to demolition, while we wait for the Landmarks Preservation Board to schedule and complete their consideration of our pending nomination. 
We are appealing the City's MUP decision based on significant, unmitigated impacts that violate municipal code, established Downtown Design Guidelines, and the State Environmental Policy Act (SEPA).
Documents submitted for both the landmark nomination and the MUP appeal underscore the importance of the Hahn Building's contribution to 1st & Pike as a historic and culturally significant intersection in communicating the symmetry, scale, and aesthetic character of the four corners at the entrance to Pike Place Market.
Announcing our "Spring Into Action" Challenge Grant:  Your gift will be matched 50 cents on the dollar (up to the first $40,000 in contributions).  
 We are deeply grateful for one generous donor who has made this $20,000 in matching fund possible. Please help us make the most of this pledge by donating whatever you can to support our cause today.
How Can You Help?
1.       Spring into Action and Donate Generously to our Go Fund Me Campaign or on our website at www.savethemarketentrance.org . Major credit cards and Paypal make donating easy and secure.2.      Sign and widely share the Change.org petition: Save The Market Entrance .3.       Like  Save the Market Entrance on Facebook and follow our activities.4.     Once the landmark nomination meeting date is confirmed, submit a strong public comment in writing and/or in person. STME will provide tips on how to submit a strong comment as that opportunity approaches.
View more historic photos of the  Hotel Elliott/(Hahn Building)savethemarketentrance.org
Organizer

SaveTheMarketEntrance.org
Registered nonprofit
Donations are typically 100% tax deductible in the US.