Save Sonoma County Neighborhoods from Big Cannabis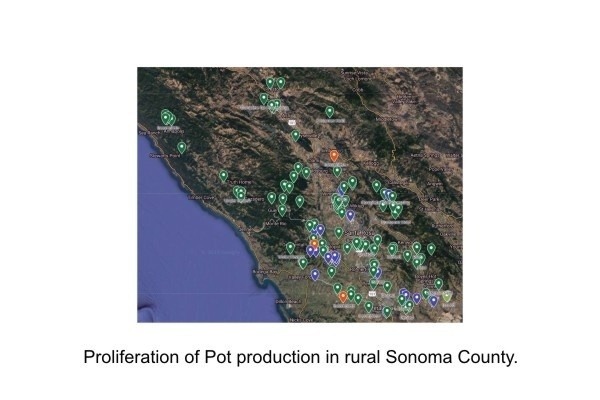 Save Our Sonoma Neighborhoods is fund raising to fight the juggernaut of commercial cannabis projects threatening to forever damage the character of Sonoma County.
If you believe as we do that:
Sonoma County voters approved Proposition 64 so their neighbors could light up without fear of prosecution
They did NOT vote to transform Sonoma into a major cannabis producing mecca, with all the attendant problems of:
1. Toxic environmental odors
2. Reduced property values
3. Crime
4. Water depletion
5. Unregulated chemicals
6. Power requirements – infrastructure overload
7. 24 hour operations, lights, dogs, guards, fencing
8. Increased fire hazard in remote rural locations, sometimes on narrow private roads
9. Loss of sight lines
Seventy percent of county voters think that individual communities should have the power to create exclusion zones that ban commercial marijuana cultivation, but the pot industry persuaded the supervisors to refuse to let communities decide their own fates.
Help us preserve what makes Sonoma special, don't let outside interests and Big Cannabis ruin your place.
The Sonoma Quality of Life Initiative will:
1. Protect neighborhoods from encroachment of pot production operations in inappropriate areas.
2. Protect our schools and other sensitive areas where children congregate.
3. Force growers to use the latest technology to mitigate toxic odors.
4. Allow individual communities to ban commercial cannabis, as they do for BnB's.
5. Assure neighbors are notified of pending operations and have opportunity for input. (They aren't currently)
6. Provide transparency to County's pot programs.
Funds for this phase will be wire transferred to a trust fund account of a law firm experienced in relevant areas of law and used to cover expenses for a legal challenge to Sonoma County's cannabis ordinance. 
We are 100% volunteer, residents of rural Sonoma fighting to preserve the quality of life we enjoy. Donations cover the cost of drafting rule changes and litigation against pot grows that threaten vital human, natural and aesthetic resources.
www.sosneighborhoods.com