Safeguarding My Special Needs Sons
I am a mom with two handicapped sons. I've been married for almost thirty-two years to the same man. As you'll read below, he's not the person I thought he was when I married him. As  evidence of that continues to pile up, it's very important to protect my sons and my future.
Who am I? I'm a
writer of historical fiction
  and a stay-at-home mom. I stay home not out of preference so much as necessity. One of my sons is helpless, bed-bound or in a wheelchair.
Michael is twenty-three years old. Due to complications, Michael had to be delivered at just twenty-three weeks. Back then, this was below the minimum time required for a baby's lungs to function. Michael spent three and a half months in the neonatal intensive care unit until he'd gained enough weight, grown enough, and had surgery to prevent him from going blind. As you can see, with all the medical equipment and the need for daily nursing care, Michael's room looks like he lives in the hospital. Michael is a sweet boy and a lot of fun, but he cannot speak, eats through a tube in his stomach, and has the use of only his right arm and hand. He is also still in diapers. His mind works just fine, thank God. He loves spaceships, racing cars, board games, and classic rock.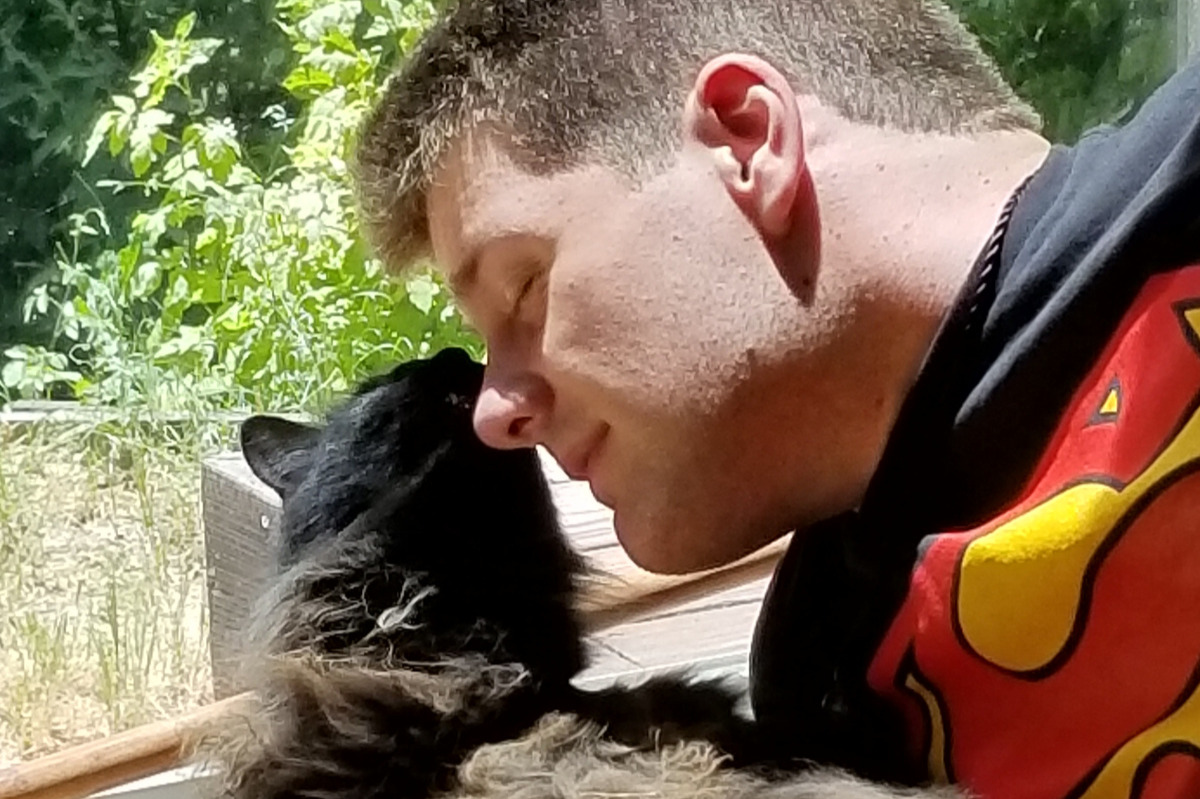 My younger son John is twenty-one. He was fine until his lack of verbal milestones led to speech therapy. That therapist strongly suggested John see a neurologist for evaluation. John has
regressive autism
  and
speech delay
 . Grade school was very difficult for him. John frequently refused to get out of the car in the morning. He had severe meltdowns two or three times a week. Now, thank God, he's at junior college, has a part time job, and has spent a solid year training in tae kwon do.
Last June I lost my mother to kidney failure. I'd been her sole caregiver for the final part of her life, constantly running back and forth between the hospital and my house, between Mom and my sons.
In two months I will go to court for the first judicial hearing about my divorce. The lawyer I hired is asking for $500 up front, then a retainer that starts out at $5000 and can easily go up from there. Money has always been one of my husband's strongest weapons for controlling me. It's absolutely vital that I have a good lawyer who can protect me from  my husband's trickery and make sure my sons' future is secure. This is so distressing it's making me ill.
I'm just a mom struggling to do the best for her special needs boys, which isn't easy. It's been made all the harder by growing up in an alcoholic family with parents who gave me faulty genetics: I suffer from Major Depressive Disorder, PTSD, and ADHD. I lost my first baby to miscarriage. I also have an extremely painful degenerative condition in my neck that required surgery to install a titanium brace. This makes life even more difficult when I have to turn over and reposition my mostly paralyzed son several times a day.
I've been the good wife, the good sport. I believed in my marriage and worked hard these thirty-two years.  My soon-to-be-wasband has lied to me throughout our time together. He was actively gay before he met me and never said a word about it until I discovered him doing something online. Only then did I find out he hadn't gotten himself tested for AIDS until he decided to propose to me. (I promptly got tested. No sign of it.) He's lied about our finances. He has tormented me, telling me how I'm a burden on him and everyone else around us. Why did I stay married to him? I chose what was best for my sons. That meant a stable household with good medical insurance.
My sons are legal adults now, but they still need care and support. They always will. Please, help me. Help Michael and John. All donations will go toward paying a family law attorney who will protect me and my sons, and help us to create a healthy, stable future.
A friend suggested to me including these links:
Paypal: lillian@lillian-csernica.com
Venmo: Lillian Csernica
Thank you for listening. Your kindness means the world to me and my boys.
Become the first supporter
Your donation matters
Organizer
Lillian Csernica
Organizer
Ben Lomond, CA