Disabled People Outside..



DISABLED PEOPLE OUTSIDE PROJECT 

Working with Homeless and Disabled People to save lives and bring our most vunerable in from the cold.

.In my work with the Disabled and the Homeless, it
seems that every year gets worse and worse.  This year is a disaster. New Housing and Urban Development guidelines make central intake for homeless peoeple mandatory. But the City through a contractor and the agency now called "The HUB" being run by Berkeley Food and Housing wasreading these rules so narrowly that nearly NO ONE is being helped.
Then a couple of days before the first big storm of the winter, the rain shelter that we got started over ten years ago , burns to the ground in the biggest fire we have seen in years. 
Two weeks before these events I had sought out my friends and especially those I had worked with before. 
Together we had a number of meetings and organized a protest with tents at the HUB (the centralized intake.) and later as the conditions got worse our community grew and grew. By default we became the only foul weather shelter available in Berkeley The HUB themselves were bringing people to us.
Severly disabled and Elderly people were dropped at our feet.  
People called and emailed me about people that were soaking wet on sidewalks in their neighborhoods.
And I went. If they weren't completely addled on drugs, they were accepted by our camp.
If they were addled by drugs we sought other alternatives for them.
The camp became their only lifeline in the community and for the first time in over 20+ years the City is looking into what I have been asking for. A legal place where people can be, can pull their lives back together without being criminalized.  A legal camp ground with the common sense rules and ammenities to keep it working smoothly.
As we have been moved from place to place and our tents and bedding been confiscated by police and City Workers in pre-dawn raids, our protest has grown and morphed into "Poor Tour 2016" our group includes the blind, disabled, veterans and just about any and every category of person you could name, We have been able to supply food and shelter so far. But as the weather persists we need your help. The holidays are a time of thinking about others and your donation could not be better spent than to help our cause.
Help us buy some tents, sleeping bags, a cook stove, and the expenses involved with taking care of people. Help us convince the City that this is a cause worth getting behind and by limiting the damage that is done to a person that becomes homeless we make the road home that much shorter. Help us help people to survive long enough to pull their lives back together.
I have spent so many sleepless nights with the memories of my own homelessness after my accident and the faces of the Homeless People that helped me through, many of whom passed away on the streets themselves.  As the rain comes down I remember that it was other homeless people not agencies that helped me survive through those hard years. On those rainy nights I usually give up on sleep and get up and put on my rain slicker. With my head lamp on and a bag of supplies I head out into the storm on my electric wheelchair. After my rounds I get back home, tired and sometimes sad at what I witness, but I feel a lot better.  I know that the people I met will make it through the night. Not only will they be dryer, warmer and fed. They will know somebody came out for them. That somebody cared about them. That someone and yes, even their community and country is in their corner regardless of what the politicians say and do. 

Please Help.
Please support "Camp HUB" and "Poor Tour 2016" It is saving lives while getting a message out in an election year that many are suffering on the streets due to bad policy and the criminalization of the mere act of being alive.
Thank You.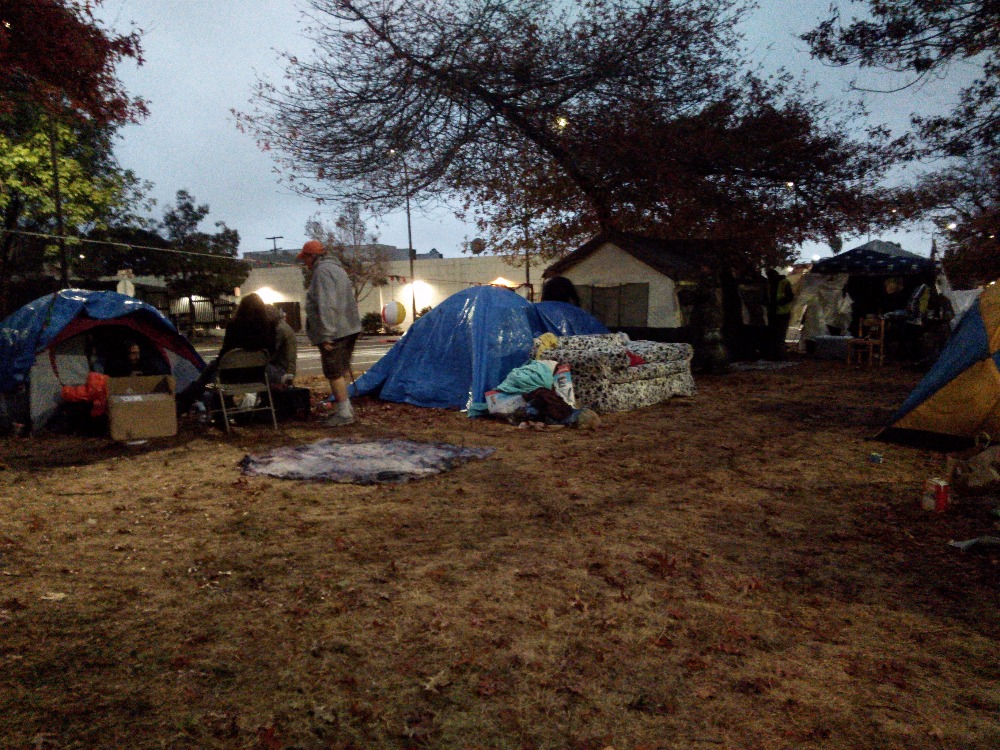 Night settles on Camp HUB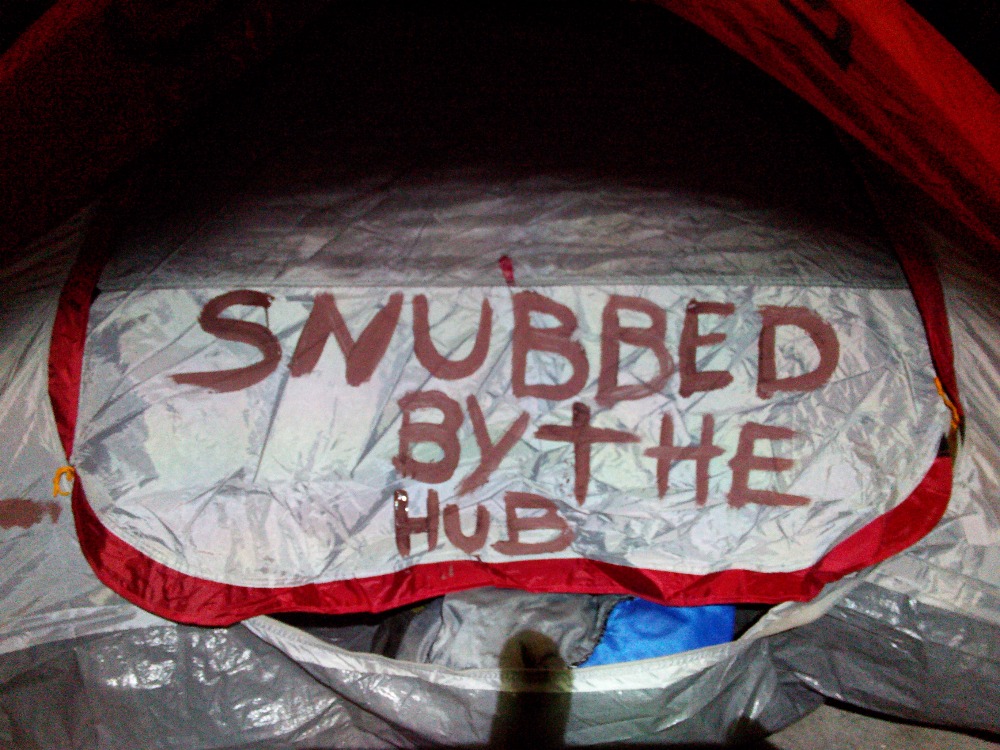 "Snubbed" tent.


Night in front of Berkeley Centralized Intake (The HUB)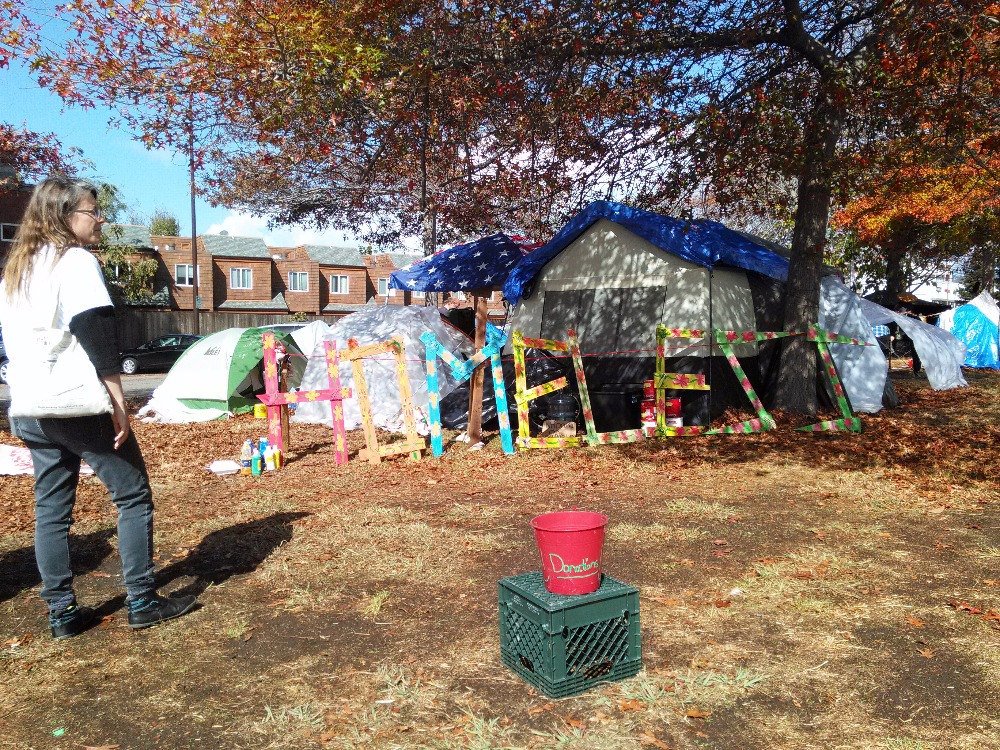 Art and Expression is the therapy 


The town grows on HUB Island.