Run for Liberia and against Ebola
Running at home for home –
A half marathon in Braunschweig to help the fight against Ebola in Liberia
I gonna run…..at home, for home: On October 26, I will participate in the half marathon in my native town Braunschweig, my first home. And I ask you to help me finishing those 21k by donating for my second home Liberia to win its battle against Ebola.
The money goes to
Kriterion Monrovia
, a studentorganisationw working at the forefront of the battle.
Laufen in der Heimat für die Heimat -
Ein Halbmarathon in Braunschweig als Unterstützung im Kampf gegen Ebola in Liberia
Ich laufe....in der Heimat, für die Heimat: Am 26. Oktober werde ich am Halbmarathon in meiner Geburtsstadt Braunschweig teilnehmen.
Und ihr könnt mir dabei helfen, indem ihr spendet - für den Kampf gegen Ebola in meiner zweiten Heimat Liberia.
Die Spenden gehen an
Kriterion Monrovia
, die ganz vorne mit dabei sind in der Bekämpfung des Viruses.

_______________________________________________________
Deutsche Beschreibung weiter unten!!
I have been living in Liberia for almost three years and the country became my second home. Now I have to watch how this home is falling apart, being hit hard by a deadly Ebola virus outbreak.
In 2013, I was one of the co-organizers of the Liberia Marathon – a wonderful civic event with more than 1,300 runners and an infinite number of proud smiles. Certainly one of the best days in my life!
We were just in the middle of crazy busy preparations for this year's Liberia Marathon, when Ebola came to the country and we had to postpone the race.
Instead of trying to win the marathon, the Liberians are now trying to win the fight against Ebola. And instead of checking on runners crossing the finish line, I am back in Germany and can only try to support from the distance those ones who are fighting.
The money raised will go straight to the student  organization 
Kriterion Monrovia
  who are doing amazing work on awareness raising, sensitization, and monitoring on Ebola issues in Liberia's capital Monrovia.
Initially, Kriterion Monrovia was founded to work towards opening a movie theatre in Liberia's capital. But when Ebola came, the students soon figured, this is not the time for movies. It is time to kick Ebola out of the country.
Led by 26-years old student Pandora Hodge, the group has been on the forefront of Ebola activities ever since and gained tremendous experience and trust by the people
For months already, they are out every day, talking to people in communities, distributing disinfection chlorine packs  to families, handing out posters and flyers, dance and sing about Ebola and replace people's fear by awareness.
Giving money to them means giving money to a group of incredibly responsible and committed young Liberians!
Giving money to them means to support crucial communication with and education of the Liberian people - something which has been neglected for too long in this context!
Giving money to them means being sure that all of this money is directly translated into action!
Enough time has been wasted - don't wait, donate now! Your support rocks!


Here a small video from Kriterion Monrovia talking
about their work:
Oben ein kurzes Video über die Arbeit von Kriterion Monrovia
Seit fast drei Jahren lebe und arbeite ich in Liberia und das Land ist zu meinem zweiten Zuhause geworden. Nun muss ich dabei zuschauen, wie ein Ausbruch des oft tödlichen Ebola-Viruses dieses Zuhause zerstört.
2013 war ich einer der Organisatoren des Liberia Marathon - ein Großereignis mit mehr als 1 300 LäuferInnen und unendlich vielen stolzen Gesichtern. Ohne Frage einer der besten Tage, die ich je hatte!
Und wir waren auf dem Höhepunkt der Vobereitung für den diesjährigen Liberia Marathon, als das Virus begann, sich auszubreiten.
Dann mussten wir das Rennen verschieben.
Anstatt den Marathon zu gewinnen, versuchen die Liberianer nun den Kampf gegen Ebola zu gewinnen. Und anstatt sich um die LäuferInnen im Ziel zu kümmern, sitze ich nun in Deutschland und kann nur versuchen, allen denen, die nun kämpfen, aus der Ferne zu helfen.
Alle gesammelten Spenden gehen direkt an die Studierendenorganisation
Kriterion Monrovia
, die großartige Ebola-Sensibilisierungs- und Aufklärungsarbeit macht.
Eigentlich wurde Kriterion Monrovia gegründet, um ein Kino in Monrovia aufzubauen und Film als Kunstform und Kulturgut voranzutreiben. Aber als Ebola ins Land kam, haben die Studierenden schnell verstanden, dass die Zeit für Filme schauen erst einmal vorbei ist.
Es ist an der Zeit, Ebola aus dem Land zu schmeißen.
Unter der Führung der 26jährigen Pandora Hodge ist die Gruppe daher von Anfang an ganz vorne bei der Ebolabekämpfung mit dabei gewesen. Sie haben enorm an Erfahrung und das Vertrauen der Bevölkerung gewonnen.
Seit Monaten sind sie täglich unterwegs, informieren Menschen in den verschiedenen Stadtvierteln Monrovias, verteilen Chlorid und Seife zur Desinfektion, hängern Poster und Plakate auf und tanzen und singen über Ebola. Sie haben das Vertrauen der Menschen gewonnen und schaffen es so, Angst und Stigma zu reduzieren und stattdessen die Bevölkerung zur Mitarbeit zu ermutigen.
Für sie zu spenden, bedeutet, eine Gruppe sehr verantwortlicher und unglaublich pflichtbewusster junger LiberianerInnen zu unterstützen!
Für sie zu spenden, bedeutet, die so ungeheuer wichtige, aber oft vernachlässigte Kommunikation mit und Aufklärung der Bevölkerung zu unterstützen!
Für sie zu spenden, bedeutet, dass man sicher sein kann, dass jeder Cent direkt in Handlung umgesetzt wird.
Genug Zeit ist verschwendet worden - warte nicht mehr länger, spende jetzt! Deine Unterstützung ist das, was Kriterion Monrovia vorantreibt!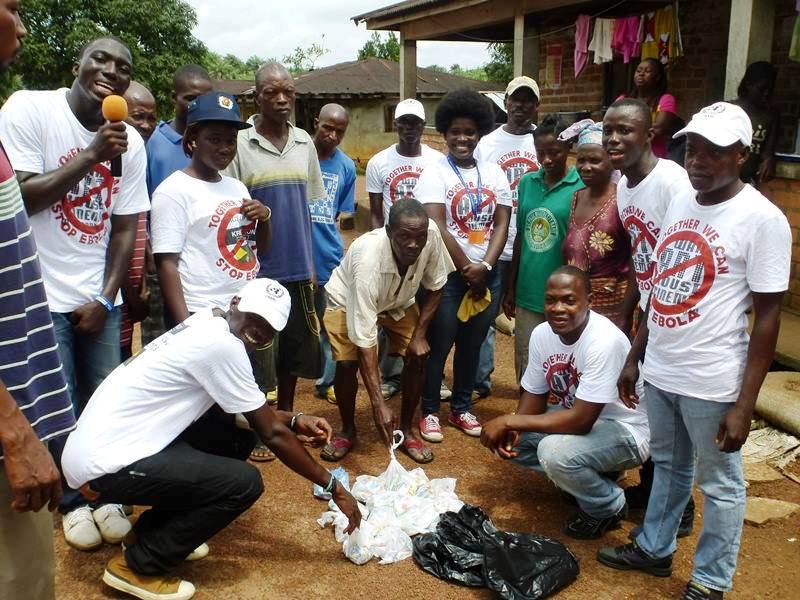 Payments are done via Credit Card! If you want to donate but use alternative payment, please contact me. Thank you!
Es wird per Kreditkarte gespendet. Wenn ihr eine andere Zahlungsmethode bevorzugt, bitte meldet euch bei mir. Danke!
Organizer
Juliane Weymann
Organizer
Brunswick