Restore the Quijote Fountain
Help restore an historic landmark - the Quijote Fountain in Mexico City's Chapultepec Park. 
I'm from Seattle, Washington, USA.  I moved to Mexico City, Mexico a year ago for work. Since moving here, I have fallen in love with Chapultepec Park. It is a refuge from the commotion of the city. Going through the park you see every walk of life. There are people fencing in the woods, lovers hanging out on park benches, families picnicking, kids playing football, kung fu lessons, church services, drum circles, you name it. The park is open and welcoming to everyone.
The Quijote Fountain (Plaza De El Quijote) is an enchanting space in the middle of the park. The structure is composed of tiled benches that surround a central fountain. 
Each tile is a hand painted vignette that narrates passages from the book - Don Quixote de la Mancha by Miguel de Cervantes Saavedra. 
On either side of the fountain were bronze statues in the likeness of Salvador Dali as Don Quijote and Diego Rivera as Sancho Panza.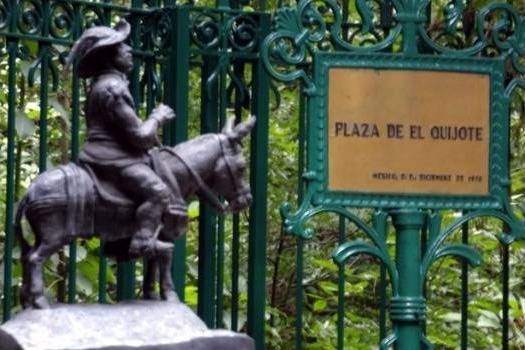 There were shelves for community book sharing. People used to go to the fountain to spend the day reading.
The fountain was constructed in 1921 and has been the subject of poems, plays, and paintings ever since.
The fountain was vandalized in 2015 and the space was closed to the public. The vandals destroyed much of the structure and stole the bronze statues of Quijote and Panza.
The area has gone into disrepair and is no longer useful to park goers. The area behind the fountain that used to be a continuation of the reading area has turned into a scary place that people don't feel safe in.




We are working in partnership with the group Probosque Chapultepec (The Chapultepec Park Trust) to restore the fountain and to have the space reopened to the public.
The funds will be used to reconstruct the fountain and the surrounding area of the park.
The funds will be donated directly to Probosque Chapultepec who operate with full public transparency. (Go to their site to read more about this amazing group and the work they have done in Mexico City.
https://chapultepec.org.mx/
)
We need the funds in full to start construction. Our goal is to start by end of November 2018.
Chapultepec Park is a magical place full of historically significant statues and buildings. The Quijote Fountain is the most precious of all of these. Your donation will help to restore this important space and will enrich the lives park goers for years to come. 
-Thank you for your support!
For more information on Chapultepec Park and the Probosque Chapultepec group check out this youtube.