Rania's Family in Palestine
My dear friend Rania — a major character in my book
Fast Times in Palestine
 — has for years offered desperately-needed services in the West Bank town of Tulkarem, Palestine, including counseling for victims of trauma and abuse, activities for children in refugee camps, programs for the disabled, and training for other counselors and community leaders. The number of lives she has touched is truly staggering.
Sadly, there has never been funding for this work. So each year I raise funds to pay her a small salary of $300 a month, which not only helps her family survive but also helps her community live healthier and more colorful lives. Her efforts have been the definition of sumoud (steadfastness), and it's been an honor to help support her.
I've written about
her life story
 and some of the hardships she has faced, including her husband being
arrested on bogus charges
  by the Israeli military and banned from working in Israel for ten years. This has left him with few and uncertain employment prospects, and in January he was injured in a work accident, hospitalized, and prevented from working for months. Rania was forced to withdraw from her volunteer work to take care of her family. Luckily I was able to raise money via Facebook to help them through the worst of it.
Rania has, of course, continued to seek funding for her volunteer work or find gainful employment herself, but with no "wasta" (connections) to speak of, it has constantly been a matter of "one step forward, two steps back." Some high-ranking men have even made proposals that would qualify her for the #MeToo movement, but she is not willing to go down that road. I sincerely hope she never feels compelled to.
Her kids are still doing fantastic, their academic achievement astonishing. Your help has ensured they have school supplies, good nutrition, and happy holidays even in the midst of the slow grind -- and occasional acute trauma -- of childhoods lived under military occupation. I can't thank every donor enough for that.
By now I have been raising funds for her family for almost fifteen years, amid hardships and disappointments as well as hope, laughter, and triumphs. With the kids getting older and her husband healthy again, and with the birth of my own son and the increasing responsibilities that brings for me, and most importantly because her husband's ban on working in Israel will be lifted next year... Rania and I have agreed that this will be the last year I raise funds for her family.
If someone else wants to take the baton, please be in touch. If no one else is willing, I want to give them some time to adjust and make plans for when this particular source of funding ends.
So, for one last time, I am raising funds for Rania's beautiful family, and I would be so grateful if you would consider pitching in five or ten bucks if you can spare it. The goal is $4200 to cover one last year (plus the $600 I have already sent from my own savings).
PLEASE NOTE: This fundraising platform is fee-free, but they'll ask if you want to add a 'tip.' This is completely voluntary. You can edit it to any amount (including zero), and it will not affect the amount of money that goes to Rania.
If you prefer, please contact me to ask where to send a check, how to Pay.pal the money, or how to send money to her via Western Union. I pay for all Western Union fees, so 100% of what you gives goes directly to Rania's family.
Rania has done so much for so many. Your help means another year of hope, health, and happiness for her family, who never asked to be born under a military occupation funded in part by our tax dollars.
In her own words, in thanks to all the donors:
"You are the hope of a family. I have to give thanks first to God, then a million thanks to every one of you who supports my family and stands with us. You allow us to be happy, healthy, and kind. What more can I say to you? You are candles in the dark; you are stars in the night sky. I ask God to give to all of you the happiness you have given to us. Hug hug hug hug. I believe the universe will send good news to you. Thank you for your kindness."
Salaam, shalom, peace and light.
And so much gratitude.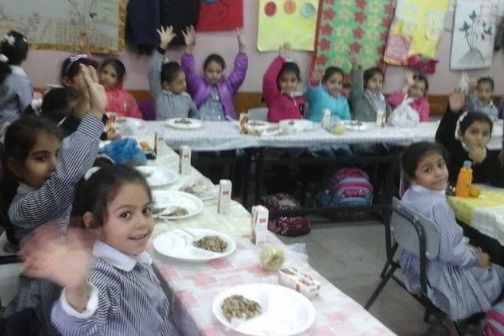 Organizer