Racine County WI Election Handcount
We, members of Wisconsin Election Integrity, want to handcount votes that were only machine-counted during the November 2016 election and the recount in Racine County, Wisconsin.

We don't expect to change the election's outcome with this handcount of just a few precincts. Instead, we want to call attention to some serious issues with election procedures, which may have disenfranchised hundreds--perhaps more than a thousand--Racine County voters. We want to demonstrate the need for improved procedures, so that any future miscounts will be noticed in time and corrected.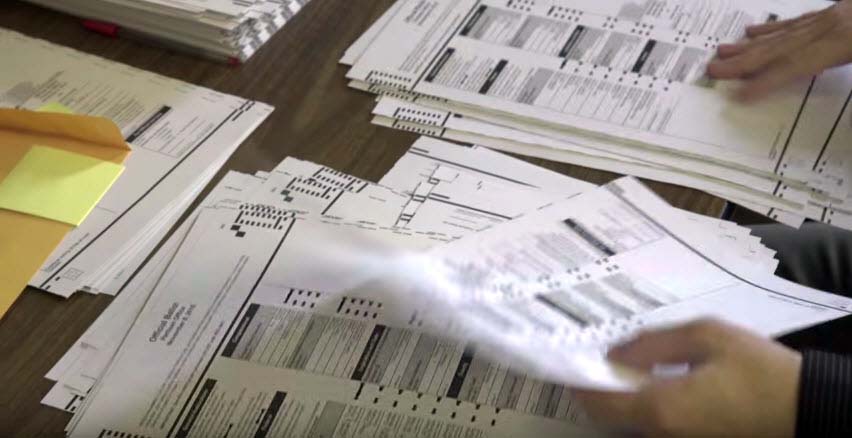 Here's what happened: Even on Election Night last November, Racine County's voting machines were indicating possible miscounts--if anyone had been alert for them. Many polling places reported results that showed a weirdly high number of ballots had been processed as if they contained no vote for president.

Then during the recount, observers noticed that the voting machines were not counting some valid votes.  In one small ward, for example, observers could see that 15 votes (4.5%)  were missed  by the machine in one  small batch of 331 ballots!  When the observers asked for an accuracy check,  county officials refused to hand count even one small precinct.  (See video clip for their rude response during the recount.)


In other counties that used the same type of voting machine (the Optech Eagle) and that did check accuracy,  miscounts were discovered similar to the ones we suspect in Racine County. We also found out that state and local officials knew that these machines would be unable to count votes from many absentee and mailed-in votes, if they were marked with noncarbonized ink.

And yet Racine County officials approved the computer-tabulated vote totals--twice--without checking!
Because of the miscounts discovered elsewhere, the Wisconsin Elections Commission decided in September 2017 to decertify the Optech Eagle for use in Wisconsin. Racine County has ordered new machines. But county officials have announced no plans to improve the review procedures.

No one can ever guarantee that any voting machine, even new ones, will not miscount our votes. Every computer needs to be checked for accuracy. With this handcount, we intend to demonstrate how easy it would have been to notice and correct these miscounts, if election clerks had practiced some simple auditing procedures  before they certified the vote totals.  A simple calculation of the undervote rate would have alerted them to problem of the many missed votes.    

So why do we need money?  Racine County is going to charge us $592 to view the ballots of only four wards.  Because it's very important that this audit is transparent (visible to the public), we are also going to rent or buy a document projector, camera stand, and screen (about $100 a day for rental) so that we can videotape the ballots as we count them and project them on the wall for observers to view. 

Additionally, we may need a lawyer if we have to wrangle with the county to get an appropriate room and set-up for this venture.  If all goes well, we hope to do this hand count sometime in November.

Your support would mean a lot for the integrity of Wisconsin elections! 

Speaking for myself,  Liz Whitlock, this has been a lonely road so far.  It's been hard to get the press  interested, despite the importance of accurate election results. Many legislators do not see a problem.  Election officials don't want any more work. Ordinary citizens are exhausted with the political strife around the November 2016 election, yet we cannot expect things to change for the better until our elections are truly free and fair.  Every other issue in this country hinges on our right to vote and our right to have our votes counted correctly!

What we demonstrate in this hand count in Wisconsin will help dispel the notion that the recount confirmed that our votes were counted accurately.  We also hope our bringing attention to this issue will inspire others to do the same.   For more information on our planned hand count in Racine County, please see this article by Karen McKim, Coordinator of Wisconsin Election Integrity: http://www.wisconsinelectionintegrity.org/racinecountymiscounts .


Organizer
Liz Hayward Whitlock 
Organizer
Pleasant Prairie, WI