"Free Hong Kong" Shirts for San Francisco & NBA
November Update: 
Thank all of you amazing people for helping us reach our $25,000 goal to spread the word about Hong Kong. You helped us be able to broadcast our message of support on an international broadcast of an NBA game on Nov 2nd. With your help, we handed out over 4,000 shirts in San Francisco and that's something that we can all be proud of because we stood up for what was right.

Right now, we are going to examine our ability to work on targeting high-visibility seats during NBA games and will be taking a break from the large-scale giveaways for now.  Give us some time to formulate our next steps and I will keep everyone updated. THANKS SO MUCH!!!! -Lee
Update
10/30:  Our second order of 2,000 shirts will arrive tomorrow and we will be ready to hand them out this Saturday on Nov. 2nd

The 2nd order has arrived with the updated wording on the shirts! We are ready for Nov 2nd. Add Oil!!!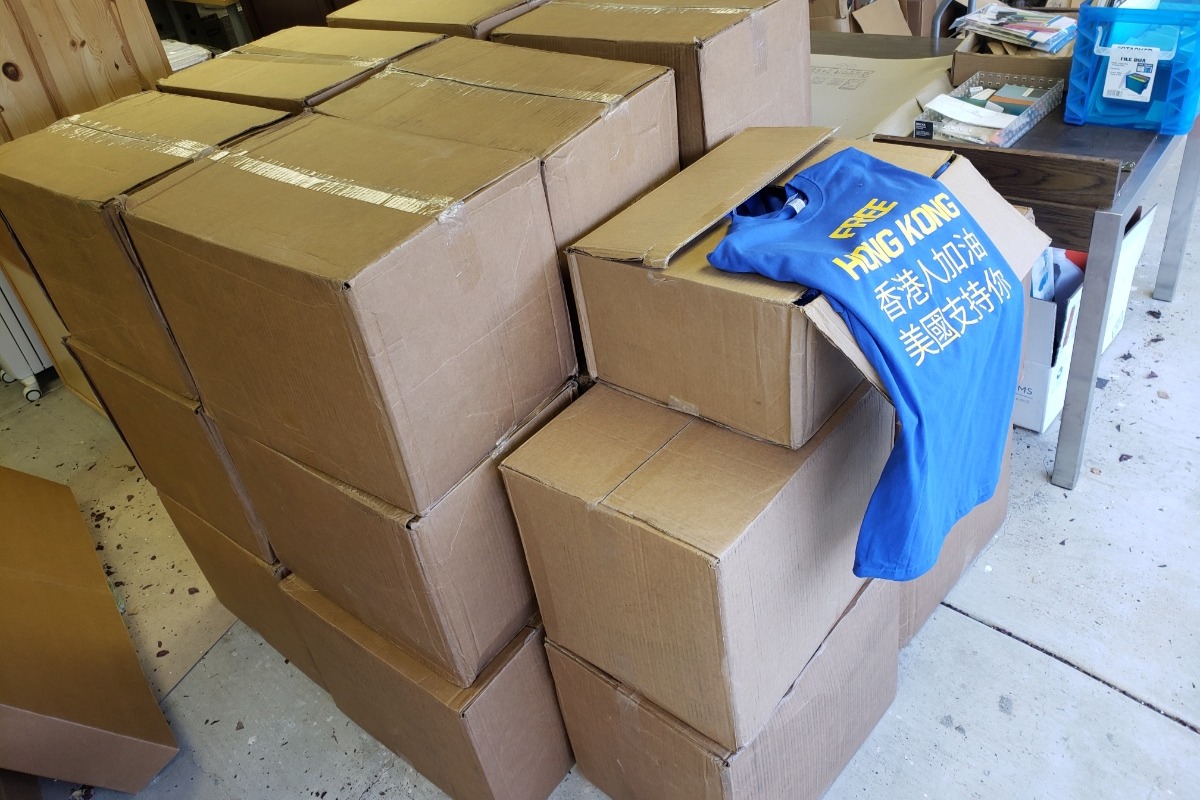 Update 10/25: Order #2 for an additional 2,000 shirts has been placed. We will hand them out on Nov 2nd at Chase Center 

Update 10/24:
We gave out over 2,000 shirts tonight to fans and they wanted more. We ran out of shirts super quick and we need to rally and place another order. Hopefully we can reach out to a wider audience to shine a light on Hong Kong with our continued efforts.

It was great seeing so much support from volunteers and fans. None of this would be possible without your support and donations!

Thank you! We aren't finished and will continue with showing up to another game.

-Lee

Update: We Have Shirts!!!
The first order of a couple thousand shirts came in today and they're ready to be given out on Oct 24th!




Update:
The shirts are being packaged tonight and shipped up to San Francisco!!! We are almost there. Thanks so much for everyone's support in making this a reality. ADD OIL!


T-Shirt Handout Volunteer Signup

Oder Your Own Shirt Online!
I'm raising money to buy "Free Hong Kong" t-shirts to pass out to the public, outside of the Golden State Warrior's arena for fans,  to show support of human rights for the people of Hong Kong. 
The more money we raise, the more shirts we can print. I'm starting at $1,000 to get started and we will print more as the donations allow. The more we raise, the lower the cost for each shirt to be printed and we can just add more shirts to the pile to be handed out!
U.S. corporations are more concerned with money and turn a blind eye to authoritarian nations oppressing their people and using their influence to suppress free speech and art of Americans here at home due to funding agreements.
Let's help free Hong Kong and hold our American corporations accountable to our American values and liberty that should be spread across the globe.
I will be chipping in $100 to this.
Organizer
Lee Bishop
Organizer
San Francisco, CA