For 10 years running
Swaziland has the highest rate of HIV/AIDS infection in the world.
 26% of their population have a positive HIV diagnosis. The average life expantency is only 49.
This not only affected the the
1 in 4 people
with the diagnoses, it also affects their families, and particularly their children.  With a total population of 1.3 million there are thought to be
100,000 orphans
. I can't begin to imagin the impact that would have on a society.
As a child of the 80's I remember the impact of high youth unemployment and I also remember how education formed an important, effective part of taking Ireland out of the poverty trap.
During my years involved in education at all levels I also have seen first hand the impact effective preschool education can have on a child's ability to not only progress through the education system, but also succeed within it.
As the children progress through the school system having individualised support, mentors and roll models can be of great support, both with the academic and the social challenges posed by remaining with in education. 
An opportunity has arisen for me and my daughter to volunteer in a project which combines all of this supports.
The project is 15 years old and so are now seeing the graduation of their initial children. The project creates employment for local women by training them to be pre-school teachers or to run after school homework clubs. They also offer youth enterpuner programmes. These amazing women then work with in their community offering free preschool and homework clubs to the some of the most vulnerable children in their community.
This programme is a small programme, making a big difference. We feel very lucky to be in a position to spend November volunteering  with this programme.
As with most of these projects, their volunteer project is also an opportunity for them to fundraise. So we need to
fundraise  €1000 each
to be able to participate. We fund all our flights, travel costs etc.
ALL money raised will go directly to the company running the project.
The project is run by
All Out Africa. So check them out before donating.
I believe this is an opportunity of a life time for me and my daughter. I talk a lot about giving back and Karma Yoga. What better way for me to be able to contribute while also learning so much. To be able to spend a month working along side my daughter is icing on the cake. And who knows, the rest of our family, the ones were leaving behind, may even miss us.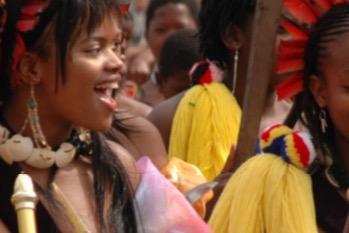 A little bit about All Out AfricaAfrican Responsible Tourism Award
2018FINALIST &2017GOLDWINNER
Over the last 12 years All Out Africa has enabled 500 international volunteers to contribute meaningfully to conservation through data collection and supported and trained over 100 local students in field-based conservation and ecological research, With activities in Eswatini, Mozambique and South Africa they have supported the education of 15 local students at MSC level & more than 1000 undergraduate students from both local and international universities.
Global Youth Travel Awards
Finalist 2017
Judges were particularly impressed by AOA's social- entrepreneur approach to solving the problem of insufficient ecological information and capacity to enable successful conservation.