Pocket Change to Change the World
We are asking for 1,000 people to give $25 per month through 2015 or a one-time gift of $300
toward our goal of self-sustainability. This equates to
83 CENTS PER DAY
.  PrayOut will revolutionize the internet for spiritual growth and global mission objectives, just as the printing press revolutionized the spreading of God's word.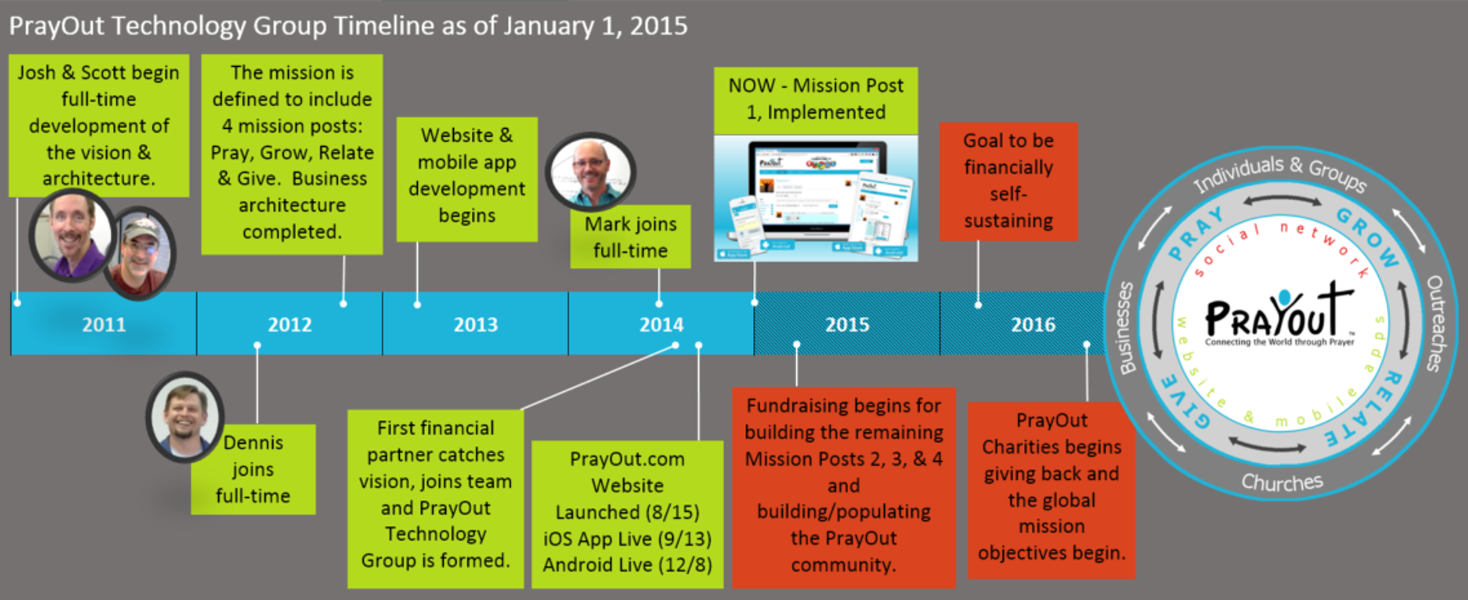 PrayOut is a technology driven mission devoted to building free tools that run on the smart devices carried by billions across the globe.  PrayOut turns these into a spiritual toolbox in the palm of your hand.  Additionally, PrayOut's tools will supercharge the mission of faith based causes and organizations, resulting in higher volunteerism, synergistic giving and prayer support.  Thank you to those who made it possible for the recent release of our first, life changing mission post, "PRAY"!  Now we ask YOU to become part of our family of supporters.  Your financial gifts move us forward into our four-part master plan of "PRAY", "GROW", "RELATE" & "GIVE".  By the end of 2015, PrayOut expects to be financially self-sustaining.  Once in that position, we can deliver on our promise to help build and support other missions, locally and globally.  After completion of these four Mission Posts, PrayOut plans for your 2015 campaign gifts to be recycled back into the Kingdom many times over.
Our campaign goal is 1,000 people giving $25 per month, but are delighted with monthly contributions above or below $25.  When we close this campaign at the end of 2015, all automatic withdrawals will cease.  We will also gladly receive one-time donations from $10 to $10 million.  For special consideration of large contributions, contact us for more information via the
"Contact Us"
 page on PrayOut. 
Will you support us and also consider becoming a champion for this amazing mission?  To become a champion, ask 10 of your friends to commit to this campaign.  For additional ways to support PrayOut, visit our
"Support"
 page.
PrayOut was built for you…to create a legacy of prayer and giving for friends, family…the world.
Pocket change to change the world…PrayOut. 
Note:
  Donations through GoFundMe will not qualify as a charitable tax deduction.  For business expense treatment, contact us for more information on how this can be an advertising expense.
Organizer
Mark Krienke 
Organizer
Oklahoma City, OK