Pete & Lindsey's Baby Fund
To all our family, friends, and those of you reading this that we don't know: Thank you for taking the time to read our story and consider donating to our journey to becoming parents. 
We have been married for 5 years. It was definitely the best decision and the best day for both of us.
Like most couples we assumed once we started trying to conceive it would just happen immediately and naturally so we decided to wait and be married for a year before we added little ones to our family.
We began our journey to becoming parents 4 years ago, almost to the day. About a year of not being able to become pregnant at all we set up an appointment with our doctor to run some tests.
We then thought maybe we just needed to change our diet, or take a new supplement, or something that would take work but would be totally doable and be pregnant in no time.
Right?
We were so hopeful, and so wrong.
We were immediately referred to a fertility specialist with no explanation of our test results.
In that first meeting our fertility doctor (who is truly amazing and we have been so blessed to have a great doctor on our team) turned to each of us to explain why each of us was infertile.
We were surprised and shocked to learn that both our male and female test results came back so low that the ONLY treatment that would give us any chance of having a baby was IVF.
We found out that we have amazing insurance that has helped out a lot with IVF treatments. We also learned it has lifetime max coverage, and that the coverage runs out really fast when you're doing IVF.
It covered our first egg retrieval and the embryo transfers that followed.
I followed the doctor's instructions exactly for each step of the way. So when he gave me a long list of supplements to take starting about a month before my first egg retrieval, I found them all and took them all:
And when my medications arrived and Pete wasn't home to help administer the first shots, I did them myself. 5 shots in the stomach for 16 days, and that doesn't include the nearly daily visits to the clinic for bloodwork and the multiples of times I was pricked and prodded to find a good vein. The worst of those days being 2 shots in my right arm on the inside of my elbow, 1 on my left in the same place, then one in my left arm on the inside of my forearm where they wiggled the needle and pushed it in further on repeat a few times before moving to the middle of my right forearm where they were finally able to draw enough blood. When I got to the car all I could do was look at Pete and exclaim "THEY POKED ME!" through my tears. It left me with this nice shiner on my arm:
To give you some perspective here, an average woman going through an egg retrieval might take the shots for about 12-14 days and get about 15-30 eggs, and how many fertilize and make it to day 5 depend on the quality of those eggs. I am definitely not average since my endometriosis has caused a lot of damage to my body and my doctor said that my ovaries are 10 years older than me as a result. Our first retrieval took 16 days of shots, we got 9 eggs, 5 of them were mature, 4 of them fertilized, and 3 made it to day 5 embryos. My doctor did some surgery at the same time as the egg retrieval to clean the end scar tissue out of my uterus, so those 3 embryos were frozen.
We only had to wait until July 2018 to do this transfer. The needles for the transfer medications were twice the size and went into my butt (vs the egg retrieval shots went into my stomach). I could not do those on my own, so Pete "got" to do that for me.
We decided we wanted to transfer 2 of those embryos to give us the best chance at being pregnant, and to be honest we had our hopes really high thinking "this is it! This is our time to be parents!" When that phone call came 2 weeks later to tell me that I was not pregnant, I was devastated. Like ugly out of control crying to the point where I had to leave work early because I could not function.
When we went to meet with my doctor again after that he told us that he was sure I would have been pregnant and went over the three things needed to become pregnant (egg, sperm, uterus). We decided the next best step would be a biopsy, which meant taking all the shots that lead up transfer day "a mock transfer" but instead of transferring he would take some sample cells from my uterus lining to make sure the receptors needed were present in order for the embryo to implant. Let me tell you what. This was the WORST pain I think I've ever experienced and I got to do it twice on 2 separate days. They stuck a little cotton swap into my uterus and wiggled it around for cell samples. It hurt really bad. But the good news is that those tests came back with positive results and all was good to move forward with our next transfer. We did this one in December 2018 and found out the day after Christmas that we were not pregnant. This time I did not allow them to call me during work, I made them call Pete and he had to deliver the bad news when I got home from work that day.
Our next visit to the doctor resulted in a conversation about treating the endometriosis, which he hadn't done to this point because he had said sometimes treating the endo can hurt fertility, but at this point treating it was the next best option. So he prescribed me 3 shots of Depot Lupron, which basically put me into a state of medically induced menopause - taking all the estrogen out of my body because that's what the endo feeds off of. He said with no estrogen the endometriosis would shrivel and die like a weed, it just wouldn't be gone permanently. But this would clear out the endo and give space for the egg retrieval medications to work more effectively and give us the hope of more eggs of better quality than the last egg retrieval. So we did the 3 months of Lupron and an egg retrieval in April 2019. I was really sad when my doctor came into the recovery room to report that he was able to retrieve 6 eggs and only 4 of them were mature. The following days reported that only 2 fertilized and when we walked in on the morning of our transfer day (we did a fresh transfer this time) it was reported that only one of those embryos had survived.
For those of you who don't know the average cost of IFV is about $30,000 per round (egg retrieval plus transfers). That price tag doesn't guarantee a child though. We don't have exact records of everything we paid, but our insurance for pharmacy (the portion that costs the MOST) maxed out for us at $15,000, which only covered our first egg retrieval and the transfers we did with those first embryos. 
Because the pharmacy coverage had maxed out, we spent just shy of $10,000 out of pocket this time, only to end up with 1 embryo of the same quality as the first round, even though the treatments we did before the second egg retrieval were meant to give us the best chance of high quality eggs. 
We were devastated when this little embaby did not become our baby.
We are still paying off credit cards we used hoping this last round would be successful.
At this point our doctor told us that we could continue to attempt IVF with my own eggs, but that my endometriosis has likely advanced into my ovaries, damaging most or all of my egg supply. And that we might have a successful pregnancy eventually, and we might not. But there was no guarantee and it would be expensive to continue trying without getting any better results from the second egg retrieval and its transfer.
At this point, our doctor has recommended using an egg donor.
This was possibly the hardest moment of our journey. Being told I will most likely never have biological children....it hurt.
A lot.
We were told this news in May of 2019 and have been working hard to save enough money to pay for this step, since our insurance doesn't cover much of the donor related expenses. 
Then COVID hit and like many others in the country have had some unexpected financial difficulties that set us back, making saving up for this big expense extremely difficult.
And, as if that wasn't enough - the Depot Lupron treatment we did to help our last round of IVF be successful had some pretty negative side effects that led to 2 broken feet (walking in flat shoes, no trauma) and a surgery. My endometriosis flared up with vengeance and my endometriomas (similar to a cyst and yes plural - there were 2) grew back measuring 10cm and 11cm (roughly the size of 2 grapefruits) causing so much pain that I was all but bed-ridden for the first 6 months of 2020 until I had my surgery in June. That surgery was $33,000. 
Pete's business lost half of his clients and he's had scale back and scramble to make up that lost revenue. While his business is starting to grow again, we're unsure how soon that will be able to help cover expenses.
We're also racing against our biological clocks. Both of us are 36 and unfortunately, no matter how much anti-aging cream we use...we keep aging. ;)
At this point it may take us a few years to save up the funds needed for an egg donor. By then we'll be close to 40 and having to take Gerital to keep up with any kids we may eventually have. Not that that's a bad thing in any way shape or form, but we just really want to be parents sooner than later.
And the longer it takes us to have a baby the more fur-babies we get. And we love our dogs, we really do. But 2 is enough, we need human babies to care for and love! And our fur-babies will make the best big "siblings."
I just want to say that how grateful we are that we live in a time where using a donor is an option for us. This gives us the ability to experience the full pregnancy together and give birth to our very own baby. But we have come to realize that we can't do this alone. We need our your help.

We realize that 2020 has been a hard year for everyone.

But if you have anything you could spare to help make our dream of becoming parents come true, please do.

We are asking for $25,000 by January 31st. This will allow us to pay the required cash up front so we can start our next steps on our journey to becoming parents.

Using a donor through our clinic will cost us between $9-15,000 out of pocket.

We also have $10,000 in credit card debt we used strictly for IVF treatment the we put on a Zero Interest card that is now charging interest.

I'll leave you with this one last thought. If you've ever wondered what 2 egg retrievals, 3 failed transfers, and 1 mock transfer look like in one picture, it looks like this: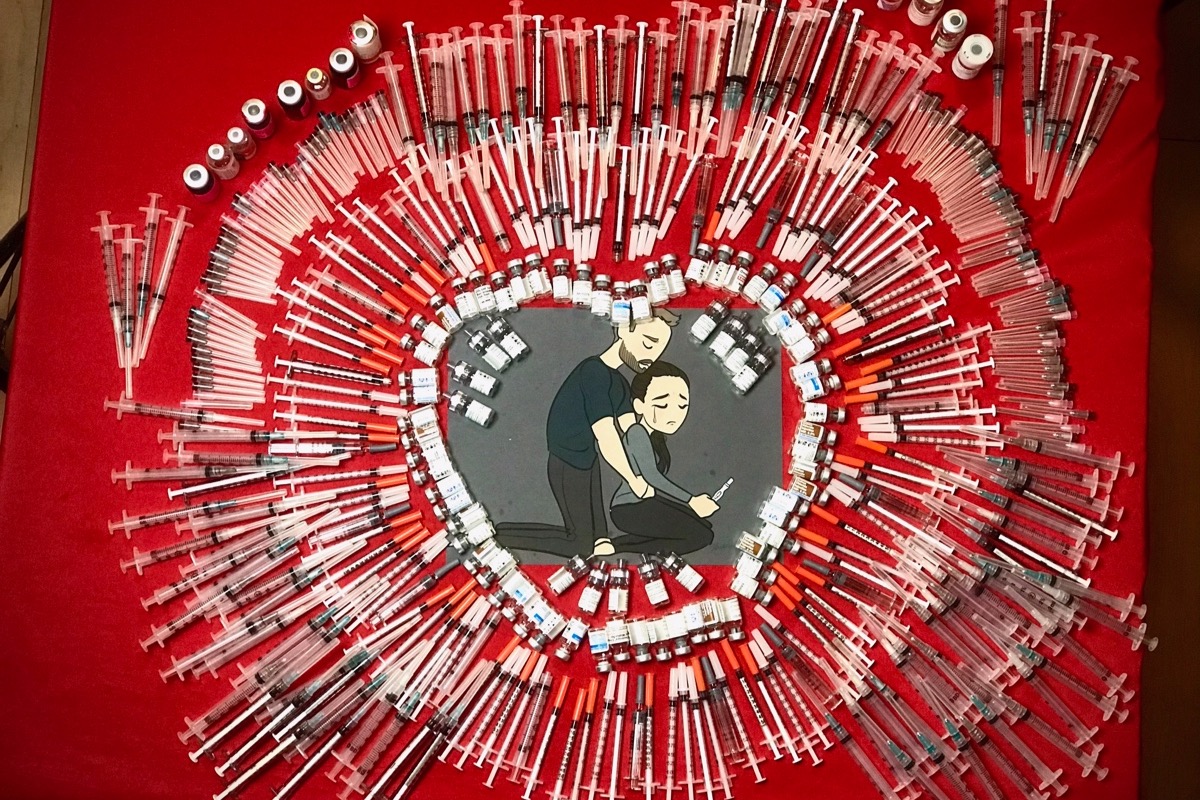 216 needles. 89 vials. Countless tears. And heartbreak. I borrowed the picture that I used in the middle from one of the many fertility support groups I am part of, I do not know who the signature belongs to but am forever grateful for that person capturing what it feels like to try so hard and not have a pregnancy or a baby to show for it.

Not yet anyway. We keep our spirits up and count all of our blessings, but there is a big hole in our hearts. A hole that is waiting to be filled by cute those cute little human babies that we just know are waiting to join our family.

We would love to become parents in 2021.

We are forever grateful for the love and support that we continually get from each of you.

Whatever you can give to help would literally mean the world to us!

Go click "Donate Now"

Donate what you feel you can to help.


Organizer
Lindsey Rakozy 
Organizer
Eagle Mountain, UT
#1 fundraising platform

More people start fundraisers on GoFundMe than on any other platform. Learn more

GoFundMe Guarantee

In the rare case something isn't right, we will work with you to determine if misuse occurred. Learn more

Expert advice, 24/7

Contact us with your questions and we'll answer, day or night. Learn more