Bring Pascal's family to U.S.A
Please read Pascal's story and don't miss the extra incentive to donate at the end..
Pascal's Story
About two years ago I met Pascal Ananouko when he came to our LDS ward in Washington state.  He stood to introduce himself and said that he had just come back to the United States from Benin Africa, and that he had a wife and children still there.  He was looking for a job so that he could save money and bring them here to the U.S.  
I've been able to work with him over the past couple of years in various ways, and have come to learn more about him, his past and his difficult and remarkable journey.  Pascal is originally from Togo, a neighboring country on the west coast of Africa.  He served in the army there, and was one of the body guards to the president. At this time he was married to his first wife and they had one child. There was a political uprising, and Pascal found himself on the losing side of the conflict.  Along with others they fled the country and ended up in a refugee camp in Benin, where he and his family spent 7 years.
Through an American refugee assistance program Pascal and his family were able to come to the U.S. in 2000.  They were resettled in Portland Oregon. He became a U.S. citizen.  Pascal worked various jobs around town, mostly as either a cook, a kitchen helper, warehouse worker, or as a security guard.  About 2008 Pascal hurt his back and was unable to work. When she learned he was unable to work, his wife took all of her things and left him.  Pascal had back surgery in 2009. He was unable to work for about a year.  He lost his job and fell into a depression.  His first marriage ended in divorce.  He became very emotionally and physically sick, and began to even have thoughts about suicide.  
At a doctor visit Pascal was told there really wasn't anything that could be done to help him, because his main challenges were mental & emotional.  The doctor said that he needed to be around people that could support him, and recommended that if there was no-one here, perhaps he should return to Africa where he had family that could help him.  In 2011, an old army friend living in Chicago helped him to get a plane ticket back to Africa.
A new family, and a new church
Once he returned to Benin, he reconnected with many of his old friends and family.  In Benin, he met Caroline while attending a Catholic church there in June.  They were married September 16, 2011.  She is from Kowenou, a small village 70 miles from the town of Cotonou. 
Pascal would sit on his front porch and sometimes he would notice a couple of LDS missionaries riding their bikes down his street.  He remembered seeing similar missionaries riding around the streets of Portland, and he was curious.  One day he called them over and asked "I used to see you in America  - what are you selling?"  They said that they weren't selling anything, but that they were missionaries from the church of Jesus Christ of Latter-day Saints.  They gave Pascal a copy of the Book of Mormon, and invited him to attend church with them. 
Pascal attended the LDS church in Benin for the first time in March of 2012.  It was not even large enough to be a branch yet, just a group.  There were about 30 members attending.  After reading in the Book of Mormon, and attending the church the first time, he felt that this was what God wanted him to do.   He told Caroline that he did not want to go to the Catholic church any more, and asked her to come with him to the LDS church.  She did not want to do this.
After the third week of attending on his own, Pascal again asked Caroline to come with him, and she consented to come and see what it was all about.  They had a great experience.  Together they began learning more about the church.  Pascal was baptized in March, and Caroline in April.  About a month later, the group was organized into a branch, and Pascal was called to be the first branch mission leader. Pascal loved to help the missionaries, going with them door-to-door, and visting all the people in the town.  The small branch grew very quickly. They began baptizing 4-5 people every week!    
After one year of church membership, Pascal and Caroline travelled to Accra Ghana, to be sealed in temple. They lived in Benin for 5 years, and while there he was called to serve as the president of the local branch. He had only been a member of the church for a year and 1/2 when he was called to be the branch president!    
Pascal and Caroline now had one child (Jenadieu) and were expecting their second. As wonderful as his new life was in many ways, things were still very difficult.  There are very few jobs where they lived. Pascal had no way of making a living for his new young family.  They had to borrow money constantly just to live.  Ultimately they decided that since he was a U.S. citizen, their best chance was for him to come back to the U.S. to try to build a life for them here.  Then once he had enough money saved he would try to bring Caroline and the children here.  He was able borrow money from friends to get a plane ticket back to United States.  He came the U.S. just 2 weeks after the birth of their second child, a girl named Pascaline. 
He was fortunate to be able to stay with old friends in Washington for several months.  The first week he was here he came to our local LDS ward.  It was the first time he had ever been to the church in America.  When we first met all he owned were the clothes he was wearing.  He had no money, no food, and no job.  He didn't have a driver's license, a social security card, nothing at all.
Since then members of our ward have helped him find work, and get a car, and many of the things he needed.  Pascal is a hard worker, and has consistently held down 2 jobs since he's been here.  Today he works at a cafeteria doing dishes, and he recently took a new job working as a night janitor for a local school district.
Over the two years that he's been back & working, he's been able to repay those who loaned him the money to travel here, and he's been able to send money home frequently to his family (and friends) for their needs.  He has also been able to save  $1100.  
Over the past 2 years Pascal has been going through the legal process for his family to come here.  Last year he was able to get U.S. citizenship awarded to his children, and just this week he finally learned that his wife is approved to recieve her immigrant visa!  This has been a long process, with many challenges.  
But today the legal hurdles are all cleared.  The next step is to get plane tickets, an apartment, basic furniture, etc..
The financial goal is just a goal.. and really anything helps!  It will cost around $3000 for the family to travel here, and then they'll need to get into an apartment, and just meet the everyday expenses of getting started off.   Thanks for your interest and we hope you'll consider helping!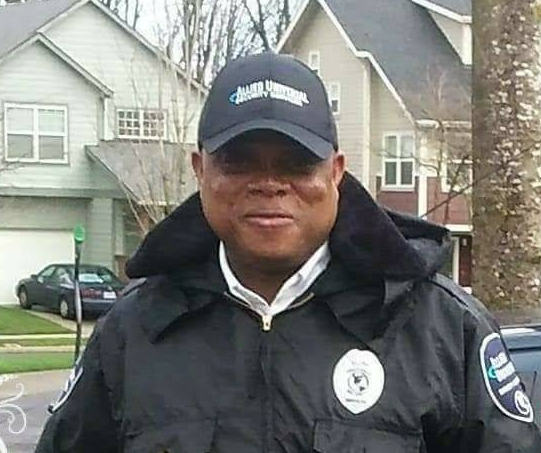 EXTRA!
As an added incentive, for the 1st
five
 people to donate
$500
, I am offering a commissioned oil portrait.  I happen to be pretty decent artist.  I'll do a portrait of anyone you want.. whatever size you want. It could be your spouse, child, parent, whoever! 
It will start with a photo session and then I'll work from the photo to do a painting for you (unless you would like to come and sit for me 4-5 times -- which would be even better).   So you get to help this family in need, and you also get an original painting!
View my art portfolio at
http://art.wheelercreek.com
 to see samples of my work.