Organic Origins Farm & Community Fund
Organic Origins
is a family supported, greenhouse based rural farming operation. Our growing methods produce naturally flavorful foods which are not chemically assaulted.
We believe in protecting the natural ecology of our environment.
By using natural fertilizing and pest management techniques, we protect the Bee population and many other beneficial insects from destruction.
Our practices use up to 90% less water and yield 2-3x more crops per acre than traditional farming methods.
We are dedicated to providing Healthy, NON-GMO, Naturally grown FRESH produce to the Gulf Coast Region. In addition, we will provide dehydrated foods for those seeking to develop emergency food stores.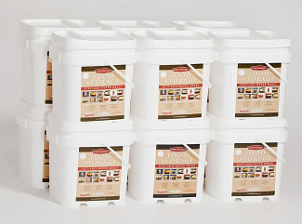 We believe in providing a stable environment and a community atmosphere for those going through difficult or challenging times.
Growing Methods:
Aquaponics is our primary growing method.
Aquaponics is the combination of Hydroponics and Aquaculture. In short, Raising fish and plants in a symbiotic, resource saving environment.
Community:
As a family rooted in "Love thy neighbor" we have always opened our doors to those in need. Giving them a "job" and/or a place to lay their head, in addition to welcoming them into our household along side our family. We strongly believe that it is OUR duty to help our neighbors, and not to just Dump them on the government.
Our goal with this land is to expand what we have done in the past from "one to one," to "one to many."
"However, if you carry out the royal law according to the scripture, "You shall love your neighbor as yourself," you are doing well." (James 2:8, LEB)
"If a brother or a sister is poorly clothed and lacking food for the day, and one of you should say to them, "Go in peace, keep warm and eat well," but does not give them what is necessary for the body, what is the benefit?" (James 2:15""16, LEB)
The Land:
Having recently purchased 33 acres of land in Lower Alabama, we have an ambitious plan to provide over 250,000lbs of food per growing season, provide work and housing for up to 20 people in addition to our immediate family.
This land features a creek from which we can pump water to feed livestock and handle light duty irrigation needs, such as fruit trees, grape vines, etc.
The property also offers prime spots for placing 400 sq ft cabins for those in need or those visiting to help with our farming efforts.
Our Bounty:
Below you will find a short list of some of the items we grow. All of our seed stock is Non-GMO, Non-Hybrid, heirloom seed stock.
Basil, Broccoli, Chinese Cabbage, Savoy Cabbage, Red Cabbage, Pak (Bok) Choi, Green head cabbage, Carrots - Red/White/Yellow/Orange and Purple, Cauliflower, Collards, Cucumbers, Kale, Lettuces, Peppers - Green/Red/Orange/Mild/Hot, Onions - Sweet/Yellow/White/Spanish, Radish, Strawberries, Kiwi, Grapes, Blueberries, Blackberries, Raspberries, Tomatoes - Beef Steak/Cherry/Plum, Oranges, Peaches,Plums, Nectarines, Apricots, Satsumas, Bananas, Kumquats and other exotic fruits.
Live Stock:
Our Livestock will be free range, non medicated to ensure you the most NATURAL Goats Milk and Chicken Eggs Possible.
We have raised chickens, goats and ducks over the past 3 years. We would like to expand that to Quail, Peafowl, Geese and eventually a cow or two.
Giving:
We Believe STRONGLY in tithing as laid out in scripture:
" "˜And any tithe of the land from the land's seed or from the fruit of the trees is for Yahweh; it is a holy object for Yahweh." (Leviticus 27:30, LEB)
"At the end of three years you shall bring out all of the tithe of your yield for that year, and you shall store it in your towns. And so the Levite may come, because there is no plot of ground for him or an inheritance with you, and the alien also may come and the orphan and the widow that are in your towns, and they may eat their fill, so that Yahweh your God may bless you in all of the work of your hand that you undertake." (Deuteronomy 14:28""29, LEB)
It is our goal to give (tithe) at least 25,000 lbs of food away each growing season to those in need.
Markets:
Serving the following Cities:
Mobile, AL
Montgomery, AL
Selma, AL
Pensacola, FL
And Lower MS
Our Need:
In order to give this project a solid push in the right direction we are in need of funding for the following items:
Tractor w/ Front Loader
$ 5000
Tractor Implements (BushHog, BoxBlade, Landscape Rake, Scraper Blade, Post Hole Digger)
$ 1650
Off-Grid Solar Electrical
$ 5220
5 - 1000 sq ft Greenhouses
$ 5000
Dig Water well + Off Grid Water System
$ 8379
1 - Used Bunk House Travel Trailer
$ 3500
1 - Concrete Mixer (PTO Driven)
$ 1099
Total funds needed: $ 30054
For those willing to Donate anything listed or related in our list, equipment, supplies or materials, we will gladly accept those items as well. Send us a message to discuss this further. Don't be shy. Share this page with others.
From our family to yours, Thanking you in advance for any help and support you can give us.
Benyamin & Yisreyah.

Organizer
Benyamin N YisreYah PazEven 
#1 fundraising platform

More people start fundraisers on GoFundMe than on any other platform. Learn more

GoFundMe Guarantee

In the rare case something isn't right, we will work with you to determine if misuse occurred. Learn more

Expert advice, 24/7

Contact us with your questions and we'll answer, day or night. Learn more