Migrant Organizers of Tijuana Need Covid Support
 Contra Viento Y Marea, El Comedor Update: February 28, 2022, Revolutionary Love: Contra Viento Y Marea's 3rd Year Anniversary
Introduction
Greetings from the Kumiai territory known as Tijuana. This month we are celebrating our 3rd birthday! (Sunday, February 13th) All of us volunteers are incredibly grateful to have reached this significant milestone. Contra Viento Y Marea, El Comedor Comunitario (CVYM) is a radical mutual aid collective founded and operated autonomously by Central American migrant/refugee youth from the November 2018 migrant caravan. In many ways, we are the vanguard of the 2018 migrant caravan's legacy of resistance in Tijuana. Our motto is "Viva la Resistencia!" ("Long Live the Resistance!") There are no other refugee youth-led projects in the city quite like ours. Contra Viento Y Marea has proven radical strategies and tactics like direct action, mutual aid, transnational solidarity as well as horizontal, consensus based decision making models really do work, even in the most hostile environments. 
Our active solidarity with migrants/refugees from all over the world, the deported, the homeless, sex-workers, families from our neighborhood and the most exploited people in our community which includes women, youth, single parents with kids of all ages, essential workers such as day laborers, LGBTQ folks, the mentally and physically disabled. We are fighting to end hunger by cooking satiating, home cooked meals and delivering them with dignity at least 5 days per week. We combat extreme poverty by distributing clean clothing and shoes for all genders in all sizes, including children and babies. We readily give out hygiene kits, wound care products, blankets, coloring books and survival goods like Narcan (the opioid overdose reversal medication).
In collaboration with Acupuncturists Without Borders, we host a monthly acupuncture clinic to treat various types of physical ailments such as chronic pain and mental illnesses like depression. We house a tele-mental, talk therapy service for emergencies or regularly scheduled appointments, thanks to the mental health care professionals of Refugee Health Alliance (RHA). Furthermore, we assist with finding emergency housing and orientation to other wrap-around services like legal aid, medical care, doulas (mid-wives), and much more. All our meals, goods and services are entirely free for everyone! There is nowhere else in the city where folks can come knock at our door at any time to receive immediate assistance. 
We are so proud to proclaim we have not only managed to survive these past 3 years against all the odds, but we are thriving even in this hyper militarized, alarmingly violent, abysmally impoverished Mexican border city. But it hasn't been easy. The challenges we're up against range from dealing with the Covid-19 pandemic, the acute scarcity of resources, an escalation of violence (from both state and non-state actors), to the overwhelming amount of distressed people in need and the complexities arising from relying completely on migrant volunteers. 
We've successfully mitigated the impact of the ongoing Covid-19 pandemic on our space by quickly reorganizing our entire programming, implementing rigorous public health guidelines into our daily routines, expanding our alliances on both sides of the border wall and diversifying our donation streams. 
Another disturbing complication impacting the migrants we work with in Tijuana as well as all US asylum seekers across the Mexican border region are the Migrant Protection Protocols (MPP) better known as "Remain in Mexico," and Title 42. MPP requires asylum seekers to wait in Mexico while their US court cases are settled, a process that usually takes years to play out. Title 42 is a public health order issued by the Center for Disease Control under the pretext of stopping the spread of Covid, but rammed through by Trump's right-hand man Stephen Miller. It prohibits asylum seekers from legally applying for refugee status at both official and non official ports of entry, leading to hundreds of thousands being swiftly deported back into harm's way. Despite the Biden administration taking office, these anti-immigrant protocols prevail. There is no legal pathway for refugees right now, although there are exceptions made allegedly for unaccompanied minors from countries other than Mexico, and families with small children. The enormous detriments caused by these two policies are appalling and deadly. 
First, there are dozens of thousands of migrants who are trapped in limbo on the Mexican side of the border without access to the resources and support they need to live. The sheer amount of folks facing hardship is overwhelming every nonprofit, foundation and collective rendering humanitarian aid. This is putting a huge strain on our community kitchen because there's far too many people who need assistance and new refugees are arriving every single day. Second, the lack of a legal asylum option is forcing distraught migrants to attempt to cross the border through especially dangerous terrains which makes them heavily reliant on the informal economy of smugglers to get them to the other side. It's very clear that US immigration policies are creating economic opportunities for drug cartels and organized crime in Mexico by pushing refugees into their arms. As a result, we're seeing increasing numbers of homicides, robberies, kidnappings, disappearances, exortions, rapes, and all violent crimes shoot up. It is no exaggeration to say, MPP and Title 42 are directly responsible for the bloodshed and further deterioration of human rights at the border. Immigration scholars have used the term "migrantecidio" merging the words "migrant" and "genocide" to describe the situation on the ground. As a frontline group supporting migrants in Mexico and as a collective composed primarily of migrant volunteers, we are risking our own lives by operating in such a dangerous environment. We keep each other safe. That's why safe spaces like ours are so crucial. 
Since migrant youth volunteers are the backbone of our grassroots project, this presents a whole range of obstacles because by definition migrants are a transient population. They didn't come to Tijuana with the intent to live here. Yet, we've been effective at recruiting new volunteers and retaining seasoned volunteers by being flexible with our scheduling, fostering an atmosphere of camaraderie and devoting substantial energy to caring for each other as individuals and as a team. Volunteers have access to all the food, goods and services we offer to the public, plus free housing, access to quality medical and mental health care services with RHA, dental care (at the free nonprofit dental clinic Regenerando Sonrisas), transportation, assistance with asylum/immigration paperwork, holiday and emergency stipends, in addition to fun, relaxing outings to the beach or around the city. 
In commemoration we, the CVYM volunteers, will say a couple words to explain why we give our time, energy, sweat, blood and tears to our cherished collective. Why do we grind away doing this anti-poverty work, offering urgent humanitarian aid day in/ day out, and plan to continue forward for the foreseeable future? The theme of our 3rd year anniversary celebration is "Revolutionary Love." This is because our Central American migrant youth led project is driven by revolutionary love. A deep, sincere Amor for migrants/refugees, for the deported, the homeless, the poorest among us, the working class, and those most maligned and disadvantaged by our society. That includes Afro-Mexicans, refugees from the Afrodiaspora, indigenous people from Mexico, but also indigenous migrants from all over Latin America, LGBTQ asylum seekers from dozens of countries, senior citizens from our barrio, sex trade survivors trafficked at the border, deported US veterans, and youth of all backgrounds. We fight for el pueblo, the planet, and all the things that give us life. We dream of a world where all people (and all creatures) live without hunger, poverty, violence, alienation, ignorance, sickness, homelessness, pollution, war and free from all forms of exploitation. Revolutionary love nourishes our souls, lights our way during the darkest times and incites us to fight for our communities, for our families and for ourselves.  
In this festive edition of our newsletter, we'll showcase a few of our most noteworthy accomplishments from over the years. Then we'll share the latest news and upcoming announcements. Last but not least, we want to acknowledge the invaluable contributions from the Zona Centro/Zona Norte community, partners, accomplices and friends on both sides of the border wall who have made our frontline work possible since Day 1. 
Part 1: Achievements 
- Free Meals Program Metrics: Spanning from the first day we opened our doors until now, El Comedor has served over 100,000 free hot meals in the Zona Norte/Zona Centro communities. The average cost of a plate we dispense is between USD $0.50 and USD$1.50 depending if the meal is vegetarian or not. The cost of food has skyrocketed during the pandemic so the price range is increasingly trending towards USD$1.00 - $2.50 these days.   
-Press Coverage: Contra Viento Y Marea has received abundant coverage from local, state, national and international (US) press. We have appeared in just about every kind of media format out there: from blogs, mainstream newspaper articles, university papers, op-eds in radical publications, activist zines, public letters to (US & MX) government officials/agencies, to niche online news sites, prominent video news platforms, podcasts, broadcast TV, broadcast radio, online radio, social media like Facebook Live and everything in between. 
El Comedor has been featured in these English language media outlets: The San Diego Union Tribune, The Los Angeles Times, It's Going Down, Latino Rebels, Kolektiva Media, Partisan Gardens Podcast, KPFK's Women Rising Radio, Voice of America, Times of San Diego, San Diego Jewish World, Your Friendly Feminist Blog, Survival Media Agency and beyond! 
-We earned media coverage in Spanish language press including Univision Tijuana, Univision Noticias, Televisa Californias, Noticiero Estrella TV, La Opinión, Zeta Noticias, Frontera, Agencia Fronteriza de Noticias (AFN), Agencia Efe, Glocal Media, Conexcion Migrante, Radio Bilingüe, Síntesis TV, Observatorio de Legislación Y Política Migratoria from Colegio de La Frontera Norte (COLEF), TijuanaPress.com, InfoBaja, Debate, Tijuana News, La Prensa Tijuana, Tijuana En Linea, Pulso Ciudadano, Radio AMLO, Rebeldía Radio, Punto Norte, Entre Diversidades; Revista de Ciencias Sociales y Humanidades, and dozens of others.
Contra Viento Y Marea is listed in multiple online resource directories too! (This is not a complete list.)
-Slingshot Collective "Contact List" - "Latin America" - "Mexico." 
-Redes, Migrantes Sin Fronteras , an international network of resources for migrants with a map search feature in Spanish, run by the Center of Digital Humanities Research at Texas A&M University: "Mapa de Iniciativas" - Search by "Ciudad" (City) and "Estado" (State).
-Cross Border Solidarity Program  from the Centro Integrador para el Migrante, Carmen Serdan, based in Tijuana: "Network" - "Shelters" - "Tijuana." 
-Asylum Connect , an English international resource directory for LGBTQ migrants and refugees, "Find Resources" - "Mexico" - "Tijuana, Baja California."
-Action Against Corona, an international site for folks who are searching for groups, collectives, nonprofits who offer Covid-19 aid,"Initiatives" - "Filter Search: Contra Viento Y Marea."
-Virtual and In-Person Events (Tours, Lectures, Workshops, Panel Discussions, Conferences, Benefit Shows, Photography Exhibitions, Etc.). Here's a select few examples.
-8/2/2021 - 9/3/2021: CVYM's Devi Machete co-taught a summer course on PAR methodology at the University of California San Diego's (UCSD) Latin American Studies department. The class prominently discussed El Comedor's work.
-4/7/2021: CVYM, represented by Devi Machete, spoke at a video conference hosted by Espacio Migrante, Alma Migrante and Organización Mexicano Americana para el Desarrollo (OMADES), with support from the Observatorio de Legislación y Política Migratoria, at the Colegio de la Frontera Norte (COLEF). The event titled, "La Respuesta de las Personas Defensoras de los Derechos Humanos, de Personas de Movilidad Humana, ante la Pandemia de Covid-19: Las Experiencias desde Baja California," focused on the actions taken by human rights defenders, who work with migrants/refugees in the state of Baja California during the pandemic.  
-11/25/2021: We were panelists in the Political Education Series Part 3, "Colonialism, Racial Capitalism and Borders," by Free Them All San Diego.  
-2020 - 2021: The collective Club A put on four different punk benefit shows to raise money for El Comedor at Planet X in New York City.
-4/23/2020: The University of California San Diego's Ethnography Department, Mutual Aid UCSD, and Cops Off Campus UCSD co-sponsored a virtual "Know Your Rights: Skill Building Toward Migrant Justice and Abolition" workshop. Our project joined in as a panelist. 
-2/6/2020: CVYM's photography, shot by Devi Machete, was featured in the "No Country May Claim Us" gallery exhibit hosted at Golden Gate University, School of Law in San Francisco.   
-9/1/2019 - 9/10/2019: We participated in the "Border Resistance Convergence," in El Paso, TX. 
-7/30/2019: El Comedor co-hosted and received funding raised from the "Abolish ICE Block Party" in San Francisco. 
-7/29/2019 - 8/7/2019: CVYM spearheaded the "Border Resistance Tour" across  several major cities (Santa Cruz, Oakland, Portland, Olympia, Seattle, Chicago, Minneapolis) along with the groups Tornillo the Occupation, Hecate Society, Casa Carmelita, Food Not Walls, and No More Deaths. 
-6/22/2019: The Migrant Refugee Solidarity Coalition organized the "Migrant Voices Community Forum," at Centro Cultural de la Raza in San Diego. Various CVYM volunteers participated virtually at this pre-pandemic, in-person event. 
-Local, National, International Accomplices & Partnerships: El Comedor is located in one of the poorest neighborhoods in the city because it's where there is the greatest need for humanitarian aid; it's where migrants, refugees and other vulnerable people live and work. Considering the glaring absence of resources available in this barrio, we were compelled to broaden our fundraising base in order to raise enough revenue/ donations to keep our services free of charge for everyone. Moreover, we've fruitfully partnered with a vast network of diverse activists, community organizers, human rights defenders, collectives, and nonprofits offering consequential supplementary and complementary wrap-around services. CVYM is honored to count on this partial list of institutional accomplices both in Mexico and in the US.
 -Mexican Partners: Refugee Health Alliance (RHA), El Desayunador Salesiano del Padre Chava, Casa del Migrante Tijuana, Alma Migrante, Espacio Migrante, Centro 32 (Families Belong Together México), Casa Manos Benditas, Hebrew Immigrant Aid Society (HIAS) Tijuana, Asylum Access Tijuana, SOS Migrante Tijuana, Sociedad Ecológica Y Humanista Responsable (SEHR), Ella Florece, Colectivo 1597, Psicólogos Sin Fronteras, Al Otro Lado Humanitarian Fund, Cultiva Ya, Red de Solidaridad, and La Tia Centro Cultural.
-US Partners: We All We Got San Diego, Migrant and Refugee Solidarity Coalition, Free Them All San Diego, Acupuncturists Without Borders, Armadillo Search and Rescue, Democratic Socialists of America San Diego Chapter, Almas En Refugio, San Diego Rapid Response Network, Casa Carmelita, Club A Collective, Cienfuegos Distro, Black Coyote Collective, Switchboard Trainers Network, Respond Crisis Translation, Salvadoran American Education and Leadership Fund (SALEF), Hecate Society, Friducha Collective, Inland Empire Harm Reduction Coalition, Verdant Miasma Collective, Altrust Relief Kitchen, World Central Kitchen Tijuana, Burners Without Borders, Abolish ICE San Francisco, and Food Not Bombs Washington, DC. 
Part 2: News and Updates:
First, we have a new kitty, Camilla, named after the beloved Cuban revolutionary Camilo Cienfuegos. About 5 months ago, she popped up in the rooftop bodega searching for food. Of Course we fed her! She's lived here ever since although she goes hopping across surrounding rooftops. She's perfect in every way. 
-We were invited to a Facebook Live interview with Radio Rebeldia, La Voz Migrante de Nueva York (NYC based) last Wednesday, 2/16 at 7AM PST/ 10AM EST. Devi Machete introduced CVYM and discussed a wide range of contemporary migration topics in Tijuana. Watch the replay video. 
-In partnership with the Salvadoran American Education and Leadership Fund (SALEF), we'll be participating in an hour-long panel discussion along with El Desayunador Salesiano Del Padre Chava. It will be a registration required Zoom (virtual) event in Los Angeles this March. Watch our social media pages for the upcoming details.  
-Devi Machete and CVYM was profiled by the international feminist photography blog, Foto Femme United (FFU). The piece, written by FFU's photojournalist writer Celeste Drake, also showcases some of Machete's latest, edited photographs of our migrant youth collective. Check it out! 
-We are excited to announce we'll be hosting the next free acupuncture clinic at our space at the end of March. In partnership with professionals from Acupuncturists Without Borders, we have been holding these clinics on the rooftop at El Comedor since late 2021 as the Covid-19 pandemic permits given the volunteer therapists have to travel down here. Unfortunately, we had to cancel the clinics slated for January and February 2022 because of Covid related reasons. But we're eager to resume them with the necessary precautions such as social distancing, providing free facemasks at the door, giving out hand sanitizer routinely, etc. We also provide a delicious free meal, usually a chicken-veggie-rice soup with warm tortillas, served to go for folks to take home once they finish their treatment. 
-Our organic rooftop garden is back, baby! In early December, we planted oregano, mint, thyme, cherry tomatoes, large red tomatoes, onions, shallots, lettuce, kale, squash, jalapenos, peppers among other ornamental plants like sunflowers, succulents, and cacti. We love our community garden. It is a form of self care and therapy for our volunteers, aside from being firmly rooted in our desire to cut our personal carbon emissions, reduce plastic waste and as a pragmatic way to combat climate change. Obviously, our personal acts don't compare to the need for systemic action at all levels to make a dent in the carbon, methane, gas and other fossil fuel emissions. Regardless, we are convinced we need to take action to reduce our own impact at the local level. Plus, we love growing fresh, organic, non-GMO produce and herbs to use in our kitchen to enhance our free food program and volunteer meals.  
-Breaking News! This spring, Contra Viento Y Marea aims to open a new Free School and Art Lab in our space. This education program will open up an urgently needed safe space for our community's migrant/refugee youth (18+) to teach, learn, and play. Our motto is "Free liberatory education!" 
We assert it is a fundamental human right to have a well rounded education that teaches us to question power, encourages creative self expression, fosters critical thinking, and fundamentally gives us the tools to analyze our contemporary lived experiences. By utilizing artistic mediums for self-expression, the art lab will be instrumental to exploring our creative abilities, building self-esteem and healing trauma. We envision our classrooms as grassroots, power-building hubs where refugee youth can learn through the Participatory Action Research (PAR) methodology to train new migrant organizers, but also host skillshare workshops of all kinds, and house lively discussions across broad subject areas, notably on race, class, ethnicity, gender, sex, and disability using an intersectional approach. We will teach English classes, computer literacy, direct action strategies, mutual aid workshops but we're also offering so much more. Our students gain expertise on a whole range of issues related to our discombobulated world. We will invite guest speakers to deliver classes across disciplines such as history, anthropology, ethnography, philosophy, political science, critical race theory, economics, international relations, gender studies, media studies, art history, musicology, photography, videography,  and dozens of other fields of inquiry from the perspectives of the subaltern. We aim to decolonize educational praxis. The intent is to begin to understand how our own oppression interlocks with the repression of others for the sake of generating practical solutions to implement in our own lives and communities. 
-A free school and artistic learning lab based in our community kitchen is a natural fit. For three years, El Comedor has filled the survival needs of our friends and neighbors. This new free school and art lab is perfectly aligned with our mission to provide for our community's most essential needs. We shall continue to provide sustenance for the body, and with this new free school and art laboratory, we shall nourish the mind and the soul too! 
-We are preparing to make a callout for school supplies and equipment. In the next few months, we will begin to invite college students, professionals, educators, researchers, public intellectuals and community scholars of all stripes to sign up to virtually participate as facilitators, translators, classroom leads and organizers. We highly encourage refugees, people of color, women, LGBTQ folks, the mentally and physically disabled to join us. To learn more, send donations and/or get involved, reach us at  escuelalibretijuana at gmail dot com. Stay tuned for fresh updates on our social media pages. 
Part 3: Acknowledgements
We would like to take this opportunity to acknowledge the hundreds of marvelous people, as well as the dozens of collectives, civil associations, and other groups that have stood in solidarity with us along this phenomenal journey. From the bottom of our hearts thank you for the care, passion, dedication, companionship, and collaboration you have given to our Tijuana project. Our 3rd birthday celebration is also meant to honor you all because we couldn't have made it this far without the immense commitment, time, energy, fire and love you brought into our lives. The whole Contra Viento Y Marea team is eternally grateful to count each and every one of you as a true friend. You will always find a home in our space and have a special place in our hearts. Please stay in touch, no matter how long it has been or where your personal odyssey takes you. 
Part 4: Conclusion
The future is ours to seize. Yes, climate change is the single greatest challenge humanity has ever faced. The climate refugee crisis is the most important issue of our lifetimes and it has already begun. We must prepare to grapple with the exponential growth of ever more desperate refugees risking everything to reach the global north. While it is true, we as a collective and all of us in the migrant/refugee justice movement, are up against some of the most cruel, powerful, wealthy, and well-armed enemies in history, we cannot permit our anxiety, pessimism and despair to discourage us from facing the challenges ahead. It is absolutely normal to feel hopeless at times because we are living in a late-stage capitalist hellscape. But take it from us, the volunteers of El Comedor, that radical strategies like mutual aid, direct action and practical solidarity are the best anecdotes to nihilism. Our humanitarian project has taught us grassroots organizing is a viable solution to our worst political, economic and social problems even in the worst of times. Taking meaningful (as opposed to symbolic) action not only alleviates our immediate suffering, but allows us to dream big, to vividly imagine what our future utopian society must be. By actively working towards positive change every single day, we see how "Another world is possible," as the Zapatistas say. With revolutionary love in our hearts guiding us, we are already building it right here, right now. 
Photo Appendix
(In Order of Appearance)
1. Contra Viento Y Marea volunteers hang out on the rooftop of the space as they await the 2019 Pride Parade Parade to march through their street. June 22, 2019. Tijuana, Mexico. 
2. El Comedor's volunteers take a group photo with therapists from Acupuncturists Without Borders after the first clinic is over on the rooftop. October 9, 2021. Tijuana, Mexico. 
3. Two volunteers put up the CVYM banner, with its logo prominently displayed, before a meal serving outside RHA's free medical clinic. September 22, 2021. Tijuana, Mexico.  
4. Photo of a chicken soup meal being served to a mother with a toddler in her arms at the refugee camp, El Chaparral. March, 4, 2021. Tijuana, Mexico. 
5. Picture of the hot pots on the stove filled with a delicious chicken stew and veggie rice volunteers made for the special meal serving to honor El Comedor's 3rd anniversary. February 11, 2022. Tijuana, Mexico. 
6. A woman receives her hot lunch and agua fresca from a volunteer during a free program serving. April 5, 2021. Tijuana, Mexico. 
7. A young girl reacts with pleasant surprise as she is handed her free meal during one of El Comedor's public servings. November 30, 2021. Tijuana, Mexico. 
8. A Contra Viento Y Marea volunteer leaves the space and heads home on his skateboard in the late evening. June 6, 2019. Tijuana, Mexico. 
9. While tabling at a migrant festival, various CVYM volunteers sit together posing for a team photo in front of cups filled with arroz con leche, flyers, and stickers. March 17, 2019. Tijuana, Mexico. 
10. At a team lunch to celebrate the winter holidays, volunteers take a selfie to commemorate the occasion. December 25, 2021. Playas de Tijuana, México. 
11. Camilla, the kitten, is laying upside down asking to be pet. October 27, 2021
12. A baby girl receives a bottle of tea and a lunch plate to-go at one of El Comedor's free meal servings. February 2, 2021. Tijuana, Mexico. 
13. Snapshot of our oregano plant on the rooftop garden, with a larger tomato plant and several succulents in the background. February 2, 2021. Tijuana, Mexico. 
14. Side photo of a small cilantro plant and thyme growing on our garden on the rooftop of the community kitchen . February 2, 2021. Tijuana, Mexico.
15. A smiling teenage girl sits on the hallway stairs of El Comedor holding a new Hello Kitty backpack she was recently given. December 10, 2020. Tijuana, Mexico.
16, A young man wearing a facemask holds a thumbs up after picking up a hot plate to eat from Contra Viento Y Marea. January 20, 2022.  Tijuana, Mexico.
17. A young disabled man wearing a blue baseball cap smiles happily at the camera as he poses for a snapshot of himself holding his free meal and agua fresca during a serving outside Refugee Health Alliance's free medical clinic. November 8, 2021. Tijuana, México.
18. During a chilly evening, five CVYM volunteers embrace each other in a line as they face towards the border wall and the beach, with their backs to the camera. November 19, 2019. Playas de Tijuana, México.

 Update 4:  June 29, 2021: We Are Standing Strong In Struggle Against Hunger and Extreme Poverty
Caption: Four boys enjoy their free homestyle meals served by Contra Viento Y Marea volunteers outside the medical clinic Refugee Health Alliance in Zona Centro, Tijuana. May 20, 2021.
Saludos from Tijuana!
In April we launched our new
Instagram Account
 ! Be sure to follow us @contravientoymarea_comedortj
For regular updates also check out our
Facebook page
I'm Devi Machete. For the past 15 years, I've been a grassroots community organizer. For the past 2 years, I've been organizing migrants and refugees in Tijuana, along with Central American migrant youth from the migrant caravans. We operate our mutual aid project, Contra Viento Y Marea, "El Comedor" which is a frontline community kitchen and resource center.
We're firm in our dedication to serving hot, Central American home cooked meals 5 days per week for lunch or dinner. We are still serving meals outside the free clinic Resistencia en Salud run by Refugee Health Alliance (RHA) in the Zona Centro. We also serve outside El Comedor and at the migrant encampment in El Chaparral. We also donated cooking pots, utensils beans, rice, lentils, oatmeal, powder milk, canned goods, soap and facemasks to the kitchen at El Chaparral. Furthermore, we distribute PPE, hygiene kits loaded up with essential sanitation products and give out sweaters/jackets, and clothing of all kinds for adults, youth, children and babies every single week. 
Moreover, we're in the process of repainting the entire space. We're halfway done! We're seeing the garden come back to life. In the past few months, we've fixed the drainage of our rooftop community garden and replanted tomatoes, onions, peppers, radish, oregano, and other herbs. The garden is a beautiful symbol of our resistance to climate change as well as a useful and important source of fresh produce for cooking.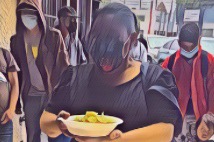 Caption: A woman receives a hot bowl of vegetable soup at a regular meal serving by El Comedor outside the RHA free clinic. May 19, 2021
El Comedor participated in a recent survey for human rights defenders working in our state of Baja California.
The survey was focused on documenting the impact of the Covid-19 pandemic on the human rights of migrants, refugees and asylum seekers. The Spanish language survey was sponsored by Espacio Migrante, El Colegio de la Frontera Norte (COLEF), Alma Migrante among others. The survey's results were formally presented at a video conference on April 7th, 2021.  All the groups in the survey were invited to speak for 5 minutes at the virtual presentation revealing the survey results. I spoke on behalf of CYVM. A replay of the full video conference is available
here
 .
Additionally, El Comedor participated in the April 23rd event by UCSD Mutual Aid, UCSD Cops Off Campus, UCSD Ethnology Department titled "Know Your Rights: Skill Building Toward Migrant Justice and Abolition." I represented El Comedor. The Zoom recording of the entire event can be viewed
here
  in English and Spanish. 
In partnership news, we've initiated a collaboration with Dr. Peter Meiland.  We've also partnered with the grassroots recycling group Sociedad Ecológica y Humanitaria Responsable (SEHR) in Tijuana. 
We have strengthened our relationship with Espacio Migrante (EP). We serve meals for the migrant women and children residing in their shelter. We serve outside their space (which is located next to the free clinic run by RHA) every Monday and Wednesday at 1pm. In exchange, Espacio Migrante donates used clothing to us about every 3-4 months. 
We're doubling our efforts to reach the Haitian migrant, refugee and asylum seeker community. We created flyers announcing El Comedor's free meals program in English, Spanish and Haitian Kreyol. EP supported us in translating the flyer into Kreyol and in distributing it within the Haitian and African migrant communities. Furthermore, we're working closer with Casa del Migrante Tijuana. On a monthly basis, they're providing us with sacks of rice, black beans, lentils, pasta and oatmeal in addition to donating used clothing. In exchange, we serve meals to migrants living at their shelter when they visit the Zona Centro area. 
Caption: A woman receives a free N95 mask and hand sanitizer before being served her free meal from El Comedor's volunteers  outside the RHA free clinic. 
Plus, we continue to exchange food and goods with Casa Manos Benditas, an assisted living home for impoverished senior citizens in Rosarito. They provide us with tortillas, fresh fruit and veggies. We give them sacks of rice, beans, lentils, pasta, soap, clothing and adult diapers. 
In transborder solidarity, El Comedor is developing a beautiful friendship with Casa Carmelita in El Paso, Texas. We are having conversations about strategy and tactics to support our cross-border solidarity efforts. 
Last but not least, CVYM received noteworthy press coverage from these media outlets:
Radio/Podcast;
Partisan Gardens
 March 2021 Episode featuring Daniel, Jairo and Devi. 
Radio & Article;
Radio Bilingue
  April 6, 2021 featuring Devi. 
Article;
It's Going Down
 May 1, 2021 written by Devi. 
To see all our videos visit our
YouTube channel
. We'll be updating the channel regularly.
In radical love and transnational solidarity!
Contra Viento Y Marea, El Comedor Comunitario
Caption: Two children are standing outside El Comedor as they receive free toys, shoes, and clothing along with their parents. April 9, 2021 
Update 3: July 24, 2020(For regular updates, find us on Facebook Or contact us via Facebook messenger: https://www.facebook.com/contravientoymareacomedor)
Email us at [email redacted] 


Greetings from Tijuana! The struggle to continue our vital work to provide free, nutritious, Central American home cooking to our Zona Norte barrio remains our main focus, in spite of the Covid-19 contingency. We are continuing to take extensive sanitary measures when serving meals, and cleaning as indicated in earlier updates. Our Covid protocols created and launched in early April are still in place. For example, all our meals are served to-go only, we give out antibacterial hand sanitizer before giving out plates, and rigorously cleaning everything. It's paid off as we haven't had a single volunteer show symptoms of Covid. There are however several new developments since our last Comedor Update posted on May 12th. Please feel free to contact us with questions or comments via Facebook messenger or at our email address. 
We are slowly ramping up the days we serve now since the pandemic hit and we had to scale back. Coronavirus related deaths are still surging here and that's why we're serving four times per week, one meal a day. That's 400+ plates per week. We serve Mondays, Tuesdays, Wednesdays & Thursdays. The hope is to serve more days within a month or so but it depends on two things; whether we can raise more food donations or funds to purchase food and whether the pandemic doesn't lead to another government mandated shut down. Starting in August we are serving Mondays and Wednesdays outside the free clinic Justicia en Salud (run by Refugee Health Alliance) at 1pm. We serve Tuesdays and Thursdays outside the comedor at 3pm. Check our
Facebook
 page for updates. 
We continue to receive fresh fish donations from
Sea Sabia
 (Ensenada, Baja California) to provide during our regular servings. Instead of delivering the 20 kilos every other week, we are receiving them weekly now and serving it usually on Mondays for the patients outside the free clinic run by Refugee Health Alliance (RHA), Justicia en Salud, near the migrant shelter Espacio Migrante. 
We are in talks with our partner
Refugee Health Alliance
 to increase the number of servings we are providing outside their free clinic. As mentioned, we currently serve there on Monday at 1pm. We will begin to serve two or possibly three meals per week starting August 1st at the same time. The additional day(s) we will serve there is to be determined but will be announced on our Facebook page soon. 
We've received a handwashing station from RHA which we place outside our space during the days we serve food that's used by folks before they receive their free meal from us. It is also there for homeless people and people who are street vendors to have regular access to sanitation during this ongoing Covid pandemic. 
It is with a heavy heart that I report we are no longer receiving the 100 tamales donated biweekly to us from the local tamaleria, La Antiguita at the beginning of July. The reason is the owner and donor, Esther Morales was critically injured and almost killed the morning she was reopening the tamaleria at the end of June. *Today (Aug. 1st), Dona Esther came to visit us just as she's been released recently from the hospital and she will be collaborating with us serving a wonderful meal here next Thursday, August the 6th at 3pm. We'll be serving Oaxaca mole and chicken tamales for 200 people. She will be supporting our efforts to continue to feed our community. Her commitment to serving her community is an inspiration. We are honored and blessed to have her support again. Join us to welcome Dona Esther back to our community.
In lighter news, the group Friendship Not Fronteras and several migrants residing in multiple shelters are hand sewing and delivering facemasks to us to give out for free during our regular servings. At the beginning of this week, we received 600 facemasks. We send them pictures of when we give them out to be transparent. We expect to receive around that same amount of facemasks every 4-5 weeks.
The garden has gotten a lot of attention these past few weeks. We uprooted weeds and cleaned it up. We have planted more seeds of squash, tomatoes, and some cacti. Our jalapeno plant is producing a lot of peppers for us to cook with. We want to grow more of our own vegetables and herbs especially as
food prices in Mexico continue to rise
 . 
Since we've been receiving significantly less clothing donations (and have to wash all the clothing before we give it out because of Covid) we are converting the donation center bodega into a computer lounge and chill area. We have three computers that were donated to us a while ago. We're receiving guidance on how to reinstall the operating systems and plan to have them running in the coming week or so. The computers are primarily for the volunteers to be able to communicate with their families. If we receive more computers in the future, we hope to be able to let the public use them too! Although it depends on whether the covid situation is under control in Tijuana as we are currently not allowing the public inside the comedor. 
We have a new YouTube channel! Search for "ContraVientoYMarea El Comedor." We've uploaded at least 5 of our past videos on there including the videos made by us, Survival Media Agency, Univision Tijuana, Tijuanapress.com, and Frontera. We plan to upload more in the near future. 
On our new YouTube channel, we are in the initial phases of creating our in-house media ninja production team. We are still planning the details but we'd like to make a call-out soon asking supporters to help us get new or used photo and video DSLR cameras to be able to create our own media. We will teach each other how to use the cameras, how to edit videos and photos, using Adobe Photoshop for example, and begin to tell our own stories and publish them on YouTube and Kolektiva. If you'd like to help with the planning or be a part of this team, please reach out. We'd love to have the support. 
To help us get into the media production mood, we're kicking off migrante movie nights once a week for volunteers. We have a projector to display movies from the internet from Netflix. Once the pandemic is less of a threat to our wellbeing, we hope to be able to open the movie nights to other migrant organizers and friends in the community. The first one is taking place tonight at 8:30pm.
In Transnational Solidarity,
Devi Y La Banda de Contra Viento Y Marea
We now have Cashapp 
$comedortj
email: [email redacted]
Update 2: May 12, 2020 Hi Friends! The coronavirus pandemic has hit the Tijuana, Baja California, Mexico migrant community especially hard. 
The migrant organizers of
'el comedor' Contra Viento Y Marea Comedor
  in Tijuana, Mexico need you more than ever right now. Before the pandemic hit, our community kitchen was serving two hot meals a day, 5 days a week in addition to giving out whatever other resources people donated from the US, such as handknit hats, scarves, or used clothing, shoes, toiletries, toys, diapers, and survival goods like tents, sleeping bags, blankets, towels, etc. We were feeding around 250- 300 per meal; 500 daily. We gave out the survival goods donations after the meals were served. Once the virus became widespread in the community, late March and early April, we saw a huge upwelling in the number of people coming to eat. The lines grew to about 400-500 per meal, leaving us without enough food to meet the increased demand. Despite giving priority to children and women to eat first, we knew back then we had to rapidly broaden our network of local and transnational supporters to bring us more food, more donations and more funding to keep our doors open.  
Since mid-April Tijuana hospitals have been overrun with coronavirus patients, many are sick and still having to go to work for a poverty wage (less than $12 a day for 8+ hours of work). We see hunger and extreme poverty becoming more widespread in our already impoverished Zona Norte community. Furthermore, there is a serious lack of testing for those who are getting sick with covid-19 all over the world, and Tijuana is no exception. It is very likely that going out in public here means coming in contact with the virus. El Ccomedor has adapted to these new challenges and today continues to operate – but now with new tactics tested and added to our playbook.
In the midst of the coronavirus pandemic, we have adapted our community mutual aid kitchen in Tijuana to serve as a front line crisis preparedness center. There is no social safety net here. Those who have the means will survive this crisis and those who do not are in great peril. We, the volunteers of Contra Viento Y Marea, are doing everything we possibly can to support our impoverished neighborhood during these times of global crisis.  
The money we raised on GoFundMe through March 18, 2020 (totaling $2468) has been used to cover housing costs through the end of the month of April. Then, we were still serving hot meals at our space with additional precautions and protective gear for us, the volunteers, but now that community spread is far worse, we have found other ways to feed our most vulnerable community members and continue to support them with free survival goods.
After being overwhelmed by the amount of people who were showing up to our daily hot meal servings, we've had to adapt. Mainly this is because we were running out of food donations to cook but also the local government was escalating crackdown measures against restaurants who violate new sanitation laws. Local newspapers have also been reporting of food establishments being shut down for allowing crowds to gather at their facilities. We feared that we could be fined or shut down if we continued to allow folks to gather at our space for meals. 
Furthermore, we've been affected by the restriction of US-MX border crossing. In late March when restrictions were put into place, we saw a 100% decline of donations from the US. This has meant a complete loss of the majority of all food and clothing donations. This new reality has led us to innovate new ways of continuing to serve food and give out donations to the most vulnerable people; the migrant community, the homeless, the recently deported, and poor working class families. In this new landscape of the Covid-19 crisis, we are working to distribute food and hygiene products by going out onto the streets (in our van, when possible) to quickly distribute any food, blankets, hygiene kits, scarves, warm clothing, and donated facemasks. We give out oatmeal, coffee, or lemonade through our van three times a week driving around la zona norte and la zona centro.
At our space, we assemble and give out boxes of uncooked food to families that regularly knock on our door looking for support. The boxes include milk, beans, rice, pasta, tomato sauce, canned goods and any other food donations we occasionally get from our Mexican community.  We are having to spend more funds on buying food to keep serving in the neighborhood. This is why we are making a callout for support.
As the crisis escalates from bad to worse here in Tijuana, we also have begun collecting raw materials to make face masks and to assemble them ourselves to also provide them to folks in our impoverished neighborhood. We've reached a point where the hospitals are overwhelmed and there is nowhere for folks who are sick with Covid-19 to go for medical help, much less support for food or basic goods for survival. We are on the frontline of helping those people who our society has left out to fend for themselves. Help us so we can continue to help migrants and the other people the US has deported across the border, with no regard for their humanity or our community's well being. Thank you!
Link to recent article on how El Comedor is working to respond to the added crisis brought on by COVID-19:
https://itsgoingdown.org/mutual-aid-community-kitchen-in-tijuana-continues-serving-during-coronavirus-crisis/
About El Comedor
Everything we do is supported through donations. The comedor rent is raised separately through diverse sources that include crowdsource funding and grants. (
You can sup
port the comedor rent and bills through this link.
) Drop us your change to make a world of difference in the lives of Central American migrant organizers who are on the front lines of the war on migrants at the US-MX border.
For migrants and refugees, the border crossing at Tijuana is virtually closed. According to the Associated Press, Tijuana has the longest waiting list, of all the border towns, for immigrants trying to enter the US. We have close to 5,000 migrants who are unable to go back home and cannot enter the US who are literally stuck here without any money as they try to wait in line for their number to be called to be able to cross legally. The 'metering' system in place is leading many migrants to attempt to cross through more dangerous places or to be caught in a city where cartels often kidnap migrants to extortion their families.
A place like Contra Viento Y Marea's comedor that's a few blocks away from the border wall, is vital for them to be able to eat, get a coat and a new backpack while they make life or death decisions about their future. It's also a place where they can come volunteer and receive free housing, food and transportation while they wait for their asylum cases to go to court.
The area where the comedor is located is one of the poorest neighborhoods starved of the most basic resources. Everything costs less because the average minimum wage for a full day's work is $10. Even folks who are working full time struggle to support their families and come to us for lunch or dinner. Our space is a welcoming place for recently arriving migrant families, for the homeless community, for those recently deported from the US and anyone else who cannot afford to buy food.
Tijuana is one of the most dangerous cities in the world as it is the crossroads for multiple human, drug and sex trafficking rings. We have been able to secure a safe, comfortable place for the volunteers to rest at night without the worries of being kidnapped or robbed but we need consistent, reliable funding to keep our house.
There are no other migrant led community kitchens in Tijuana that are organized around the principal of mutual aid, not charity. What makes our migrant volunteers special is the fact that they want to actively organize and help our community as a way of giving back in exchange for the help they received along their journey north. They are primarily from Honduras but also from El Salvador, Guatemala and Nicaragua. The migrant volunteers of the comedor came to Tijuana with the second caravan last winter. They started the comedor after the bodega near the Benito Juarez sports stadium where they were living was closed down by the local government. It's the place where this group of Central American migrants from the caravan could gather for meals and check up on one another.
The volunteers have all travelled thousands of miles from home, across the borders of three countries, in hopes of reaching the US in some cases to be reunited with family, in other cases, they are fleeing cartel violence or extreme poverty. While they wait for their asylum cases to be processed, which can take up to a year or longer, they are volunteering at the comedor in exchange for food, a couple of donations of shoes or clothing, and a secure roof over their heads. That's where you come in. We could not keep the comedor open without the support of donations to house the volunteers who are not paid for their efforts. Please consider giving any amount to the housing of the migrant volunteers so we can continue to run this beautiful space.
In the words of Nelson Mandela, "Overcoming poverty is not a gesture of charity. It is an act of justice. It is the protection of a fundamental human right, the right to dignity and a decent life. While poverty persists, there is no true freedom." Your donations to us are not charity. Your donations are an act of justice because they are helping migrants and others in our community overcome poverty. Your donations change lives.
The house, like the comedor, is run on a consensus based decision-making model. The reasons for doing it this way is because it's centering control in the hands of the migrant volunteers. Migrants are the ones who call the shots here. We do not have leaders because we are all leaders. This means we do not have an executive director because we believe we can all serve as the decision-makers by voting on the most important things that impact us. Furthermore, we rotate the hardest jobs, like washing dishes and cleaning bathrooms, amongst ourselves. Organizing in this way requires greater communication and participation from everyone, but makes for stronger decisions.
The house and the comedor are examples of what autonomous, migrant led projects can be if only given adequate financial and material support. We hope to serve as an example for other projects seeking to organize away from the non-profit system. If you believe, as we do, that migrants know best about how to run a community project like ours, then support us by sharing this page with your contacts and giving any amount on a monthly basis.
To donate using
Venmo
, send funds to
@tjrefugee-support
with the word 'Covid' in the comments.
To donate using Cashapp, send funds to $comedortj; email: [email redacted]
For more information, visit our website
http://contravientoymareatj.com/
Check out our
Facebook
page for regular updates about el comedor.
@contravientoymareacomedor
Links to recent articles and videos published about el comedor:
Univision


https://www.facebook.com/groups/702704259881756/permalink/1421627231322785/


Frontera
https://www.facebook.com/frontera/videos/475538236416885/
La Opinion
https://laopinion.com/2019/11/17/migrantes-que-llegan-en-la-caravana-abren-comedor-en-tijuana-para-los-mas-necesitados/?fbclid=IwAR0Y5m4a362nGwI1Pp7P24zefjq8em7n9JQCC6gGH4gU9rsoWuvnkTX06Y0
Zeta Tijuana
https://zetatijuana.com/2019/09/contra-viento-y-marea-el-comedor-comunitario-de-migrantes-para-migrantes/
It's Going Down
https://itsgoingdown.org/help-keep-el-comedor-operating/
TijuanaPress.com
https://www.youtube.com/watch?v=CuVju2vAZYs
Survival Media Agency
https://vimeo.com/351829155
Televisa
http://xewt12.com/comedor-comunitario-migrantes-migrantes-en-tijuana/