McDonald's Worker Strike Fund
UPDATE: At a McDonalds store in Downtown Berkeley, 13 workers are on strike. Eleven workers have tested positive for COVID-19. Additionally, at a McDonalds store on San Pablo Ave in Oakland, 10 workers are on strike. Four workers have tested positive for COVID-19.This is a public health crisis in the Bay Area. There are over 35 McDonalds workers who have tested positive for COVID-19 at locations in Oakland, Berkeley and San Francisco. And the numbers continue to grow. Support these workers and contribute to their strike fund. Uplift their demands to be treated with dignity and respect, not as disposable. See below for a full list of demands.

Background:
A strike by 33 workers at a McDonald's in North Oakland has shut down the store since May 26. Eleven workers there have tested positive for COVID-19, and so have ten of their family members, including a 10-month-old baby. This is the longest recorded strike ever by McDonald's workers.
Strikers are demanding a two-week paid quarantine period, company-paid medical costs, a deep cleaning of the store, and proper personal protective equipment.
Before the strike,
management gave workers dog diapers
  and rubber bands and instructed them to construct masks. Coffee filters were also offered as personal protective equipment when other supplies had run out.
"McDonald's is treating us like dogs," said worker Delia Vargas. "We don't want to die for their hamburgers so we are going on strike to protect ourselves, our families, and our communities."
TL;DR Thirty-three workers are on strike at a McDonalds store in North Oakland. This is the longest ongoing strike by fast food workers. 
Distribution
These workers are extraordinarily brave for standing up to the owner of this franchise and challenging the corporate power of McDonald's. However, in order to sustain this pressure, these workers urgently need the financial resources to care for themselves and their families.
Any contributions will go directly towards daily expenses such as:
-Groceries
-Rent and utilities
-Medical bills
The funds will be distributed among the thirty-three striking workers. 
"I tested positive for Covid-19 while working at [the Telegraph Ave] location. Like all my co-workers, I need to work and support my family in Honduras. We are on strike not because we don't want to work, but because we are demanding safe working conditions." 
-
Angeli Rodriguez, McDonalds striking worker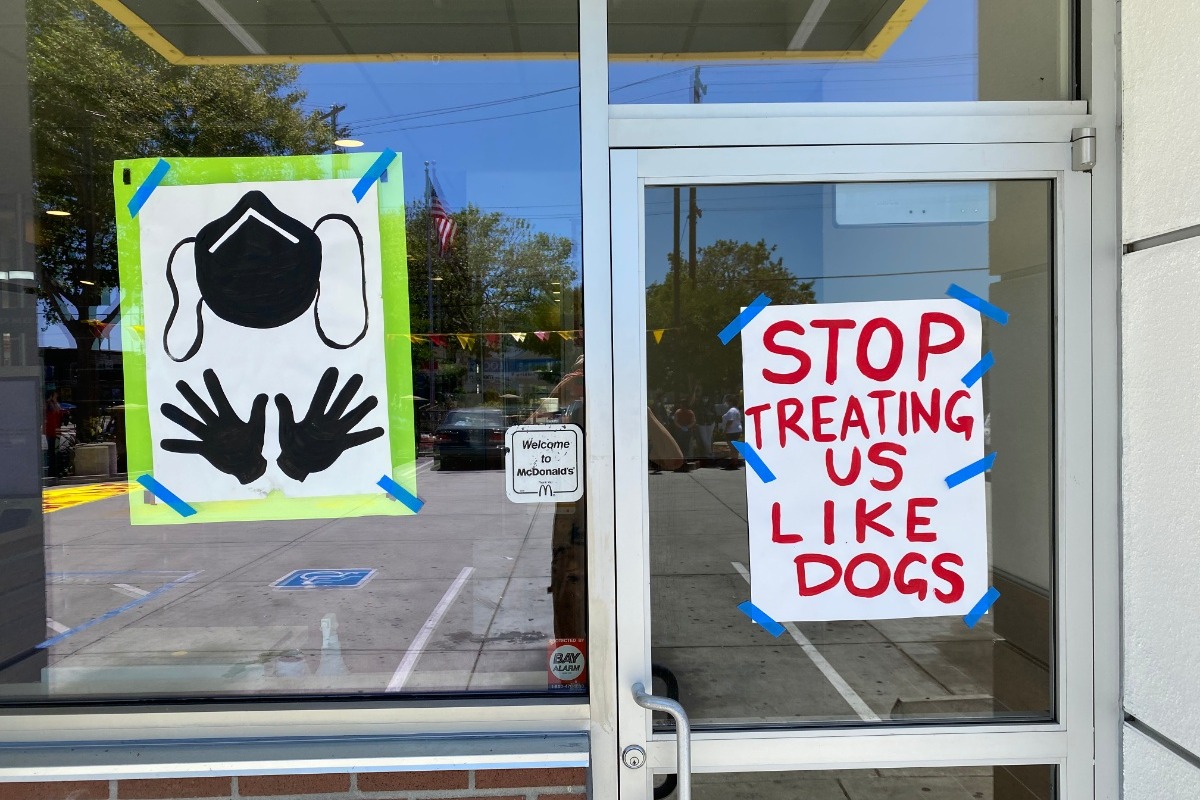 Strike Demands
- Paid 14-day quarantine for exposed workers, including hotel costs to protect families
- Trace impacted workers and families
- Close and sanitize contaminated stores
- Sick pay for exposed workers
- Adequate protective equipment and supplies
- Train staff and managers on best practices for COVID-19 safety
- Compensate lost hours due to COVID concerns
- Certify following best practices at this and other locations
- Essential worker pay
- One free meal per shift
- Less than five-hour shifts not forced to take unpaid lunch break
Media


Berkeley McDonalds workers say lack of safety equipment spurred
coronavirus
outbreak
Salon
Nicole Karlis
July 9, 2020
McDonalds Workers Like Me Are Fighting for Our Health and Safety
TIME
Yamile Osoy - OPINION
June 17, 2020
Essential Workers Are Not Impressed by Corporate Anti Racism
New York Magazine
June 13, 2020
Empleados de restaurantes en California temen ir a trabajar y contagiarse de COVID 19
Telemundo -- National
June 17, 2020
McDonalds workers in Oakland take further legal action against restaurant amid wave of COVID 19 cases
SF Chronicle
June 16, 2020
McDonalds franchise fueling COVID 19 outbreak by failing to protect workers lawsuit
Reuters
June 16, 2020
Oakland McDonalds Workers Sue Management Over COVID 19 Outbreak
KQED
June 16, 2020 
Who is the organizer
Cora Lautze is a printmaker and artist based in the Bay Area. She has worked closely with David Solnit, East Bay DSA and Fight for $15 to support the striking workers. 
Contexto:
Una huelga de 33 trabajadores en un McDonald's en el Norte de Oakland ha cerrado la tienda desde el 26 de mayo. Once trabajadores han dado positivo por COVID-19, y también diez de sus miembros de familia, incluso un bebé de 10 meses. Esta es la huelga más larga registrada por los trabajadores de McDonalds.
Los huelguistas exigen un período de cuarentena pagado de dos semanas, gastos médicos pagados por la empresa, una limpieza profunda de la tienda, y equipo de protección personal adecuado. 
Antes de la huelga, la gestión dio pañales para perros y gomas elásticas a los trabajadores y los ordenó que construyeran mascarillas. También la gestión les ofreció filtros de café como equipo de protección personal cuando otros suministros se habían agotado.
"McDonald's nos está tratando como perros," dijo la trabajadora Delia Vargas. "No queremos morir por sus hamburguesas así que vamos a huelga para protegernos, proteger a nuestras familias, y a nuestras comunidades.
Treinta y tres trabajadores están en huelga en una tienda de McDonalds en el Norte de Oakland. Esta es la huelga más larga en curso por trabajadores de comida rápida.
Distribución
Estos trabajadores son extraordinariamente valientes por enfrentarse al dueño de esta franquicia y por desafiar el poder corporativo de McDonald's. Sin embargo, para sostener esta presión, estos trabajadores necesitan urgentemente los recursos financieros para cuidarse a sí mismos y a sus familias. 
Cualquier contribución se destinará directamente a gastos diarios como:
-Comestibles 
-Alquiler y servicios públicos 
-Cuentas médicas
-[….]
Los fondos se distribuirán entre los treinta y tres trabajadores en huelga.
"Probé positivo para Covid-19 mientras trabajaba en la ubicación [en Telegraph Ave]. Como mis compañeros de trabajo, necesito trabajar y mantener a mi familia en Honduras. No estamos en huelga porque no queremos trabajar, pero porque estamos exigiendo condiciones de trabajo seguras."
–Angeli Rodriguez, trabajador de McDonald's en huelga 
Demandas de la huelga

-Un período de cuarentena pagado de 14 días, incluyendo costos de hotel para proteger a familias 
-Rastrear trabajadores y familias afectados 
-Cerrar y desinfectar tiendas contaminadas
-Pago por enfermedad para los trabajadores expuestos
-Equipo de protección personal adecuado y suministros
-Capacitar al personal y gerentes sobre las mejores prácticas para la seguridad de COVID-19
-Compensar las horas perdidas debido a preocupaciones de COVID
-Certificar la mejores prácticas en este y otras ubicaciones 
-Pago esencial para los trabajadores 
-Una comida gratis por turno 
-No obligar que los turnos de menos de cinco horas tomen descansos no remunerados para el almuerzo 

¿Quién es el organizador?
Cora Lautze es una grabadora y artista con sede en la Área de la Bahía. Ella ha trabajado estrechamente con David Solnit, Easy Bay DSA, y Fight for $15 para apoyar a los trabajadores en huelga.