Mazunte Sk8: help build a skatepark for the people
We did it! Mazunte Skatepark was constructed in July 2021 and January 2022 and is now open and being used daily. We are so thrilled to see the park serving its purpose of a "home off the streets." 800 meters squared of concrete waves, bowls, launch ramps, boxes and rails. Mazunte Sk8 is a space where all social sectors can collide and experience the mighty, potent, beautiful and now Olympic sport of Skateboarding. We invite you to visit this forever playground which will always be open and free of charge.
===============================================
WE ARE STILL COLLECTING DONATIONS TO:
A: INSTALL LIGHTS AND SHADE AT THE PARK
B: PAY OFF THE PARK'S DEBT
C: CONSTRUCT PHASE 3 WITH MORE STREET SKATING
-------------> Read Details Below! <-------------
===============================================
An enormous thank you to skatepark builders Wonders Around the World and Dreamland Skateparks who volunteered their time, knowledge and skill to bring this park to life and create a one of a kind world class concrete masterpiece.
More huge thanks to each and every one of our donors with special mention to our major sponsors: Sam Wegert, The Skateroom, Forever Playground, Donate 4 Skate, and Breaden Criddle.
We are still collecting donations!
A: Our current immediate need is to install lights and shade in the park so we can use the park at night and during the day when there is intense sun. Please help us maximize the use of our beautiful playground and drop a donation in. All money raised will go directly to this cause first!
Money needed for cables, lights and installation = $500usd.
Money needed for 400 meters of shade material, posts, rope and installation = $500 usd.
Go Fund Me Currently at $26,270 as of October 23rd, 2022.
ALL MONEY TO $27,270 GOES TO LIGHTS AND SHADE
B: The park is $30,000 in debt. The skatepark builders were here and we were NOT going to stop the materials from coming in. "Whatever it takes" was the mentality. Phone calls were made and God's Grace was sent and we were able to pull together the cash to purchase materials and get the job done… but it was not a donation. The loan must be paid back before we do any other construction to the park such as a phase 3 to build more street skating. Please consider helping us chip this amount down and move us closer to the dream of a phase 3 Mazuntesk8 street section.
C: Phase 3! More Street! We have plans drawn for a mini kicker, a launch to ledge and rail, a 5 stair, a manipad, and flat ledges. This phase will complete the park and we can skate into eternity. Estimated material and crew costs = $10,000usd. Let's go! Who is going to step up!?
Mazunte is a coastal village in Oaxaca, Mexico. Oaxaca is home to 53% of Mexico's indigenous population. The region is rugged and beautiful, but 62% of its people live in poverty. Opportunities for youth are scarce and this past year has seen increasing alienation. 
Many of this area's youth are tempted into shady life paths because there are simply not many alternatives keeping them away from the mischief. Skateboarding is a proven outlet that individuals can choose over a life of crime and is a sport rich of life lessons and values.
Despite a rapidly growing skate community, there is not a single public skatepark in our region. We are left alone to tackle these challenges, which is why we formed Mazunte Sk8 - a grassroots project with a mission to spread the happiness that is skateboarding to the people of the Oaxacan coast.
100% of your donation goes directly to materials. Please help us deliver this forever playground to a community who so could use it.
Thank you for your consideration. Please give what you can.
===============================================================
SPONSORSHIPS AVAILABLE
Are you a brand or a company? Would you like to sponsor our park and help us move closer to our fundraising goal?
$5,000usd donation = Hang your banner at the park
$10,000usd donation = Section of ramps painted with your logo
===============================================================
Mazunte Skatepark on Instragram @mazuntesk8
Photo credits @vrxtrad
WONDERS AROUND THE WORLD is an international group of skateboarders, architects, engineers, contractors and entrepreneurs who have joined forces to make skateboarding available worldwide, regardless of income or background. 100% volunteer-run, and always with the motto "it's their park," WAW develops free and public spaces in partnership with local communities and provides continuous support to empower those communities to independently manage their facility. A free skateboard loaner program is installed at every project and skate programs held, ensuring everyone enjoys equal access to their park.
Since 2019, WAW has built 15 skateparks around the globe - in Bangladesh, Ecuador, Hungary, Jamaica, Iraqi Kurdistan, Maldives, Morocco, Nepal, Syria and Tanzania. Mazunte Sk8 is their 16th skatepark project:
"There is nothing that we love to do more than this. Right now, only half of the world's skateboarders have safe and free places to skate. Our mission is quite simple: to make skateboarding accessible to everyone in the world."
wondersaroundtheworld.org
@wondersaroundtheworldorg
DREAMLAND SKATEPARKS is hands down the most respected skatepark building company amongst skateboarders. They have been creating concrete masterpieces dating back nearly 30 years and were among some of the very first at the start of the concrete DIY skatepark scene. 
"Here at Dreamland Skateparks we are all passionate skateboarders and we take pride in our work and it shows in the designs and craftsmanship of our parks." - Mark Scott
@dreamlandskateparks
DONATE FOR SKATE was founded in 2017 by lifelong skateboarder Jenna Hirt to deliver boards to young and hopeful skaters around the world. She has skated all over - from Peru to Nepal to Madagascar to the Syrian refugee camps of Greece - to spread love, happiness, and smiles, one skateboard at a time:
"These kids are so talented - they know how to skate, and they want to skate, but they don't have access to boards. It might sound crazy but skateboarding really helps kids get their minds off their worries, and stop feeling sad, or scared."
facebook.com/donateforskate
@donateforskate
FOREVER PLAYGROUND is an online and print magazine created in 2019 to document and promote skate-related social community projects for underprivileged youth, and to distribute funds and gear for skatepark builds and programs where it's most needed:
"Playing is the purest act of love. When there's no other interest than having fun, when there's nothing at stake that would compromise our social status or our finances, we're most likely to be ourselves and let others be themselves, and genuinely create real social bonds that give rise to community initiatives and social change."
foreverplayground.org
@foreverplayground
ELLIOT'S STORY
"In early 2019, I began driving from Santa Cruz, California to Oaxaca, Mexico to establish a new home with a yoga community and warm waves. I stopped at nearly every skatepark on the way to get my meditation on.
Skateparks provide an outlet for individuals to set their mind at ease, get a workout, have a sense of belonging and offer unlimited artistic expression. When you enter a skatepark, you are immediately part of a worldwide community. I was immediately welcomed by the local talent with "slap-pound" handshakes all across the board. I was even invited to stay the night in their homes.
Landing in Mazunte, I found a community of ocean shredders who are as salty (humble) as it gets. Their craft in the waves is matched by their hospitality. Without blinking they accepted an outsider as a brother because we share an appreciation for body movement in nature, but I think also because they are simply good humans, they understand it is the way.
I quickly noticed there is no skatepark in the area. I thought to myself, "this place DESERVES a skatepark!" and asked my new friends if they were interested in building one for the town. Their eyes got real big like they had just tasted sugar for the first time. Mazunte Sk8 was born.
This project will bring light to kids who may otherwise be sitting on a curb, getting into mischief and questioning the purpose of life. To finish the job, we need help. Skatepark construction costs are not cheap, but the ROI will last for lifetimes. Together, we can spread the happiness that is skateboarding.
MAZUNTE SK8.
please give today and help build our forever playground.
Location: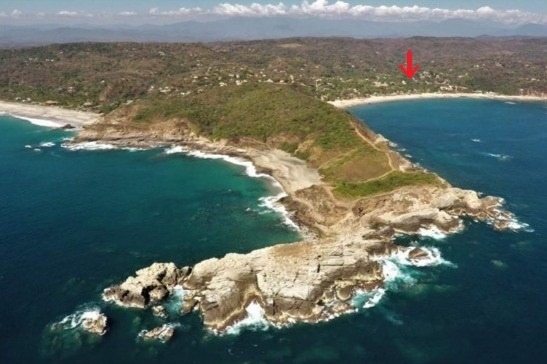 DIY Construction 2020:
La Comunidad de Mazunte:
Mazunte Sk8
gofundme.com/mazunteSk8
@mazunteSk8
Organizer
Elliot Stone 
Organizer
Scotts Valley, CA