Lupita & Las Abejas Chiapas Screening Tour
Lupita + Las Abejas de Acteal Internal Chiapas screening Tour  [Español Abajo]
Please support me in bringing activist and protagonist Lupita (Guadalupe Vazquéz Luna) and co-producer Lalo (Eduardo Gutiérrez Pérez) on a screening tour of our short documentary LUPITA throughout their organization Las Abejas' neighboring communities in Chiapas, México. Our whole team needs your support in bringing the film to where it can have the most impact -- a film is not finished until it gets to the communities it showcases, and three years after the first shoot, we're ready to share the film that we're all proud of to more women leading their communities and a next generation of Maya Tsostil activists and mediamakers. 
Las Abejas de Acteal
was formed in defense of indigenous life, autonomy and human rights with the principles of non violence in 1992. We are paring this outreach tour with the organization's funding needs to visit their more distant communities at the end of this year or beginning of 2021. Half of the total raised will go to the organization, to cover their travel, gas, internet and food expenses. Food prices in the Chiapas Highlands have gone up during the pandemic, and this has been especially taxing since they are providing sanctuary for displaced Tsostil families for over a year in Acteal. As producer Lalo explains, Acteal has been a refuge for indigenous families forcibly displaced from their homes since 1997, and today the crisis in the region continues. According to
local sources
, over 10 thousand people have been displaced in the highlands this year.
Our aim is to support the existing organizing happening on the ground in the highlands and also create spaces to share the film and celebrate the struggle of Lupita and Las Abejas de Acteal, with those who most need the inspiration and example and to be heard. Some of the communities and municipalities we have in mind include: Pantelhó, Simojovel, and Rio Grande, Chiapas.
Along with the Abejas de Acteal communication team, we will use these visits to provide audiovisual workshops to the youth interested in the community. Many already practice community radio and photo documentation of events for social justice. The other half of these funds will go to travel expenses, equipment and supplies for the community screenings. 

En español: Lupita documental + Las Abejas de Acteal Gira Interna en Chiapas
Apóyanos para hacer una gira interna de nuestro documental cortometraje "Lupita" por las comunidades de Las
Abejas de Acteal
. 
Todo el equipo del documental necesita tu apoyo para juntar fondos para que nuestra película llegue a otros lugares que son de mucha importancia para la activista y protagonista (Guadalupe Vazquéz Luna) y co-director y camarógrafo Lalo (Eduardo Gutiérrez Pérez) y para su organización en Las Abejas de Acteal en Chiapas, México. Una película no se termina hasta que llega al público adecuado. 
Las Abejas de Acteal se formó en 1992 en defensa de la vida y los derechos humanos a través de la No Violencia. Vamos a juntar este tour de proyecciones comunitarias con las necesidades de financiamiento de la organización para visitar sus comunidades más lejanas al final de este año o inicios de 2021. La mitad de la cantidad que recolectamos va directamente a la organización de las Abejas.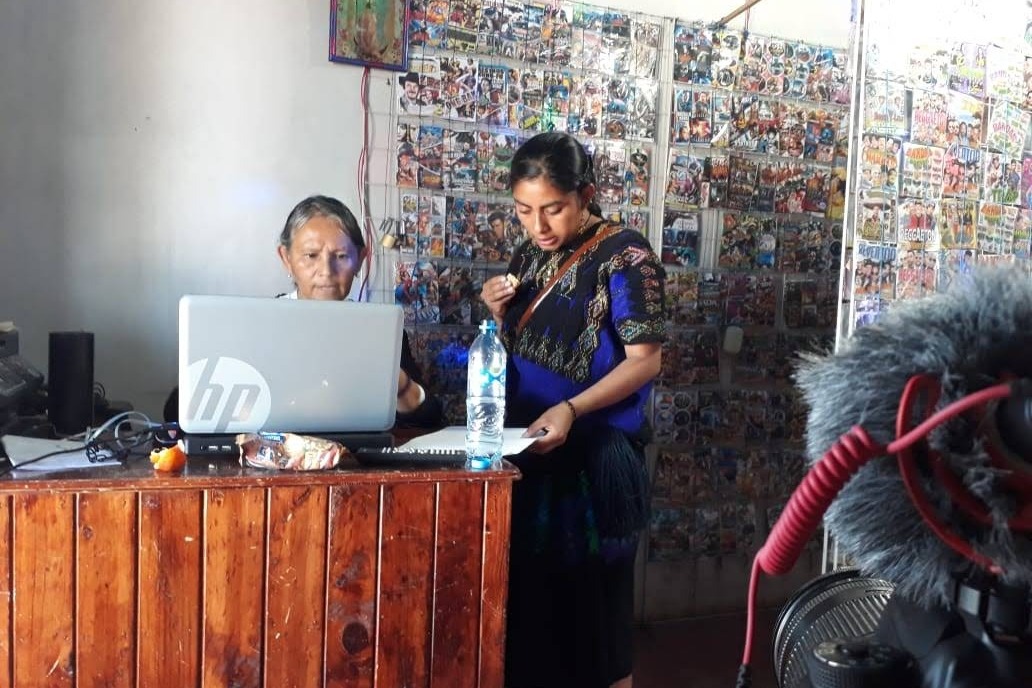 Junto con la área de comunicación de Las Abejas de Acteal, usaremos estas visitas para ofrecer talleres audiovisuales a jóvenes interesados en las comunidades. Muchos ya practican radio comunitaria y documentación de eventos para la justicia. Otra porción de estos fondos será para viáticos para la gira, equipo y alimentos. Los precios de la comida en Los Altos de Chiapas han subido durante esta pandemia, y esto ha sido especialmente duro para Las Abejas que están dando un santuario para familias Tsostiles desplazadas desde hace un año en Acteal. Como dice Eduardo, Acteal ha sido un refugio para familias indígenas desplazadas desde 1997, y hoy la crisis continúa en la región. Según fuentes nacionales , más de 10 mil personas han sido desplazadas en Los Altos.
Thank you,
Monica Wise Robles, director,
Lupita,
que retiemble la tierra,
October 2020.
Additional links/Más información:
Carta de los desplazados/Frayba - Local Human Rights
Organization letter
  re: displacements.
https://www.jornada.com.mx/ultimas/estados/2020/07/10/indigenas-desplazados-en-chiapas-exigen-justicia-a-amlo-mediante-carta-1517.html
https://www.jornada.com.mx/2020/07/11/politica/014n1pol
First still image/Primera foto: Cecilia, Lupita's niece uses Super 8 when filming a driving scene for transitions, August 2019.
Cecilia, sobrina de Lupita usa la camera Super 8 mientras que grabamos escenas de transición, agosto 2019.
Organizer