Clean Water & Healthy Food for Families in Gamboa
GIVING TUESDAY, 12 / 3 / 2019: SPECIAL THANK YOU MESSAGE!
Thelma and the kids from Lanchonete<>Lanchonete created a special thank you message for all the donors who have generously supported our fundraising campaign so far. As of today, we are at almost 30% of our goal. Please consider donating to this campaign and helping some amazing people do some amazing things!
Watch the 1-minute video.
INTRODUCTION
Lanchonete<>Lanchonete (L<>L) is an artistic and social outreach program in Rio de Janeiro organized and run by my dear friends, Thelma Vilas Boas and Kriss Coiffeur. I got to know Thelma and Kriss over the six weeks I spent in Brazil as part of my sabbatical research during the spring of 2019. 
I was immediately amazed by their story and awestruck by their commitment to improving the lives of the people in their community. Together, we made the above video and conceived of this GoFundMe campaign to support their efforts providing healthy food and clean water to the children and families they serve. 
OVERVIEW
Thelma and Kriss' community is known as Pequena Africa, or Little Africa in English, and is situated in the heart of the Gamboa neighborhood in Rio de Janeiro. Gamboa is an area marked by centuries of violence and oppression. Located in the port zone of the city, it was the center of operations for the African slave trade from 1600 until 1850, although the illegal slave trade dragged on for decades afterward. To this day, the collective memory of almost 300 years of inhumanity lingers as a persistent specter for community members who continue to strive for a better future built literally on the bones of their ancestors. 
As an outreach program, L<>L supports local families of extremely low income. This support includes educational courses on nutrition and meal preparation, art classes, and community forums, as well as a multitude of cultural events. 
Most immediately, Thelma and Kriss' efforts are compromised by severe water and sewer problems, as mentioned in the video above. Please consider giving to this campaign to support much needed infrastructure development, and help improve L<>L programming. 
LANCHONETE<>LANCHONETE MISSION
L<>L seeks to promote physical and psychological well-being and intellectual development through shared activities in a healthy environment that is secure, honest, rich in diversity, that favors the exchange of skills, and creates a present without violence to make way for a new future. L<>L holds as its foundational mission to identify and foster expressions of resistance in the face of the current wave of dehumanization. 
Community members visit the space freely and actively, belonging to the place and to the project as a whole, and enjoy all of its programs free of cost. They are the children and adults of Pequena Africa, the Morro da Providência community, as well as other areas in and around Gamboa who have become aware of L<>L's programs and activities, feeling themselves drawn to its mission to build a new communal model for new ways of being and doing.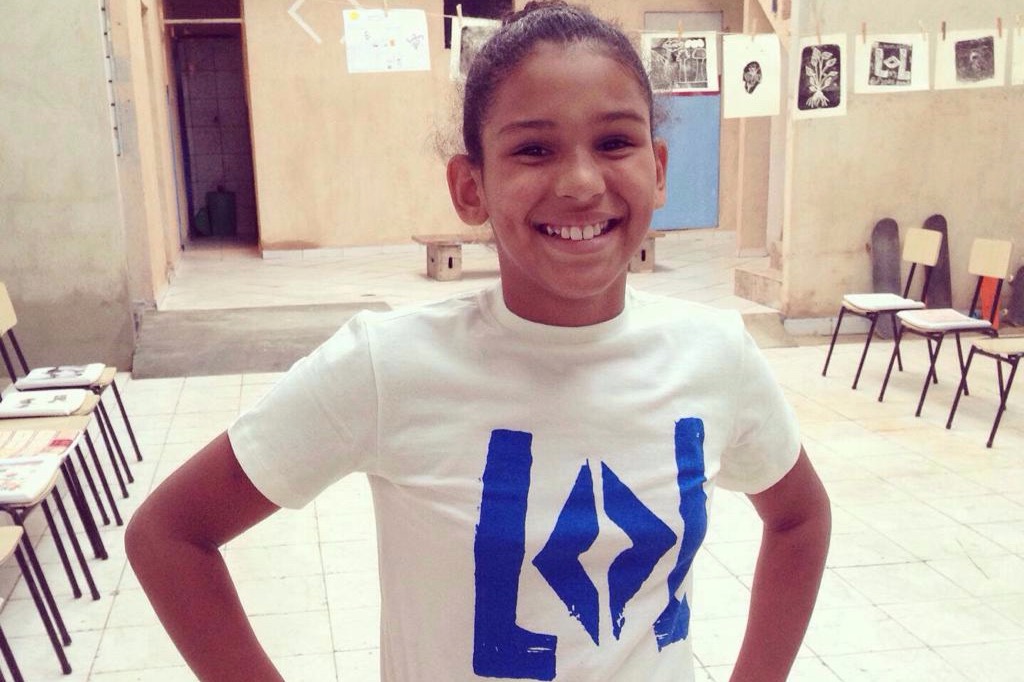 L<>L's mission is supported by a host of committed volunteers. The group is comprised of like-minded artists, architects, teachers, and other professionals, as well as university students and community members.
You can learn more about Thelma's approach to art and social outreach in this
5 minute video
 . If you're interested in learning more, the full
20 minute video
  provides additional background on L<>L and Thelma and Kriss' partnership. 
TESTIMONIALS
"I think this place is important for me because I don't have anywhere to go after school. I have to be in the street until my mom gets from work and here I can rest, eat, do something... it is a bit of a home." Davi, 9 years old 
"Every day I wake up and think: I am going to Lanchonete! I do because here nobody tells me that I am not good." Felipe, 10 years old, homeless 
"I like to come here because I like very much the food. At home the food is always sour or I have to cook, but I know only to cook rice." Sofia, 5 years old 
"My mother sleeps all day because she drinks too much. So she never takes me to school. Now the women here are taking me to school and after I come here to wait for it to get dark to see if I can find my mom in the street. I don't know...I like very much Lanchonete!" Rayane, 8 years old 
"I like to come here because we read books, listen to music, sing, cook and when it is too hot we can play with water." Thiago, 7 years old 
"Since the project arrived in this neighborhood my children have been in contact with another field of knowledge! It is very good because I cannot take them to cinema, and they play good movies for them here. I cannot afford to go to cultural centers and they do that too. Also they help my children to do homework, explain math, feed them...the children have changed a lot since then." Sandra, mother of 8 
RECENT PRESS
Cooperativa-escola: Ainda é muito cedo ou tarde demais. Só que não
Escolas de artistas: Escola Por Vir
BIOS
Thelma Vilas Boss, 52 years old, was born in São Paulo, and has been living in Rio de Janeiro since 2012 to develop a social and educational project in Little Africa. Thelma is a teacher, photographer, contemporary artist, and cultural director. She holds a Master of Arts degree and has been working with the Little Africa community setting up feminist and political kitchens in ordinary commercial spaces to confront racism and sexism openly for the purposes of achieving greater social equity for all people. 
Kriss Coiffeur, 42 years old, was born in Bahia, Brazil, and has been living in Little Africa since she was two years old. Kriss has been fighting against racism, sexism, and poverty since she was 16, when she set up a black girls' group at the main square of this neighborhood to organize cultural events. Until this group, the area did not offer any other perspectives for children besides working in the traffic, getting pregnant, or being killed by the police. She is 100% a feminist. 
HANDLING OF FUNDS
Any money donated to this campaign will be legally received by me, Robert Fraher, acting as an agent on behalf of Lanchonete<>Lanchonete, and will be transferred to Lanchonete<>Lanchonete via PayPal. This arrangement is the
method suggested by GoFundMe
  for individuals seeking to raise funds for others in countries in which GoFundMe does not yet operate. 
Thank you for considering supporting this campaign. Please feel encouraged to contact me directly with any questions.