Howdy!

We want to raise $3000 to cover the initial purchase cost and the first year of bus ownership for chapter and regional DSA activities. This bus would provide us with a way to send a large group to yell at elected officials in Topeka, transport members to conventions, operate larger mutual aid projects, and so much more. We're also documenting the work we do as a resource for other chapters looking to obtain their own vehicles and resources.

Flying is expensive and inaccessible to many midwest chapters, but riding on a bus with your pals is much cheaper and more fun! This bus will also expand our regional organizing capabilities and is a resource we will be able to share with other regional chapters.

Our first big trek would be to transport midwest chapters to the DSA national convention in Atlanta this summer. We'd also like to use it for the regional convention in Denver on March 9th, depending on the timeline for a bus licence. Any additional funds raised beyond what is required will subsidize the travel costs for the national and regional conventions.


In Solidarity,

Your Comrades at Lawrence DSA
Here's what DSA members in the area have told us:

"I think the bus presents an interesting opportunity for organizers in the great plains. The distance inherent to our geography has been a huge challenge in spreading our organizing to the countryside, and any tools and strategies to combat that are important." 
- Jade, Omaha DSA

"I'm really excited for us to have an organizing bus! You know what they say: if you want to organize your fellow teachers to fight for socialism, you probably need a bus!"
- Hannah, Lawrence DSA

"Fun bold ideas like the bus are what Kansas is literally bringing to the DSA convention"
- Jonathan, Kansas City DSA

"It's a force multiplier for all those things, it essentially extends your chapter's reach statewide. Which is useful. Imagine the rural voter registration rallies, and voter transport initiatives!" 
- Marco, Wichita DSA

"The bus will make it a lot easier for Lawrence DSA and Wichita to collaborate and socialize." 
- H, Wichita YDSA

FAQ
Naturally, there's going to be a lot of questions about a project like this! Our Transport Working Group has prepared a full preliminary report, available here, that covers the why's, when's, and where's.

For all other questions, look below or contact us on this fundraiser, on social media, or using the contact links on our website!

Who are you?
We're your comrades at Lawrence DSA! We've just become an official DSA chapter as of January, but we've working and organizing in the Lawrence area since 2016. This fundraiser was voted on and endorsed by the chapter membership on February 4th, 2019. You can check our events, updates, and further information at our website lawrencedsa.com , on twitter at @lawrenceksdsa  and on Facebook at lawrenceksdsa 

Why $3000?
This covers all expected expenses for the first year of bus ownership
The cost breakdown is:
  - $1800 for the bus
  - $600 for insurance
  - $200 for registration
  - $100 for maintenance
  - $300 for additional accessibility modifications

Our members will be covering many smaller expenses out of pocket such as CDL licensing fees, fuel costs for our own activities, storage fees, and the like, but this fundraiser will cover the big costs.

Do you have a bus picked out?
Yes! Our Transport working group has found a bus at a nearby school district and a few local members have put some of their own money down to purchase it at auction. A portion of this fundraiser will compensate them for the money spent on the initial bus purchase.

What kind of bus is it?
The bus is a 2006 International Chassis FE-300. It's a flat-nose full-size school bus that was retired from a local school district. It has the wonderful International 7.6 Liter straight 6 DT466E diesel engine paired to an Allison Automatic. It seats 42 adults comfortably. It's a good bus.

Will the bus be accessible?
Accessibility is a priority for our chapter's transportation concerns. Luckily school buses are very standardized and solutions for most accessibility concerns are readily available. We would like to install a wheel chair lift system and chair restraint system for passengers who would not feel comfortable transferring to a bench seat.

We've found some suppliers for second-hand lifts and accessibility equipment to make the bus accessible to all our comrades.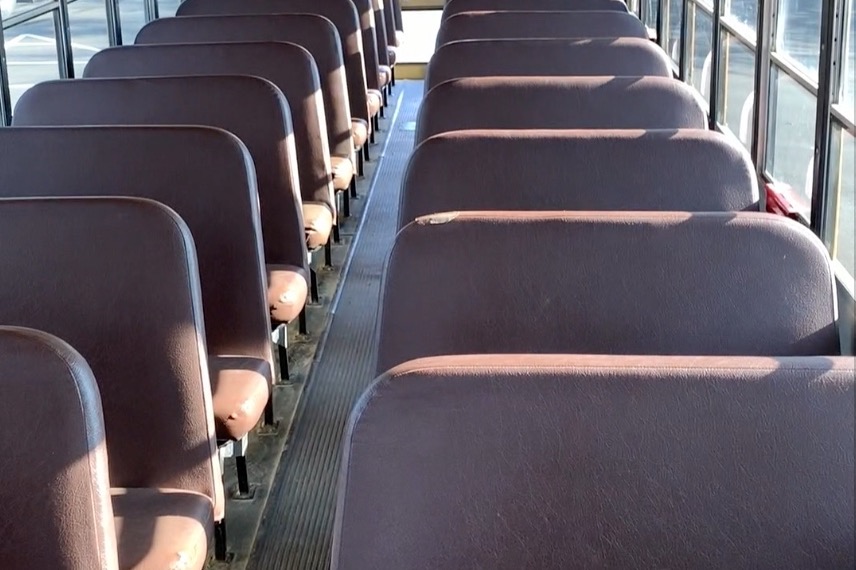 Fundraising team: Lawrence, Kansas DSA (3)
Lawrence DSA 
Organizer
Raised $870 from 36 donations
Lawrence, KS
Kellin Bruce 
Team member
Raised $25 from 1 donation