Adoption - Tom and Heather Lebda
CLICK Heather and Tom's Story (video)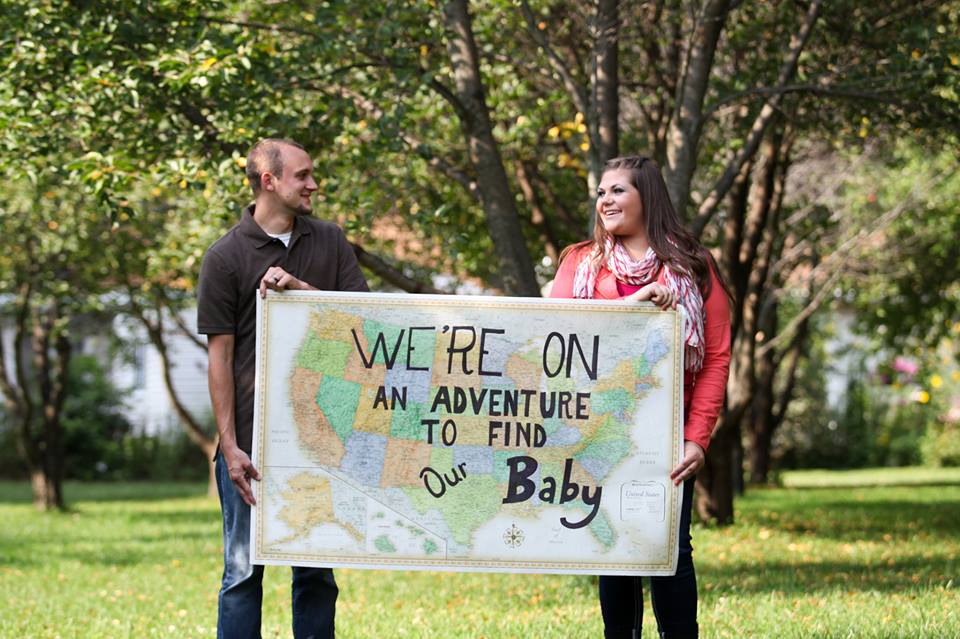 Join Jamie and I in backing Heather and Tom Lebda in adopting a child.  They desperately want children of their own, and have already been through so much and still are without a child.  We need your help in the adoption phase of their journey and would appreciate your support.  Here is their story:
From an early age Heather knew she wanted to surround herself with children.  Most little girls dream of their wedding-she dreamt of becoming a mom.   At eleven years old, Heather went to the pediatrician for what her parents thought was a simple bladder infection, but turned out to be a massive tumor. Heather was hospitalized and rushed to Children's Memorial Hospital.  It was confirmed she had stage 4 Wilms tumor cancer in her left kidney.  Wilms tumor cancer occurs in 1 out of 50,000 children two years of age and younger, and she was only the 3rd recorded case with this diagnosis. Her family was devastated as she was not expected to survive.
Four days later, she went into surgery to remove her kidney. After nine hours, they found the cancer had spread to her lower spine, lymph nodes around her heart, and small spots on her lungs. The surgeon explained if they had not found the tumor when they did, she was days away from a massive heart attack.  Heather started chemo five days after surgery. Radiation was to start nine days after surgery and her parents had to make a difficult decision. Radiation to the abdomen could have harmful effects on Heather's reproductive system. The first priority was to save her life. However, not wanting to put her through another surgery, her parents felt it was important to attempt to save her ovaries. The day before radiation, a second surgery was performed to relocate the ovaries out of the field of radiation. Radiation continued for six weeks and chemo for six months. The treatments became so difficult, her weight plummeted to 61 lbs. At this point in the treatment, doctors were scared of losing Heather not from the cancer itself, but from her frail body not being able to keep down food, liquids and just shutting down.
Through the strength of God, doctors, her family and amazing support from church and friends she got through it. After seven long months of enduring cancer treatments, Heather was finally cancer free!  Heather began the long road to recovery from the side effects of cancer treatments, and slowly regained her strength to return to living a "normal" life.
Tom and Heather started dating in 2006, and were each other's first love. Four years later, they were married on May 1, 2010. Due to Heather's medical history with cancer and uncertainty in conception, they started trying to have children right away. 
They have endured years filled with countless tests, medications, and unanswered questions. Last year, they attempted a round of shots for In-Vitro Fertilization (IVF). However, it was unsuccessful because one ovary could not be found and the other wasn't responding to the highest dose of hormones. The doctors confirmed their worst fear - the radiation from all the cancer treatments had done irreversible damage. It was then declared Heather was in ovarian failure and would never be able to produce an egg to concieve her own child.
The emotions felt through the infertility journey of their married life can not be described or written to express their grief. On a positive note, the Lebda's have now turned to adoption. Few people have known about this struggle they have been battling. The baby showers, births, and child birthday parties they have attended always have them praying to be blessed with a child.  
Heather, a preschool teacher states "It has been extremely difficult to open up and share our story, but if I can inspire others to pull through, it is worth every bit of the pain. Cancer may have prevented us from concieving a child, but it will NOT keep us from becoming parents!" 
Thank you for reading the Lebda's story and please help us make their dreams of becoming parents a reality!  If this story has touched or inspired you, please help spread the word about their story by sharing via email or social media.  Through your support and generous donations, you bring Heather and Tom one step closer to adopting a child to call their own.  
Proudly, 
Jamie and Mark Poole
Fundraising Breakdown*:
Contract and Adoption Fees:  $18,000
Home Study:  $3,000
Travel:  $4,000
Legal Service:  $9,000
Additional Fees and Services:  $4,500
Total Fundraising Amount:  $38,500
* Note - any amount we do not raise will fall on Tom and Heather to come up with.  Any direct private donations can also be graciously accepted.
Laura Gardner and Kevin Ryan 

Pam and Bernie Brownstein 
Organizer