Help Save Our Neighborhood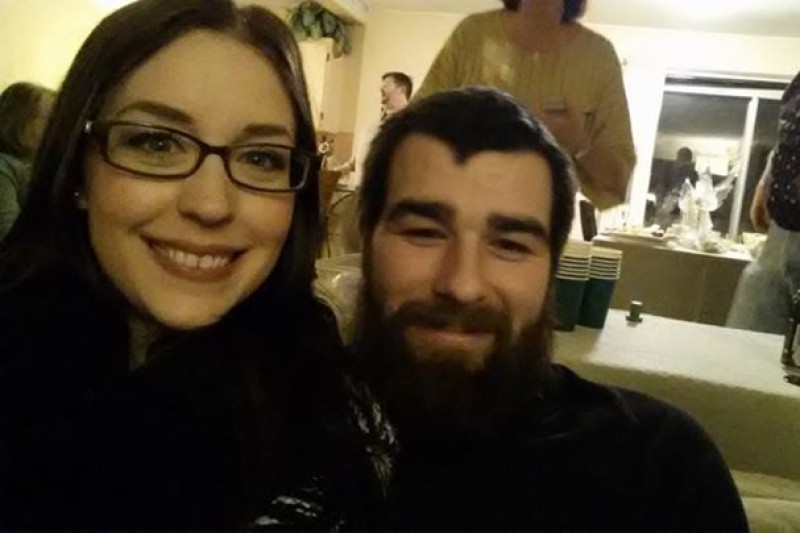 I'm Morgan, and my new husband (fiance at the time) and I bought our home about two years ago. I am creating this GoFundMe to
help save my neighborhood from sheer devastation.
Our neighborhood consists of two dead-end roads, located on a hillside. It may sound fancy, but we are comprised of seven modest families. We live in a small town in Oregon, in an area that has a history of severe flooding. It has not had a direct impact on us - until this weeks flood. It started with a crack in the road, that occurred sometime on Monday. By Tuesday morning, the cracks had grown and spread. The majority of the cracks are/were in front of our next-door neighbors Bob and Dee's house and driveway, which is the first house on the upper road.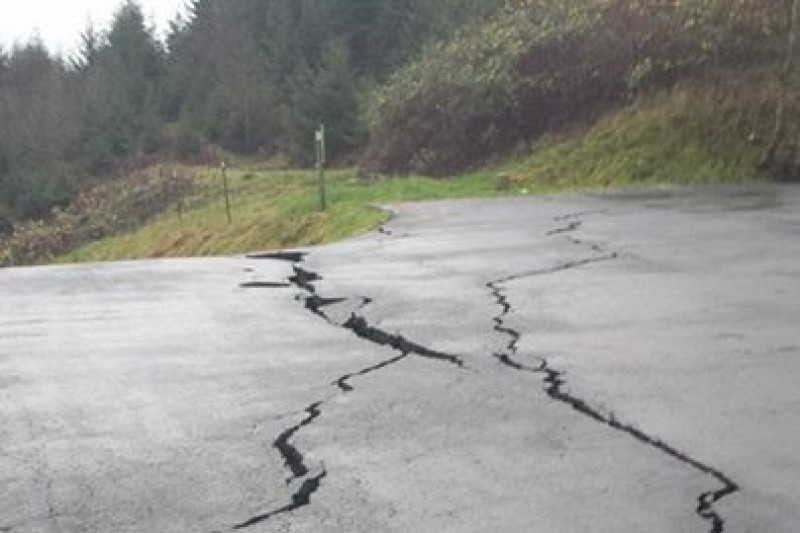 By that afternoon, it became clear that
it was going to get much, much worse.
There are two homes and a small barn situated downhill from this mess. One family, Mike and Sandy's, has three kids - twin teens and an older child in his second year of college. The other home and barn belong to John and Tara, whose only daughter is in her freshman year of college. They saw this and we
immediately began evacuating
their horses and whatever else we could. John and Tara are currently
living out of their horse trailer.
I shared this photo to Facebook. That is my husband in the hard hat, peering over the edge. My friends freaked out, thinking that this was
terrible, awful
. But the storm kept raging; inches and inches of rain and surface water pouring into this mess. The next morning, the situation seemed
dire.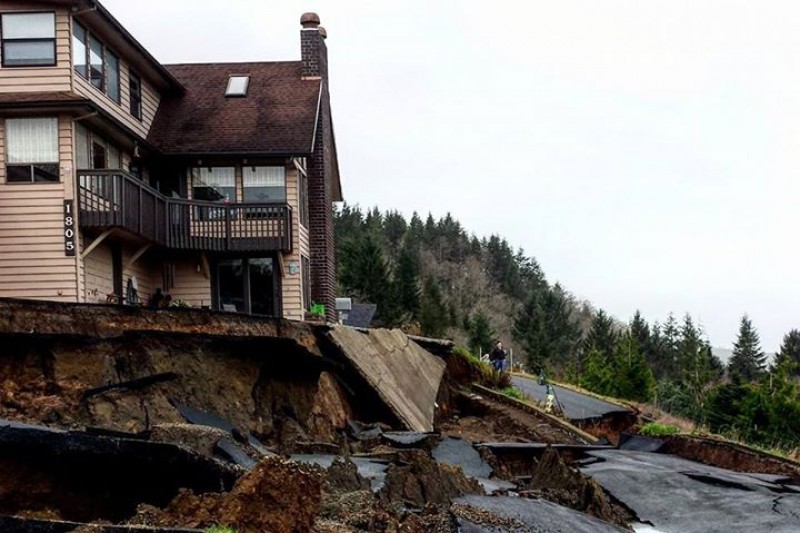 The pictures don't do the damage justice. You can just make out one of us standing by the crevass, just to the right of the middle in the picture. I don't have the words to sufficiently describe it. It is
massive
. It goes beyond the roads - cutting across the entire hill. Drop offs of up to twenty feet, easily. The entire main road shoved at least fifteen feet downhill. Crevasses and craters and canyons galore. Everything wants to continue to move and fall. We have had geologists, contractors, and engineers come survey the damage. Everyone was blown away. To see it in person is the only way to truly grasp it. The barn down the way has been irreparably damaged, and the families
still fear for their homes.
The three of us on the upper road are currently
isolated
, as this was our one way down the hill. We are working to create a gravel driveway through the backyards to get us down to the lower road so we can get out.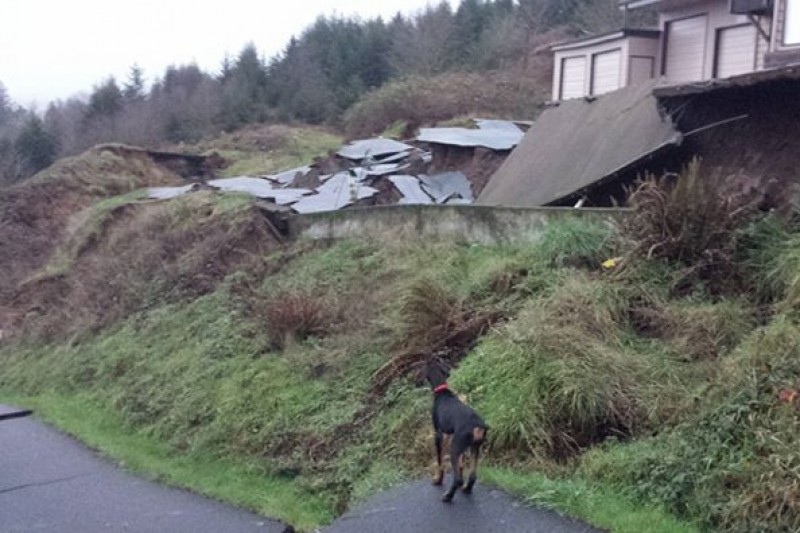 The flooding and damage in the local area is ongoing - so much so, that our county has been
declared a State of Emergency.
We have spent much of the last few days on the phone with whomever we can think of to call. The most frustrating blow -
Homeowner's insurance won't help us, coming up with excuses as to why it isn't covered. The city can't help us. FEMA, whom we were counting on, won't help us either, since it's privately owned. 
(in the above picture, the left is Bob's driveway, while the right is the main road. You can get an idea of how much earth has moved.)
We are stuck with the bill to repair our hill, and to stabilize the landslide quickly if we want to save Bob, John, and Mike's homes from the
imminent threat
. It is also quite possible that every home on the hill is at risk of coming down or being swept up if this were to be left to its own devices. That's what drove me to set this up. We live in a town that embodies community to its core. We are praying the community - and its branches - can help us now.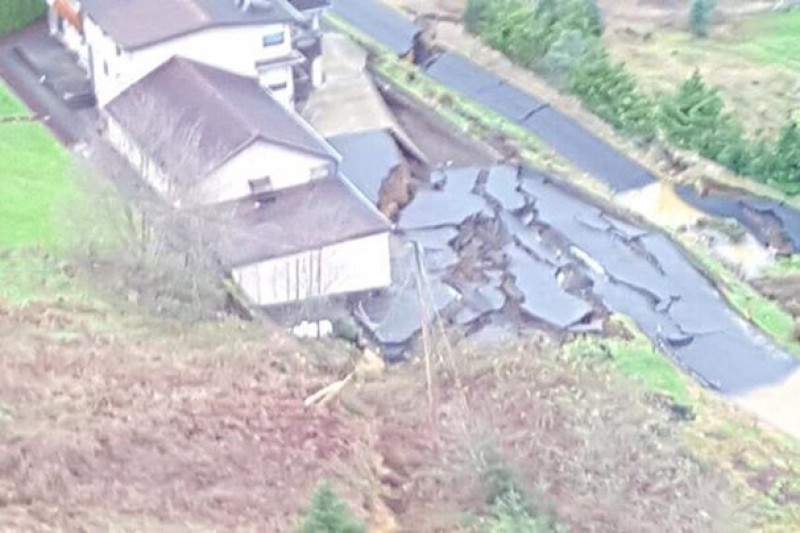 Any money donated will be used directly to save what can be saved and repair what can be repaired. This is going to be a costly, lengthy process. Honestly, we believe it will cost much more than the goal of $100,000. Engineers and geologists will need to be hired to figure out the safest way to calm Mother Nature. They will bring in big expensive drills and take core samples. This process alone will cost at least $5k. They will then design a specific plan on how we go about saving the hill. The ground will have to be stabilized. Vast expanses of hillside will need extensive work with heavy machinery. Hopefully, we can do this before we have another slide. Any springs of water - of which there are many - will need to be trained and corralled into going down the hill safely. There is the chance that we will have to reshape large pieces of property. Eventually, this will need to be dug out. Potentially, with the help of professionals, we can rebuild our road. With the grace of God, the houses in the slides possible path, and the house above it, can be saved.
This GoFundMe is, figuratively and literally,
a lifesaver
. If we can stabilize this hillside, we can save our homes. A minimum of three homes will be guaranteed to be directly saved, while the remaining four will be saved from potential future slides. Homes with families in them - children, pets, parents who work hard all day to keep it all together. Anything donated -
anything
- will be seen as a blessing. There truly aren't enough words to express how thankful we will be.
Unendingly? Eternally?
I don't feel like those words are strong enough. This is a holiday season that we will never forget - but hopefully we remember it with tears of gratitude. As I create this GoFundMe, I am listening to the rain continue to pour, and thunder boom. I can see flashes from the lightning through the window. This storm isn't over yet, and so neither is our fight. Please, help us save our homes. Help save our neighborhood.
Organizer
Morgan Kottre
Organizer
Tillamook, OR