Kidz That Care Community Service Projects
OUR STORY...

We started this
Kidz That Care
because my three younger siblings and I were used to seeing our parents, especially our mom, lead community events and volunteer activities, despite their busy work schedule, and we noticed how happy and fulfilled it made them feel to make a difference in our community. However, it wasn't until the Summer of 2018 when we realized what it really meant to give back and take action especially in times of crisis.
Hurricane Florence had viciously struck the North Carolina coast and many people were displaced and being sheltered to inland NC cities like Charlotte. As we saw her volunteer at the Red Cross temporary shelter at our local high school all weekend, collecting donations, delivering supplies, and checking in on residents, we remember asking our mom, "What can we, the kids, do to help?"
As we looked into ways we could help, we realized that opportunities for kids to volunteer were somewhat limited especially for those under 16. That's when the four of us decided we wanted to start our own youth volunteer organization, be able to research places where kids and teens could help, and lead in organizing our own community events and service projects in support of local charities and non-profits. That summer a fire lit beneath us and a passion for community activism, youth leadership, and volunteerism was ignited.
Since we started we have served 500+ community service hours, completed over 300 service projects in support of 50+ charities and non-profits across Charlotte and the Carolinas. We have been recognized for our work locally, at the state level, and nationally and were awarded a Presidential Volunteer Service Award- Gold Level and Prudential Spirit of Community Award.
https://www.facebook.com/ncvolunteer/posts/10165123922070343
https://www.wsoctv.com/community/family-focus/kidz-that-care-4-siblings-share-kindness-beyond-coronavirus-outbreak/YJZVFEDHYZC3LNJGW7NFCRLSDE/
Kidz That Care is a youth organization where kids and teens can not only learn about different ways to help and volunteer in their communities, lead projects to raise awareness of causes they care about, but also learn to become student leaders. Kidz That Care empowers kids and teens to be not only volunteers, but also to grow into actively engaged community leaders by encouraging them to lead initiatives and events in support of local social issues they care about the most, whether it's anti-bullying, social equity, helping the homeless, education, health, animal cruelty, or any other area they are passionate about making a difference in.
To learn more about us and the organizations we support, please visit our website at
www.kidzthatcare.org
We post all our events and projects on social media via our
Facebook Page
and
Instagram Page
.
Your support and contributions will enable us to grow our community service project capacity. Your generous donation will help fund our mission of empowering kids and teens to give back to their communities, become community leaders and change-makers while also helping fund the acquisition of needed materials/supplies to complete our service projects.
Join us in our caring movement!
- Maia and the Kidz That Care Team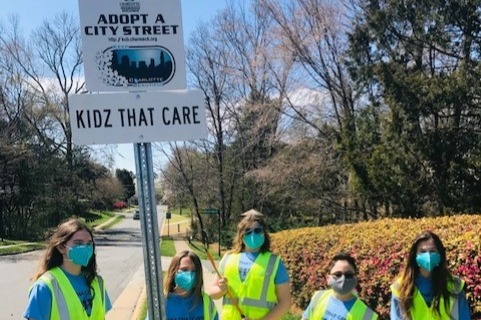 Organizer
Maia Campbell
Organizer
Charlotte, NC