Kalahari Bushmen Transforming Our Communities
RETURN TO THE KALAHARI: "CONTINUING EDUCATION" OF THE HIGHEST ORDER
In the vast desolation of the Kalahari Desert lies the most astonishing Oasis of Hope for Humanity - the living culture of the San Bushmen.
This 2020 Origins Project Retreat promises to be a hallmark in developing a partnership with our most ancient Wisdomkeepers of peace, well-being and resilience - of connection with self, others and nature.
Dear Friend,I am inviting you to join, through your support, a pilgrimage filled with hope and promise for our troubled world.
This March - in a few short weeks - I am returning to Botswana, Africa to co-lead, with the 8 Shields Origins Project , a unique, powerful and perhaps first-of-its kind international collaboration.
On this journey, a select contingent of Indigenous Elders from North America, healers, nature mentors, cultural creatives and community builders will join in a strategic insight session with the masters of nature and community connection - a community of hunter-gatherer San Bushmen of the Kalahari
- living direct descendants of our oldest human ancestors and the origins of human culture. Our mutual aim is to further relationships and partnerships which work towards healing our world, while supporting the Bushmen's enrichment of their culture.
In 2018, satisfying a life-long yearning, I experienced the good fortune of spending time with a community of Bushmen in their culture
. My time with these remarkably resilient people was life-changing for me.
You may have supported that journey for me then.
 I am forever grateful.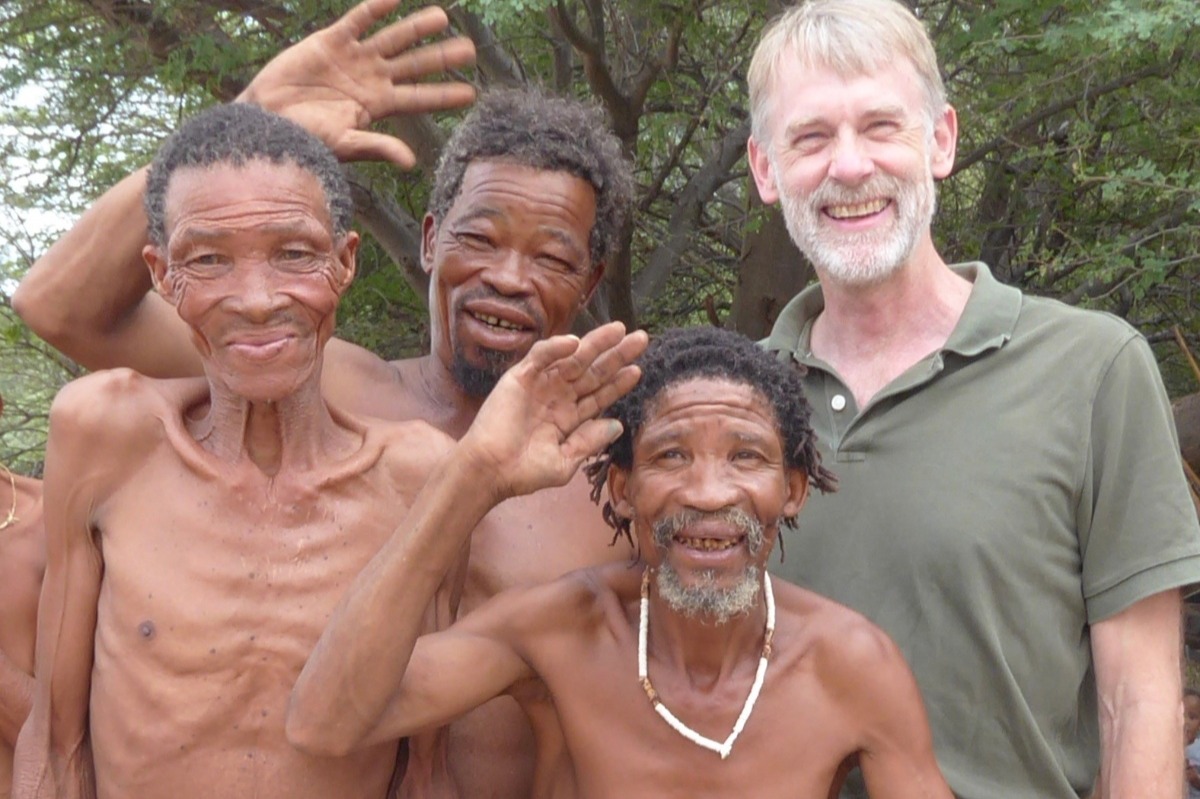 One day while tracking in Africa, I surrendered my senses fully into a still warm Leopard's bed as I crouched in its impression in the tall grass.
I had a direct experience of how our deep hunter-gatherer animal tracker heritage of moving as the animal, knowing the birds, the plants, the seasons -
how becoming one with nature is to awaken our innate healing resonance with our Source
 .
My entire worldview shifted as a person and as a healer:  We are nature because nature made us. When we become connected to nature, we become more whole. And there are efficient processes which facilitate healing and wholeness.
We are all well aware of what our society is most in need of - a state of collective deep belonging where people naturally care for each other and for the Earth. 
We need an efficient solution to the pervasive climate of confusion, despair, addiction and conflict. 
And the San Bushmen are asking to share in the return to our birthright of a world defined by vibrant and joyful intergenerational mentoring communities
where each person's gift is acknowledged, accepted and cultivated for collective peace, resilience and purposeful living.
Through connecting with the natural world, every person's potential can come alive.
When each person is valued, every person can become a leader and a healer to serve the emergence of peace and aliveness in others. Every relationship can transform suffering into happiness. 
On this trip I will deepen my understanding and skills for nature and community connection, for healing and transformational processes. Call this return to the Kalahari "Continuing Education of the Highest Order".Please consider supporting this journey towards a connection-reawakened future for humanity with your donation.This project is at the heart of my passion to bring healing connections to others. Your support will be deeply appreciated.The cost of this two week trip for me is for at-cost expenses of $7,500. -   Only air and ground transportation, -   Travel insurance, -   Food and lodging, -   Tips and gifts for the Bushmen-   GoFundMe feeAny donations in excess of my costs will be directed as scholarship support for others going, including the Indigenous Elders.
Donations beyond that will become tax-deductible donations to the Origins Project. No profit will be incurred from your donation.
I hope you will say "Yes!" and join this Origins Project Kalahari 2020 Retreat as a modern transformational stakeholder through your offering in what I, and the Origins Project Team, feel is one of the most important projects of our time.And remember - It takes a village!With Blessings & Gratitude,Lonner Holden
www.holdenhealingstudio.com
www.intothewildjourneys.com
P.S. Since GoFundMe is already assessing a fee from your donation,
you may tip them or choose $0 for offering them a tip (choose: "Tip" then choose $amount or "Other" and write in $amount or $0).
P.P.S. You may have also received an invitation to donate to the 8 Shields Origins Project GoFundMe  campaign.
Please know we are working toward the same goal with the same intention. Feel free to choose which campaign - or both - for your donation.
Organizer
Lonner Holden
Organizer
San Rafael, CA