The day I married my husband was the happiest day of my life. People always say that, but it really was. I remember laughing and dancing until my feet ached. I remember the smell of the gardenia in my hair. I remember how handsome Dan looked in his tux. And mostly I remember feeling just UTTER joy and hope for our future together.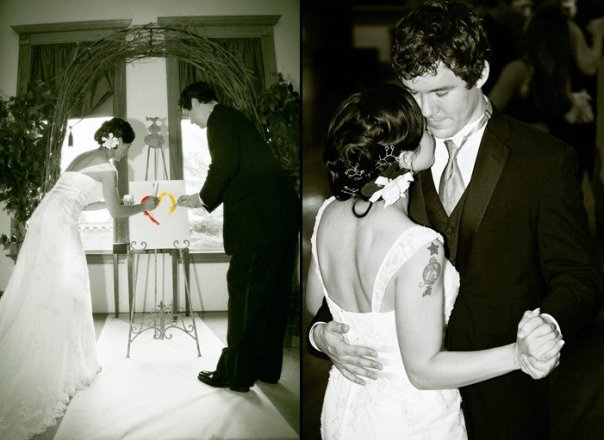 We decided to wait a year before trying to get pregnant so we could enjoy just being husband and wife for a while. We were also both recent graduates from college and not exactly well-off financially so we thought the responsible thing to do was wait. A few months after we were married, I quit my job to start my career as home baker. I always knew I wanted to be able to stay home with the kids but we still needed to make money so I thought it was the perfect fit.
That was 5 years ago
For the first three years we tried everything. Special foods, teas, vitamins, meditation. We tried supplements and read up on every single thing you could possibly do to increase your odds of conceiving. I charted my ovulation every single month for three years without fail. It started to feel like a job and our marriage suffered from it. After what felt like the millionth negative pregnancy test, we decided to take a break. We were both stressed and depressed.
I decided to take a break from cake decorating and try to "relax" as so many suggested. It's common knowledge that I am an over-achiever, workaholic. I enjoy my work though so it doesn't FEEL like work. I thought maybe there was some truth to it though so I did fun things like being an extra on TV shows or taking cooking classes. It was lots of fun but still no baby.
As I watched my friends and family all get pregnant (sometimes multiple times) before me, they would say "It's your turn next. It's going to happen for you I just know it." But it never did happen for me. I had to stop waiting around hoping. I started to realize the problem was most likely something that could not be fixed with vitamins or relaxation. I was starting to feel scared. And even though I knew this in my heart, it still took me another 6 months to work up the courage to see a specialist because I was afraid of what the answer might be.
When we finally saw a specialist, we found out that my uterus is healthy, I ovulate naturally, Dan's all good on his side of things, and that the problem actually was in my fallopian tubes. They were blocked from scar tissue from years ago. Probably caused by an old infection but the doctor said the reasons were unclear. All he knew is that I needed a surgery to try and clear out the old scar tissue if I would ever hope to get one of those eggs anywhere near my uterus. I went through with my first surgery ever and it wasn't so bad. A small laparoscopic procedure with barely an incision left behind. The doc gave me instructions to continue trying for 6 months and to see him again if we did not have success.
We did not have success.
I decided to do some research on fertility clinics in my area and found out about Oregon Reproductive Medicine. They had some of the highest success rates in the WORLD. People traveled from all over the world to be treated at this clinic and they just happened to be down the road from me. We met up with Dr. Hesla and immediately felt at ease. He went over my history and talked about our desires to become pregnant and he was very optimistic. I'm technically young to be having infertility issues and I have a healthy body aside from my fallopian tubes. Everyone involved felt very positive about moving forward with IVF. A procedure where the doctors take an egg from the woman's ovary, fertilize it with the man's sperm and then put the fertilized egg back into the woman's uterus so it can grow into a baby. Everything sounded great to us so we started the process of saving every penny we earned for the next year.
The total amount of money we needed for IVF was about $27,000. A number I couldn't even really fathom let alone think about how we would raise that amount of money. Dan and I worked tirelessly doing freelance work and I took on more cake orders than I could handle. We worked 100 hours a week easy. Sold our second car, my beloved food cart and took out a personal loan for 10k. I made a video on how to make my homemade marshmallow fondant which I promoted for free in exchange for donations. Thankfully we were able to pay for our IVF and our medications. The meds alone were $8,000.
After months of preparation, it was finally time to start the hormone treatments! I knew they were going to be hard but I had no idea until it was actually go time. My first time injecting myself with a needle was not exactly easy...
Soon I was a pro. I had to inject myself with multiple things, multiple times a day and soon it just became normal to stick a needle in my stomach but I had some nasty bruises and welts to remind myself of what I was doing to my body.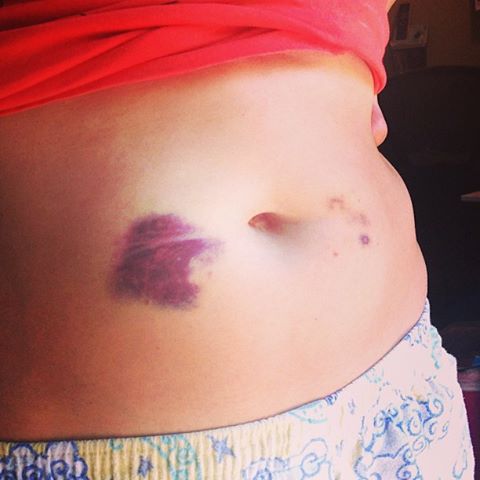 on July 15th, it was time for the retrieval! My little eggies where growing great and the doctors where able to get 10! Not a huge number but I was happy with anything. 6 of them fertilized and 5 of them grew normally and where deemed fit for transfer. We chose the top two "genetically beautiful" embryos for transfer on July 21st and named them our "gumdrops". I loved them the minute I laid eyes on this photo.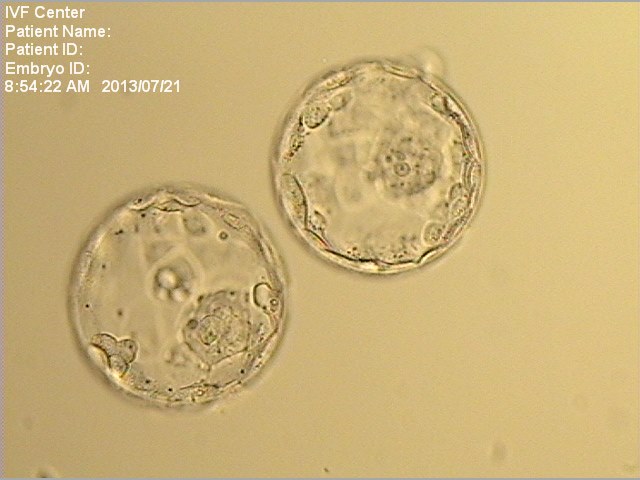 I was put on bed rest for two days after the transfer (no easy feat for a workaholic) and just tried to relax. I was very tempted to do a home pregnancy test but too scared of the results so I waited patiently for my blood test on August 1st.
When I got the call, I was downstairs. Dan said "YOUR PHONE IS RINGING" and I ran upstairs! Knowing that it was probably the doctor. We sat on the couch together and I held my breath while I got the news. All I remember is something something, your HCG levels are at this # so that means you are pregnant" I just teared up and looked at Dan. She said something else but I don't remember. I just hung up the phone and looked at Dan. We even made a video of the results for all the friends and family that were waiting along with us for the news.
I'll never forget looking at my darling husband and saying the words "I'm pregnant". I was in shock at first. Not sure how to process everything. But slowly, we let the happiness overtake us. Over the next couple of days we would say to each other "Hey guess what, you're pregnant!". We would lay in bed and rub my belly trying to imagine what life would be like with kids. What they would look like. What would their names be. Would they act like us? We let the happiness fall over us and it felt so wonderful.
Unfortunately the happiness did not last long.
Two days later, I had my second HCG test and the doctor called to inform me of some bad news. My levels did not rise as much as they should have... and in his experience, this could mean that the babies may not be growing as they should and I have a chance of miscarrying. I remember the feeling of a loud cracking noise in my head and I just sat down. I couldn't comprehend what he was saying. Miscarriage? Why? What happened? Did I do something wrong? Was there any chance they could be ok? Why was this happening. How will I tell Dan...
He scheduled me for another test two days later to confirm one way or the other. For two days I did nothing but research HCG levels and what was "normal". I read stories about women who had low levels that raised later and they baby was fine. I prayed this is what was happening to me. I reached out to my friends for support and many told me similar stories of having low levels that later rose. I was feeling slightly optimistic again.
The test confirmed that my levels where continuing to decline which meant I would definitely miscarry with my next cycle. I was so crushed. I can't even describe the loss I felt and I was only technically pregnant for two days. Hardly anything but it was the happiest two days of my life. For two days that weight and worry had been lifted from our hearts and we were just "happy". Now it was all gone and we were back where we started. Worse. Back where we started and completely broke. Emotionally and financially.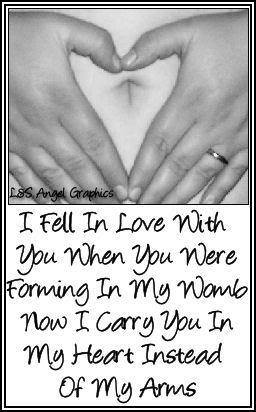 I am not the type to stew over bad news or get too emotional but I admit, I spent two straight days laying in bed crying. I didn't know what else to do. I felt like a failure. I fell into a pit of self-loathing. My stupid body can't even do what it was made to do! I hated myself and our situation. But after a couple days, I got up and began thinking about the future once again.
Over the next few weeks, we talked about our options. We talked about not trying again, about the other three embryos we still had that are now frozen and waiting for us. We talked about how we might just do one this time just in case it didn't work again. Suddenly we were so very aware that just because you can get the IVF, you are still not guaranteed a baby. It wasn't until we met with Dr. Hesla again to go over everything that we began to feel hopeful once more. He explained that there was no real reason the embryos stopped growing but it was most likely a genetic issue that was undetectable. A lot of embryos stop growing in the early stages and the woman is never even aware. Her period might arrive a week late, thats all. The only reason we knew was because we were watching so very closely.
The doctor said that our other three embryos where very healthy and would be perfect for a Natural Frozen Embryo Transfer or (NFET). Because my body ovulates on its own and I have a healthy uterus, our second round of IVF if we chose to move forward would be much simpler. I would not need the expensive drugs because we already had the embryos. The plan would be to simply implant the embryos on the day my body naturally ovulates and let nature take its course. The cost would be substantially less but still a cost nonetheless. We decided we had to try again and we couldn't lose hope. We still had three embryos. Three more chances.
A few days later we received a quote from the doctors office

So here we are again. About to embark on our second IVF procedure. Dan and I have put together some rewards that we hope will entice people to donate. The only thing we have left to sell is our skills and knowledge so we hope you like what we have to offer.
I make cakes for a living and do a lot of topper tutorials so I decided to sell a detailed topper video on how to make a cute sugar baby that you can put on a baby shower cake or birthday cake ($25). I always make my tutorials free but I wanted to make this one special so I will only ever sell this tutorial for this fund-raiser. Once it's over, the tutorial will be gone forever. If you're not the cake making type, I am also selling the actual baby topper (made by me) and you can customize the features and colors to your liking ($60).
Dan will be offering custom digital portraits for $150 (per figure depicted)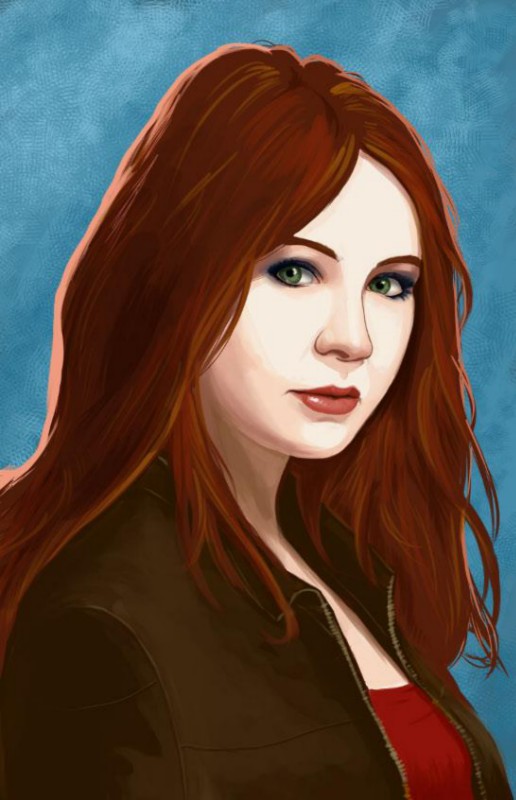 or custom logo work for your budding business or even if you just need an old logo updated. ($249, normally $1000)

We will also be accepting donations but please do not feel pressured. Simply sharing our story helps a ton! We know that times are tough right now for everyone so we appreciate the emotional support as well.
Thank you everyone who has continued to be there for us through this journey. Those who have shared their personal stories, given encouragement or just listened when we needed an ear. We both feel extremely blessed to have a supportive community around us where we can feel free to share our story, even when it's not all happy and sunshine. Thank you for never making us feel ashamed or embarrassed. Thanks for just helping two weird and nerdy people realize their dream of having a kid to love and drive crazy just like everyone else.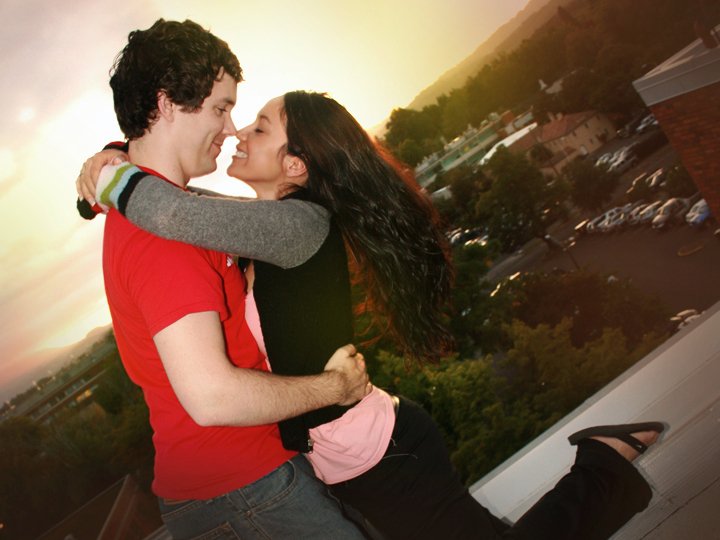 Sincerely,
Liz and Dan
Organizer