I DONUTneed a reason to thank a cop
My name is Sheena, and I'm helping my son Tyler with his campaign - here's a message from him to all of you! Thanks for reading!
(I am currently Gearing up for three long delivery trips over the next several months, May-August-Tyler.)
Hello, my name is Tyler and I am 10 years old!
In August 2016 (when I was 8), I was at a local corner store when I saw 4 deputies. I told my mom that cops favorite drink was coffee and their favorite snack was donuts. She laughed!! Then I asked if I could buy them donuts with my own money. I DID and they were so HAPPY! When we left I asked my mom why they were so happy and she said cops were having a hard time right now and that sometimes people choose to judge a whole by a few, and its important never to do that!

I decided right then I wanted to cheer them up, so I told my mom I wanted to thank every cop in America and give them each a donut! Mom said maybe we should start local, but I knew I could do this! So far I have given out over 50,000 donuts in 27 states!

I want to keep spreading joy to Officers and keep inspiring others to put kindness back into the world! I have been asked by many people if I have a fundraising page and so I have decided to make this one. I appreciate your support and even more so, your support of our LEOs!!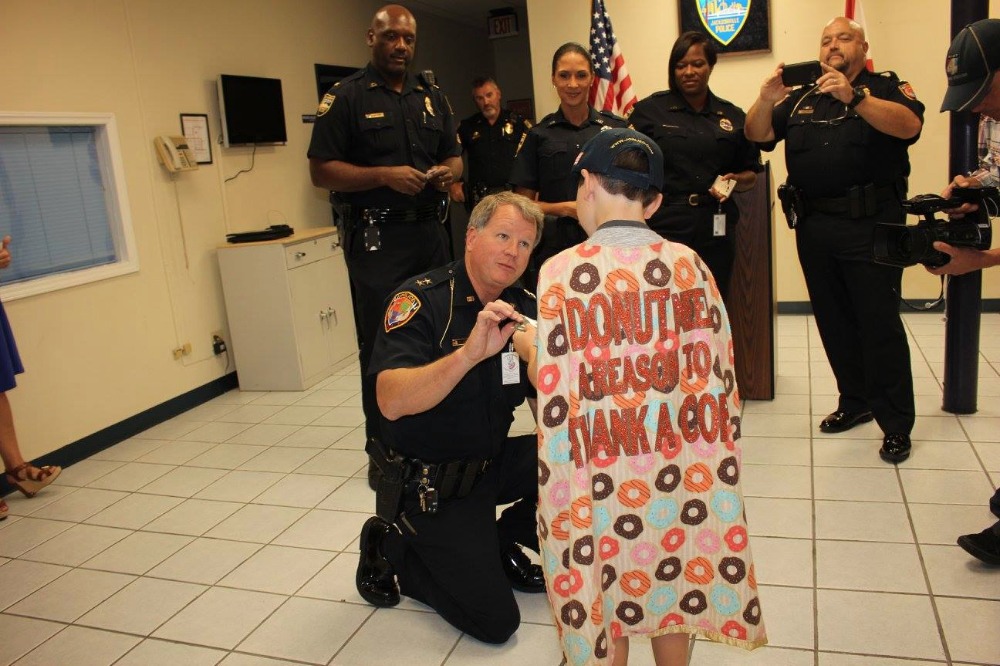 Please follow my journey on Facebook
@IDONUTneedareasontothankacop
www.idonutneedareasontothankacop.com
Please also share my campaign with your friends and family! 
https://www.gofundme.com/IDONUTneedareasontothankacop
*Funds raised will be 100% for the mission....DONUTS, travel and lodging to events, etc.



Recent press: 
Tyler the Donut Boy, 9, delivers treats, thanks to APD
Two children are traveling the country thanking cops one hug, one doughnut at a time
Organizer