Help Haitian Heroes Come To US
   These happy children are in school for the 5th year now thanks to volunteer community human rights heroes! Go To Our Program website

Please help us to bring FRANTZCO JOSEPH, and GENTILHOMME JEAN-GILLES to Oakland, California, to celebrate year 5 of the HHE scholarships.  

===================================================
     FRANTZCO JOSEPH AND GENTILHOMME JEAN-GILLES
===================================================  

FRANTZCO JOSEPH


Frantzco Joseph and myself, Tom Luce: we have worked together since 2005 when his community was terrorized.

FRANTZCO was #3 president of the grassroots group after #2, Esterne Bruner, was brutally murdered for advocating for human rights without guns.  Frantzco also was threatened and had to move his family out, but he has maintained his work nonetheless right up to now with the HHE scholarships.


GENTILHOMME JEAN-GILLES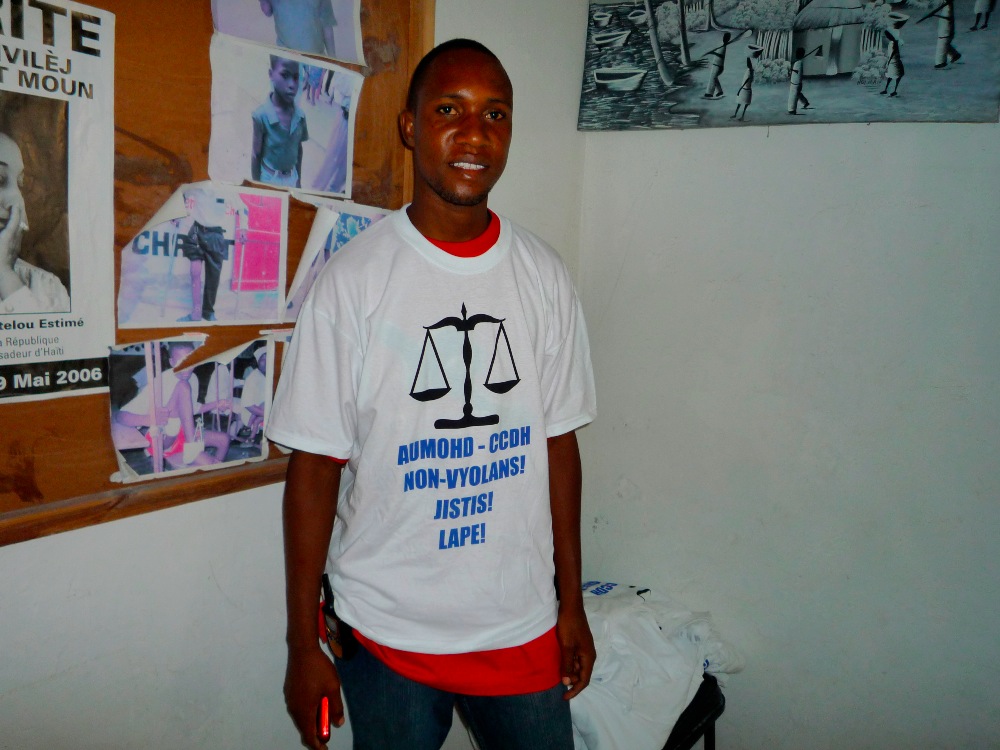 Gentilhomme has been key to the now 5 years of putting 100 children in school.

 GENTILHOMME has worked with me, Tom Luce as a trainee and volunteer for human rights in Haiti since 2006, peacefully working out the violence in gang-dominated refugee camps from the '10 earthquake. He also does the knitty gritty of the HHE scholarship program: doing bios and pictures of all students, maintaining the accounts for payments and for student grades, helping organize and film student activities.  He does get a stipend to help with phone, internet, transportation.  But he works far more than he gets paid for.  Last year he couldn't get a visa!  We're trying again.

=====================================================
     Many, many Americans go to Haiti to do charity work.  We want to bring some champion, volunteer Haitian human rights workers to come to visit us.  

     We,"HopeForHaiti:Education-HHE"-- Go To Our Program website -- are a volunteer partnership of Haitian, grassroots, human rights workers and fundraisers here in the Bay Area--San Francisco.  We want the Haitian leaders to get to know our country.  

Current President, Jean-Ernest Point-Du-Jour (r) was our guest in 2013 for our year #3 celebration. Together this is the core team for the scholarship program.

     Our Haitian partners have undergone horrible violence in the past 10 years with political killings and houseburnings.  They have volunteered the past four years recruiting the 100 neediest children in their community of Grand Ravine, Port-Au-Prince.  These are children at risk of becoming street slaves or worse sex slaves.  With our funds these Haitians buy the school supplies, pay the tuition, and supervise them all year.  

     Call it a "perk" for their work!  They should have the experience of life in the U.S. as we try to contribute to their children's education.
 
    So we need to raise money separate from the scholarship funds. We have no administrative budget for travel.   We need to pay for airline tickets--round trip--and for the costs of getting a visa.  Yes they have to pay $170 for a visa interview.  AND if the visa is granted they pay another $30.

    Thanks!  

Check out our website
Organizer
Registered nonprofit
Donations are typically 100% tax deductible in the US.