Hearts of Hope: Help Home Start Fund a Miracle
HELP HOME START FUND A MIRACLE ON 34th STREET!
Home Start's Maternity Housing Program provides stable housing and wraparound supportive services for homeless young mothers and their children.  To meet the growing need of this vulnerable population, Home Start is in contract to purchase a 5-unit Normal Heights property to increase the capacity of our Maternity Housing Program. 

The goal of this campaign is to fund the renovations for the first of the five units — transforming it from an outdated apartment into a beautiful new home that will provide young families in the coming decade with a safe, stable, and welcoming home instead of facing the trauma of homelessness, abuse, and poverty. 

HOW YOU CAN HELP: HEARTS OF HOPE MOSAIC
A gift of any amount will help us create a warm, welcoming home for our homeless families.
 
But if you would like to send a message of hope and support to our young mothers with a handpainted tile that will become an inspirational heart-themed mosaic for families at our new property, please see below. (Tiles also make a great holiday gift in honor of a loved one!)
 
1) Make your donation here on GoFundMe: $250 for a 4x4 tile, $350 for a 6x6 tile or $500 for a 8x8 tile.

2) We will email you a thank you notice along with instructions to redeem your tile at the Hot Spot located in the ARTS DISTRICT Liberty Station in Pt Loma.

3) Open 7 days a week, you can paint your tile at your convenience or if you prefer, donate your tile to one of our moms to paint with their child.

4) The Hot Spot will bake all of the tiles and return them directly to Home Start. You will receive an invitation to see your tile in the Hearts of Hope mosaic at our ribbon-cutting ceremony next year!

EVERY DOLLAR COUNTS
We are grateful for your consideration and support. A donation in any amount will make a real difference to the young families Home Start is able to help.  For large donations or to discuss naming opportunities at the new Maternity Housing location, please contact Mark Lagace, Director of Philanthropy, at mlagace@home-start.org or [phone redacted] x 144 
 
MAKE A REAL DIFFERENCE
Watch the video below for a close look at Stacey's journey. She summarizes her transformation in her own words, "I grew up in the foster system and I was homeless off and on. I became pregnant with my son and I knew to immediately contact Home Start. Since being in the Maternity Housing Program I have been able to start working at our Thrift Boutique.  I went from being a sales associate to being promoted to being a lead. I am currently working towards my goals, and have initiated the process in getting my son enrolled into pre-school."



WHAT WE NEED TO RAISE WITH THIS CAMPAIGN

To renovate and upgrade each unit, our construction team has provided an estimate of $39,000 of renovation cost per apartment.
This will include:

• Complete demolition
• New windows
• New flooring
• New Kitchen, including appliances, cabinets, and countertops
• New Bathroom, including tile work, vanity, shower, and toilet
• Electrical
• Drywall
• Plumbing
• Insulation
• Painting – interior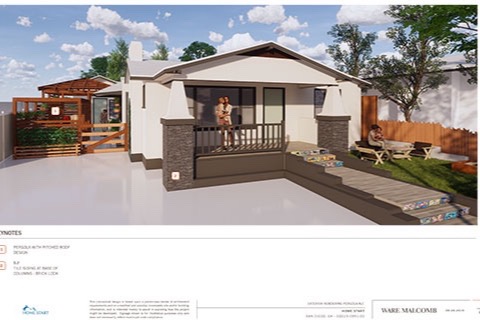 Design package and renderings generously donated by the firm Ware Malcomb.


PROVEN SUCCESS

This new Maternity Housing location will mark Home Start's fourth residential property purchase and renovation project.  Since launching in 2011, Home Start's Maternity Housing Program has provided a safe home and services for over 265 young women and children.

We are grateful for your consideration and encourage you to give generously to make a real difference in the lives of homeless children and their families! 

If you have any additional questions or would like to discuss the opportunity in more detail, please contact Mark Lagace, Director of Philanthropy, at [phone redacted] x 144




HOME START'S MISSION
Guided by our mission to assure the safety and resiliency of children by strengthening families and their communities, Home Start, Inc., a nonprofit child abuse prevention and treatment agency, has served San Diego's families since 1972. To effectively prevent and treat child abuse, we address the conditions that put children in risky or abusive situations- poverty, unsafe neighborhoods, lack of affordable housing and unemployment- concurrently while addressing self-sufficiency and emotional needs. Visit us online at www.home-start.org
Fundraising team: Team Home Start (2)
Mark Lagace 
Organizer
Raised $1,965 from 11 donations
San Diego, CA

Registered nonprofit
Donations are typically 100% tax deductible in the US.
Jennifer Litwak 
Team member
Raised $1,000 from 3 donations