A burden has been placed on my heart to organize this Go Fund me page for a very special cause,  for a very special lady!  Sandra is a very dedicated, hard working, amazing person.  She works for me and many of my friends, always with a smile on her face,  giving all and asking for nothing in return.  I have recently learned that she is living in a small 40 year old mobile home in very poor, almost unliveable condition.  Not only is there mold in many sections, the flooring is rotting and in many places light can be seen coming in.  There is danger around light fixtures where there is damage from roof leaking and there is no underpining in several places.  She has very low to no water pressure at times because the galvanized pipes are corroded.  There is no way that gutting and renovations can be done because the walls are rotting.  I have attached several photos. I am asking that you help me be a part of a much needed "home missions" project to help fund Sandra in getting a small new or used mobile home   We so often give to foreign missions when we have those that are in dire need living right here in our own communities. "ONE OF THE MOST IMPORTANT THINGS YOU CAN DO ON THIS EARTH IS TO LET PEOPLE KNOW THEY ARE NOT ALONE".
I ask that you consider making a donation for this worthy cause.  Any contributions will be greatly appreciated - It would mean the world to Sandra if together you and I can help provide a warm, healthy and safe place for her to call home.    
                              "YOU WILL BE BLESSED
         TO BE A  BLESSING TO SOMEONE ELSE"!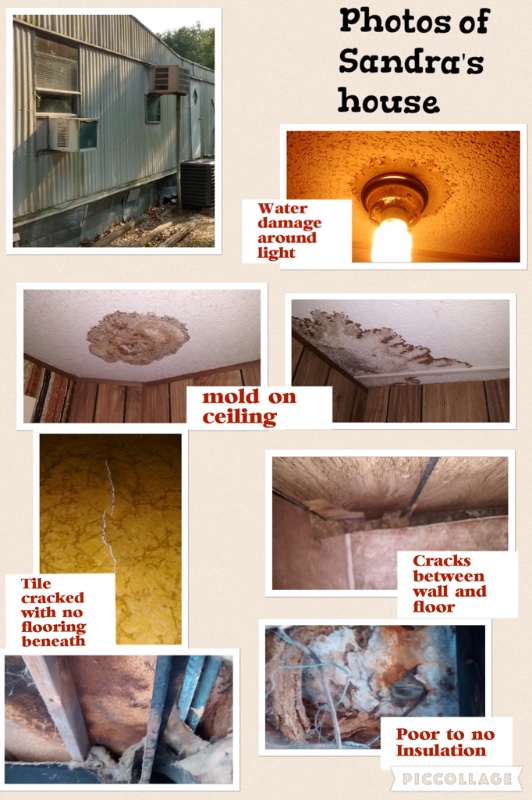 Organizer
Brenda Cook Hall 
Organizer
Ocean Isle Beach, NC