Help Keep Baby Bri and Daddy Together
June 20, 2011, was the greatest day of my life. Unfortunately, the knowledge of that feeling was stolen from me.
June 20
th
, 2011 is the day my Baby Bri was born, and although I was in the delivery room when she was born, I was unaware that it was
my
daughter being born. A few months earlier I was asked to be in the delivery room as a close friend. I was honored that anyone would ask me to be there for the birth of her daughter, so I obviously said yes.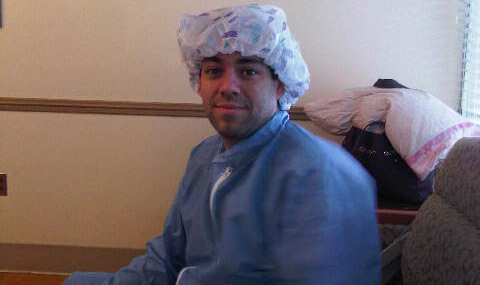 After Baby Bri was born, I became her babysitter for the first ten months of her life. During this time, her mother began to slowly drop hints that there was a chance that I could be Baby Bri's father. She insisted that it was most likely one of several other men. After having a personal DNA test done and finding out I was the father, Baby Bri's mom began to withhold her from me. Ultimately, Baby Bri was kept from me altogether.
After filing temporary orders for Baby Bri and winning weekly visitation, my family is now faced with a fight for joint custody in trial court. Nobody is asking to have Baby Bri taken from her mother. We are asking that Baby Bri be allowed the best chance possible to grow and succeed in life, something we feel can only happen if she has intimate relationships with both of her families.
The legal process is an uphill battle for any parent that has been denied access to their child, but when it comes to fathers this uphill battle is often even steeper. Legal consultations have only confirmed this stigma and led my family to the conclusion that the only way Baby Bri will be allowed to be raised by two loving families is with the help of a professional family lawyer.
Legal fees can run high into the thousands of dollars and my family's savings are quickly dwindling due to the already costly legal expenses we have had to incur. What we are hoping to do is raise the unexpected funds necessary to retain this legal counsel and to help with ongoing costs. While these funds will not ensure that Baby Bri will be allowed time with her father, it will give my family a real fighting chance.
The money my family is hoping to raise will
only
be used for legal fees for Baby Bri. No monies raised will be used in the daily raising and care of Baby Bri as all of those needs are fully met. Any funds that are raised and not used will be donated to Holly House in Baby Bri's name. Holly House is a local children's holiday gift program for low income families. As a way of giving back, all proceeds from the sales of my novel from May 1 through August 31 will be donated to Holly House, along with the unused donations from loving parents all over the world. For more information on this great charity please see the Holly House Facebook page at
Facebook.com/HollyHouseForKids
.
No child should be forced to grow up without a father, especially when that father is ready, able, and willing to be a part of her life. Please help us bring Baby Bri home so that she has the greatest chance at happiness and help make our family complete again. Thank you for your time and attention and please feel free to share Baby Bri's story with your friends and family.
Organizer
Josh Cook
Organizer
Marysville, WA