Volunteering in the Refugee Crisis
I am a recent graduate of International Politics with a degree from the University of London.  I have spent more than a year now volunteering in the refugee crisis in Europe and the Middle East.  Starting in "The Jungle" in Calais; on to the Greek islands of Lesvos and Chios, where most of the boats come in; the Greek/Macedonian border; and Lebanon, which has taken in over 2,000,000. 
I provide aid (food, clothes, heating oil, baby milk and nutrition, firewood for cooking, medicine and general necessary care).  The only way for me to be able to volunteer is with receiving donations.  They are partly used for me to be able to go where aid is most needed, and mostly for the necessary aid.
Last November, December and February I took three trips to Lesvos island in Greece, where at times, 6,000 refugees came in by boat from Turkey every day.  We guided the boats in, provided immediate aid, transportation to the camp we built and guidance in registration.  I worked with many established and grassroots organisations as well as medical teams on site.
On Lesvos it was always an emergency, with boats sinking and the water being freezing, we spent many receptions treating hypothermia.  The baby on this picture bellow was handed to me at the Molyvos harbour absolutely soaked and freezing..
When the EU/Turkey fell into place and more volunteers were arriving in Greece, I went to Lebanon where every fourth person is a refugee, mostly from Syria and many from Palestine.  There I worked with a small group of volunteers and we revived an established NGO called Salam LADC.  We made relations with the UNHCR, Medicens Sans Frontiers, the Ministry of Social Affairs, the army and local NGOs such as Syrian Eyes.  We provided tons of firework, gallons of heating oil, clothes, food vouchers, baby milk and diapers, and also started working on medical cases.
In Lebanon we sought out the most vulnerable refugees that needed operations, prosthetics, medicine for chronic conditions and general care. I travelled there twice, the second time staying a month until an emergency hotspot emerged on the Greek/Macedonian border upon its closure. I flew there immediately as around 11,000 people became stranded and in need of help.
Besides regular aid, I assisted a medical team called SCM Medical Mission, originally from Jordan.  When in May/June, the unofficial camp "Idomeni" was dissolved and refugees moved to military camps, we were one of the only volunteer organisations let in, as there was immense need of medical care.  I assisted in organising the people in need and reviewing their case and emergency status.  We treated countless children with fever, people of all ages with gastric and abdominal problems and pains, many chronic patients, and even referred people with cancer and pregnant women with problems.
I am currently referring volunteers, refugees and NGOs from all over and connecting cases with the aid they need.  It started in Lebanon, where four orphans were brought to our attention by their cousin residing in Germany.  One of them needed a new prosthetic leg.  He had been injured in a bomb attack near Damascus, which killed both their parents.  I put a video of the case on Facebook and someone knew someone from a prosthetic company in Iceland.  They made a custom leg for the child and sent it to Lebanon.  These children became known and other volunteers offered aid, such as school tuition fees, and eventually referred them to the UNICEF relocation program and now they are in Germany with their cousin and uncle.
I now get messages asking for assistance and through the vast network of volunteers, translators and organisation I can connect them to someone that will help, no matter where the message is coming from.
It's been an unimaginable experience.  Tragic at times but mostly completely full of hope and kindness and gratitude.  The volunteers are leading the humanitarian refugee crisis efforts. 
So many people want to help but don't have the time, or have their own families to look after.  I can make the time to go, and with your help I will.  Support me and become the help they need.  I promise to update you about what I do and how I've helped! Thank you!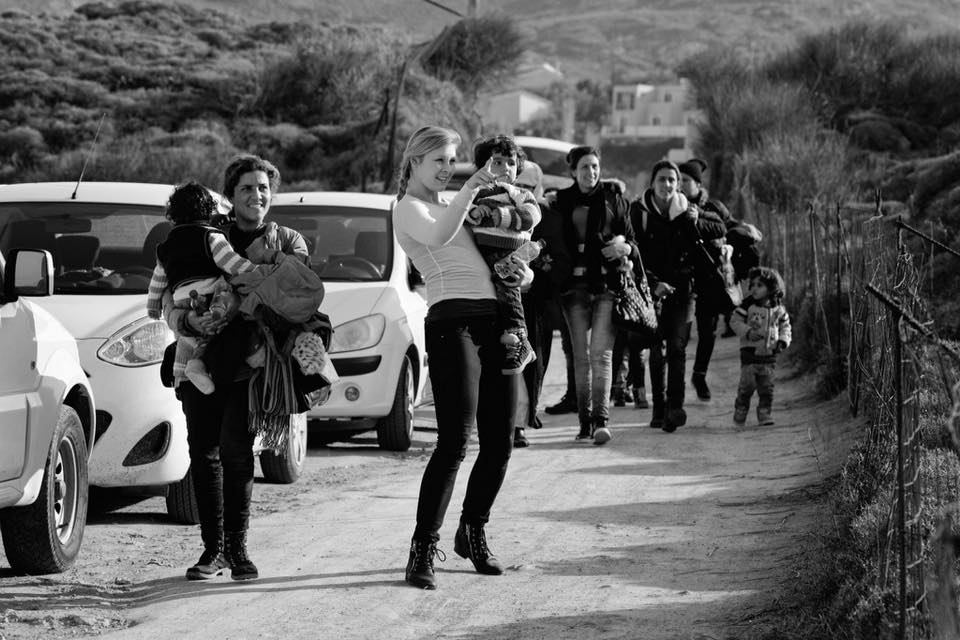 Photo by (c) Neal McQueen 2015
periloushope.tumblr.com
Organizer
Odessa Primus 
Organizer
London, Greater London, United Kingdom