Help 12-Year-Old Yuna Beat Leukemia
日本語で裕奈ちゃんのお母さん、佳子さんの親友の雅子さんからのメッセージを下部にポストしてありますので Read  more のところをクリックして下部までいってごらんください。英語で募金の仕方がわからない方は遠慮なく下記、私のフェイスブックのメッセンジャーでご連絡ください。金額の大きさには問題ありません。小さな金額がたくさん集まってこそ募金のパワー❣ 是非是非ご協力ください。https://www.facebook.com/junko.suzukiharvard.9


Hello, my name is Yoshiko. I am a single mother of Yuna, my sweet 12-year-old daughter.
After years of paying for medical care and debilitating — yet necessary — cancer treatments, I am at the financial breaking point of supporting and helping my daughter receive the medical care, treatments, and medicine she needs to survive and overcome Leukemia.

The frequent visits to the doctors have made the hospital our second — if not primary — home. 

As a mother, it's so hard to see your daughter go through so much pain. It's heart-wrenching to see the many needles poking her precious skin for blood tests, her wincing at simple body movements we take for granted, and her cries whenever she breaks her brittle bones. But I'm amazed at how full of life and optimism is in her eyes, and that has helped me find strength as a mother and go above and beyond to fight for her life.



But right now, I am stuck between a rock and a hard place. It's always been difficult raising a child as a single mom, but between caring for my sweet Yuna and coughing up the funds to provide her medical care, I'm frightened I might not be able to afford the care and shelter she needs to treat her conditions.

So, as a last resort, I am asking family, friends, neighbors, and kind strangers to help me afford a wheelchair-accessible home for Yuna before June or July. Your love and generosity would mean the world to Yuna and me — and no amount of words can put justice to the gratitude I would feel for your support.




When she was just 10-years-old, Yuna was diagnosed with Myelodysplastic Syndrome (MDS) — or "pre-leukemia." According to our doctors, if the disease is left untreated, Yuna's abnormal blood cells and conditions may worsen and develop into Leukemia. 

Even as an 11-year-old, Yuna suffered from complications. She went through two Hematopoietic Stem Cell and Bone Marrow transplants after the first round had failed. She had also endured the debilitating side effects of anti-cancer drug treatments and immunosuppressants. In addition, she also had to undergo several rounds of chemotherapy when they discovered several leukemia cells after her first diagnosis. 

For 22 consecutive months, Yuna had to suffer lots of pain every single day.



Fortunately, on July 11, 20202, Yuna was discharged from the hospital and finished her recovery at home by taking many medicines like immunosuppressants and antibacterial agents for at-home rehabilitation. We were excited to have her return to normal life as a kid again — to return to elementary school, hang out with friends, and participate in graduation ceremonies.

Unfortunately, those dreams fell short. More problems arose during Yuna's at-home recovery as the cancer cells' reactions to her treatment became more prevalent and powerful.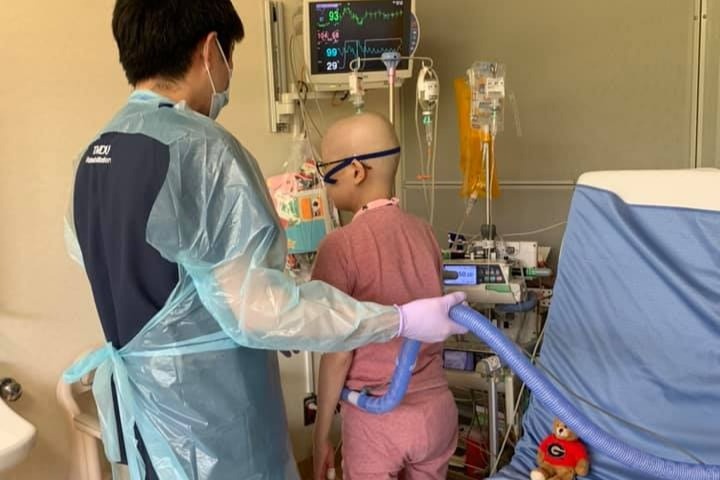 After conducting another examination, our doctors found "bone necrosis" in Yuna's lower limbs and knees. The necrotic part in the knee joint was a fracture (bone contusion). She was also further diagnosed with multiple osteonecroses, a rare condition caused by the side effects of taking a large amount of prescribed steroids for an extended time during her cancer treatments.

Because of this, Yuna is not allowed to put any weight on her lower body and must avoid any simple activity such as walking or exercising. This has been extremely difficult since I live on the 3rd floor of an apartment building without an elevator or wheelchair-accessible stairs.



Currently, Yuna has to use crutches to go down the stairs and often cannot leave to go to school since the rain makes the floors too slippery and dangerous for her to move anywhere alone.

The doctor has encouraged us to move to the ground floor as quickly as possible. So, in addition to increasing treatment and medical bills, finding an accessible apartment for Yuna is my top priority.

But after searching, and taking into account all of the medical expenses I still need to cover, I simply cannot afford to make that move despite it being necessary for Yuna's life.
Based on my calculations, the moving costs are too high — $5,000 — to make this move a reality.

Due to the severity of her condition, we are hoping to be able to make this move before June or July — but we cannot do this without your help. 



As a single mother, I want to make sure that Yuna is safe and cared for properly. In addition, I need to be with my daughter at all times as her condition is severe, dire, and very sensitive. So, providing for us financially has become increasingly difficult due to the high attention needed for her physical health and large piles of medical bills.

Right now, my goal is to move to a home that can better accommodate Yuna's needs, but I don't have the time or resources to spare to do that for my daughter. I've contacted local authorities in the hope of any aid and returned with nothing. So, I am turning to you as my last hope to focus on caring for my daughter's health and happiness.

Thank you so much for listening to our story, and I hope you can find it in your heart to support Yuna by donating and/or sharing this page with your friends.

If you'd like to keep up with Yuna's progress, you can friend us on Facebook here .

Thank you,

Yoshiko & Yuna

世界中の方々にお願いがあります。
私の親友の佳子はシングルマザー。
彼女には白血病と戦う12才の娘、ゆなちゃんがいます。
佳子とゆなと二人三脚で毎日生きるためにl戦っています。
でも移植後の自宅での生活は楽しい事もいっぱいあるけど簡単ではなく、副作用で弱くなっている足の骨が転んだり、滑ったりして折れたりしないように車椅子生活を強いられています。
中学生になったゆなの学校の付き添い、介添えのために佳子も一緒に学校に行っているんだけど、アパートメントにはエレベーターがなく、車椅子を背負って介添しながら3階から一階まで降りることを想像すると私まで辛くなってくる。
学校だって車椅子仕様にはなっていない。
体も心も辛いのに決して弱音を吐かない佳子。
小さな身体で痛い思いをたくさんしながら生きるために頑張ってるゆな。
どうか二人が命がけで階段で3階から車椅子を背負っておりなくても良いアパートメントに引っ越しできる資金を助けてあげてください。
彼女たちが会ったこともあなたの小さな愛がゆなの体を守ります。
このリンクはfacebookで知り合い仲良くさせていただいている Junko Harvard さんと娘さん達が Yoshiko Sakata とゆなのために作ってくれました。
本当にありがとう
もっともっと沢山の愛が世界中からゆなに届きますように
ぜひこのリンクをシェアして下さい。
私のポストを見てじゅんこさんがサポートを始めてくれたのと同じようにあなたのシェアが世界中の人の心を動かすかもしれない。
マジックが起こりますように。

-Masako Golden