Help us save the Koko Crater Trail
Help us Save the Koko Crater Trail.
The famous 
Koko Crater Trail,
a historic tramway to the top of the landmark Koko Crater on the island of Oahu, is on the verge of destruction by decades of unchecked decay and erosion. The city and county of Honolulu's position is that there is no money, materials, or staff available for any kind of repairs, maintenance, or planning.
 Funds raised in this campaign will be used to pay for urgently needed temporary repairs to stabilize the trail while we, the Kokonut Koalition in partnership with the city and county, make long-term plans 
to completely rebuild it.
 Funds will also be used for startup expenses so that the Kokonut Koalition can become a 501(c)(3) non-profit organization. This will enable us to raise tax-deductible donations and to apply for grants.
 The Koko Crater Trail Story
This historic tramway, now commonly known as the Koko Head Stairs, or simply the Stairs, was built in 1942 by the U.S. Army Signal Corps to provide access to an early radar station perched on the rim of Koko Crater on the island of Oahu. The tram is long gone, but the remaining track has been used as an endurance hike for decades. It rewards hikers with expansive views of Maunalua Bay and Diamond Head to the West, Hanauma Bay and Koko Head to the East, and the Waimanalo coast to the South.
 The tramway has been deteriorating for decades without any maintenance other than what has been done by unauthorized volunteers. It exists in 
a state of benign neglect 
by the city and county of Honolulu, which has never maintained it and doesn't even consider it to be a sanctioned trail. Their neglect is benign only because they allow it to remain open, though we wonder how long that policy can remain in light of the trail's accelerating deterioration.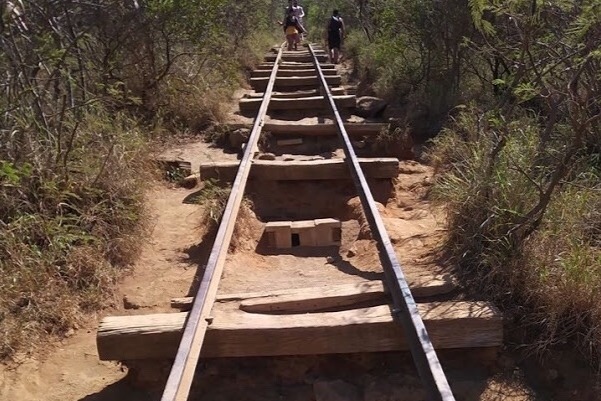 The Stairs are now at, what we consider to be, a tipping point. Erosion has undermined the tramway to the extent that one major tropical storm or hurricane could do enough significant damage to make it unusable. On a busy day, well over a thousand people from all walks of life and many international origins climb the Koko Crater Stairs. It has become a must-do event for our adventurous visitors.
 For us kokonuts, it's our regular workout. Some of us have been hiking the Stairs for over twenty years, many for a decade or more. I've been hiking it regularly for four years, usually four times a week and often three trips per session. It has become a habit that sustains me. All of us regular hikers feel this way. I greet the day with this hike. Others enjoy a sunset hike and still others like to broil themselves under the midday heat of the Hawaiian sun. We feel a deep attachment to this trail and passionately believe that it deserves better treatment than it has received.
 The Kokonut Koalition and our supporters want this trail first be stabilized to ensure that it has a future but ultimately to be completely rebuilt.
 Immediate measures to stabilize and maintain the trail include:
•Picking up trash
•Stabilizing the remaining cross ties
•Stabilizing the ad hoc work done by volunteers
•Installing safety enhancements at the midway trestle
•Installing water diverters and other erosion control measures 
And then, in partnership with the city and county of Honolulu, we intend to hire engineers and landscape architects to produce the necessary studies and plans towards the goal of 
completely rebuilding the trail
 along the lines of the successful Manitou Incline rails-to-trail project recently completed by the city and county of Colorado Springs.
Photos of Manitou Incline as an example:
In short, we hope to make the Koko Crater Trail a world-class recreational destination that the city, state, and our great nation can be proud of!
Here is is a link to the recent media coverage:
//www.kitv.com/clip/14605592/koko-head-trail-on-oahu-appears-to-be-falling-apart