Help Support Our Sandia Mountain Trails
Matt did it ! His trek started at the base of the Tram at 8:00 PM Friday, May 13. He finished the 102-mile ordeal at 5:30 PM Sunday, 43.5 hours later.
Congratulations, Matt, and thanks for your generosity!
Matt created a professional-quality movie (link above) showcasing the beauty and uniqueness of the Sandia Mountains trail network by integrating interviews with the Cibola National Forest Trails Manager and several people from FOSM with knowledge of its history with spectacular GoPro and drone video recordings from the event.
Matt asked that we keep this fundraiser active until he has published the movie. The campaign will close at the end of July.
Matt Thompson, an avid long-distance runner who has competed across the country, enjoyed our extensive and challenging Sandia Mountain trail system for four years while stationed at Kirtland Air Force Base. Before moving to his next assignment, Matt wanted to give back by raising funds to support
Friends of the Sandia Mountains
 (
https://friendsofthesandias.org
), a group of volunteers whose mission is to care for the natural, historical, and recreational resources of the Sandia Mountains.
Click above to watch Matt's short video introducing the Watermelon 100 Project.
Matt's ambitious goal was to bring attention to Sandia's great trail system by circumnavigating the mountains, ascending and descending several times, in a grueling trek covering over 100 miles and 30,000 feet of elevation gain and do it in one weekend. Matt named his endeavor the Watermelon 100 Project in recognition of the Spanish name for our mountains. He more than accomplished his goal.
All net funds (after processing costs of about 2%) go to FOSM to purchase supplies and equipment to help support its mission. FOSM's needs and approximate costs for filling them are:
HAZMAT upgrade of chainsaw storage ($1,000),
Electrical service in FOSM guard station and purchase and installation of Oregon chain grinder ($5,000),
Used trailer for hauling logs and equipment ($10,000), and
Used 4x4 heavy-duty truck for hauling logs and equipment ($20,000 or more).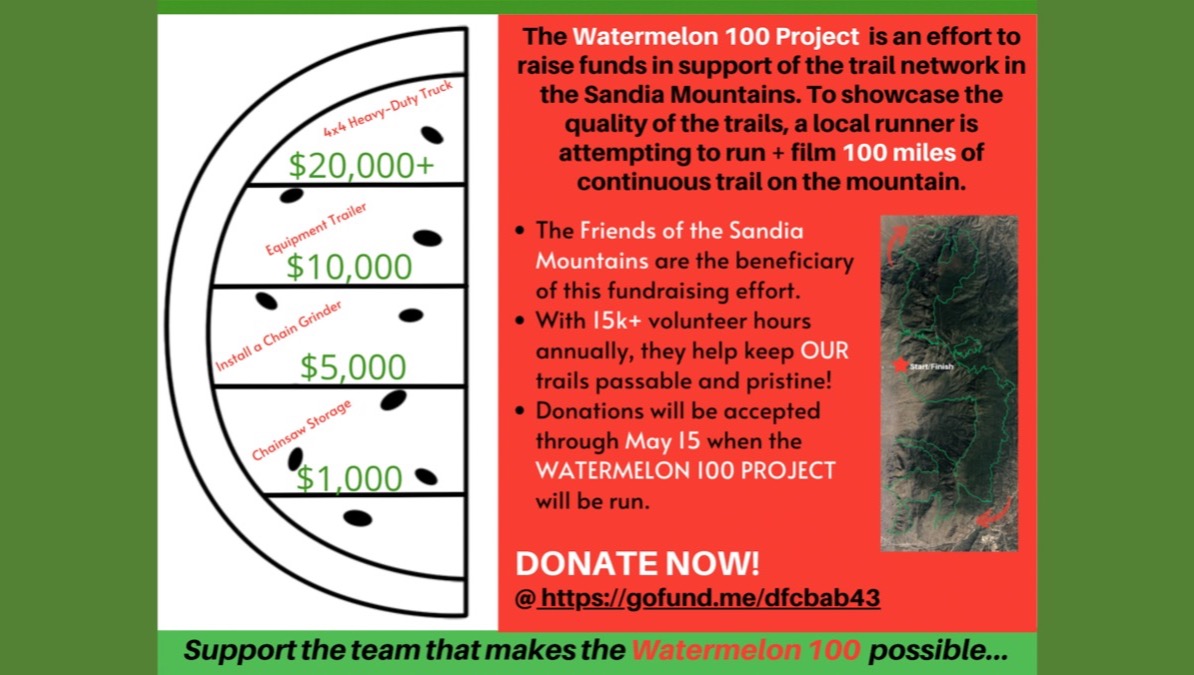 Check Matt's project 
Facebook page
 for frequent updates before, during, and after the event:
Note: FOSM was incorporated as New Mexico Friends of the Forest in 1997 and certified as a 501(c)(3) corporation in 1998 but has done business as Friends of the Sandia Mountains since 2006.
Organizer
Joseph Giles
Organizer
Albuquerque, NM
New Mexico Friends of the Forest
Registered nonprofit
Donations are typically 100% tax deductible in the US.