Help for the girls - Salinas
Second update for today 8/31:

Today we spoke to Juana's new accountant - a wonderful and reputable licensed professional that will help her manage her funds. Tomorrow after all of the contracts are signed and the money is available to be set up for withdrawal, I will provide you all with her accountant's EIN for you to personally verify, and her contact information where you could request statements for transparency on how her funds are being used. Because of this huge new step and the hundreds of messages I've received to allow for more donations, I have decided to enable donations again. The girls deserve it all and my heart is just filled with so much joy for this family. I can't thank you all enough for making so many of their dreams a reality.

Thank you, 

Jackie
—————————————————————————
An update from myself: 

I started this campaign in an effort to help Juana gather funds for a couple months of rent to help her get back on her feet as moving expenses can be really expensive. I truly did not expect this amount of help to roll in for Juana and her girls. We are speechless and filled with gratitude over the amount of money that has been raised for them. I'm currently working on setting her up with a trustful accountant to help her manage her funds. There is a lot of behind the scenes she needs help with. I've been getting a lot of messages accusing me of forcing her to receive help and I just wanted to clarify that the use of "insisted to help her" was because she was embarrassed of us entering her living space to help her pack her things because she said she didn't tidy it up before us coming over. We insisted she let us help her pack her things because it was too much work for someone to do on their own. 

Today I was also sent a Cease & Desist letter from Richard Gebin the Communications and Public Relations Officer from the Salinas City Elementary School District for my use of the photo of the girls which is why I removed it. 

I paused the campaign in an effort to provide clarity and to get her connected with the right people to help her manage her funds. Thank you all for your generous amount of donations and all the love you have shown her and her girls. They are grateful and filled with so much hope for tomorrow and their future which was my ultimate goal.

XO Jackie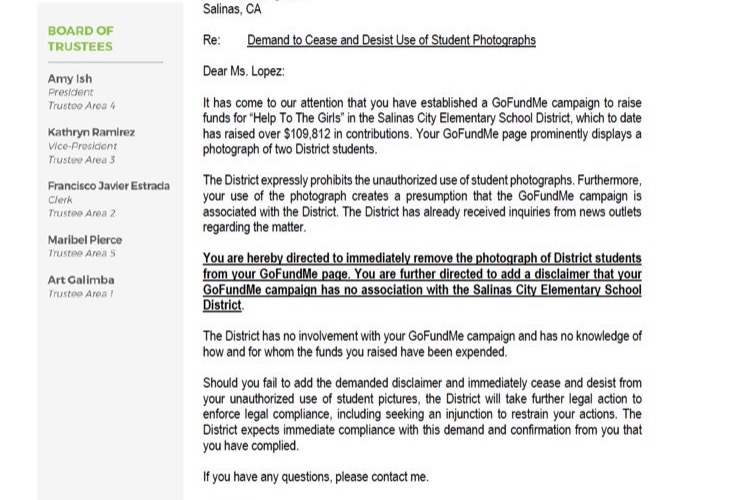 ————————————————————————-

Hello, I am starting this GFM for the girls - the dedicated little girls that didn't want to miss out on learning due to the fact that they didn't have internet access at home so they walked to the Taco Bell near where they were staying at to use the WIFI. Their story touched me so much I made it my mission to find them and with an anonymous tip from a neighbor I was able to locate them.

Juana is a single mom to three smart and outgoing little girls. She is an essential worker that works in the fields picking berries. She is a dedicated mother that works hard to provide for them. On her days off from work she sells flowers on the side of the road. When field work is off-season she walks around Salinas selling ice-cream, snacks and candy. She doesn't take a day off because that is a day she could be making a few dollars to provide for her girls.

Upon meeting them and wanting to know what I can do to help she started to open up to me. I asked her if I could get her girls a desk for distant learning and she mentioned there was no space in their home for that. She then said she shared a small bedroom with her 3 girls in the home she was living in. The same room she was going to be evicted from 3 days later on the 1st of September. I asked her if she already had plans for moving and she said she had no where to go but that she had been eagerly searching to no avail. I then realized that those same little girls that not only needed internet, clothes and school supplies now needed a home too. So I reached out to my followers on Instagram for help and we have been able to provide them with clothes, shoes, school supplies, essentials and food.

Thanks to help from donations and Flor (@flowerinspanish) we were also able to get her a week in a hotel room for her and her girls while we help her search for a more permanent place to live. For now they are safe but they need as much help as they can get. Thank you for helping change their lives. All children deserve a happy place to live and because of their dedication, these little girls deserve a safe space to learn. We appreciate every single one of you for helping making that happen.