Help Feed Special Needs Families
Families with Special Needs are Struggling during the Coronavirus.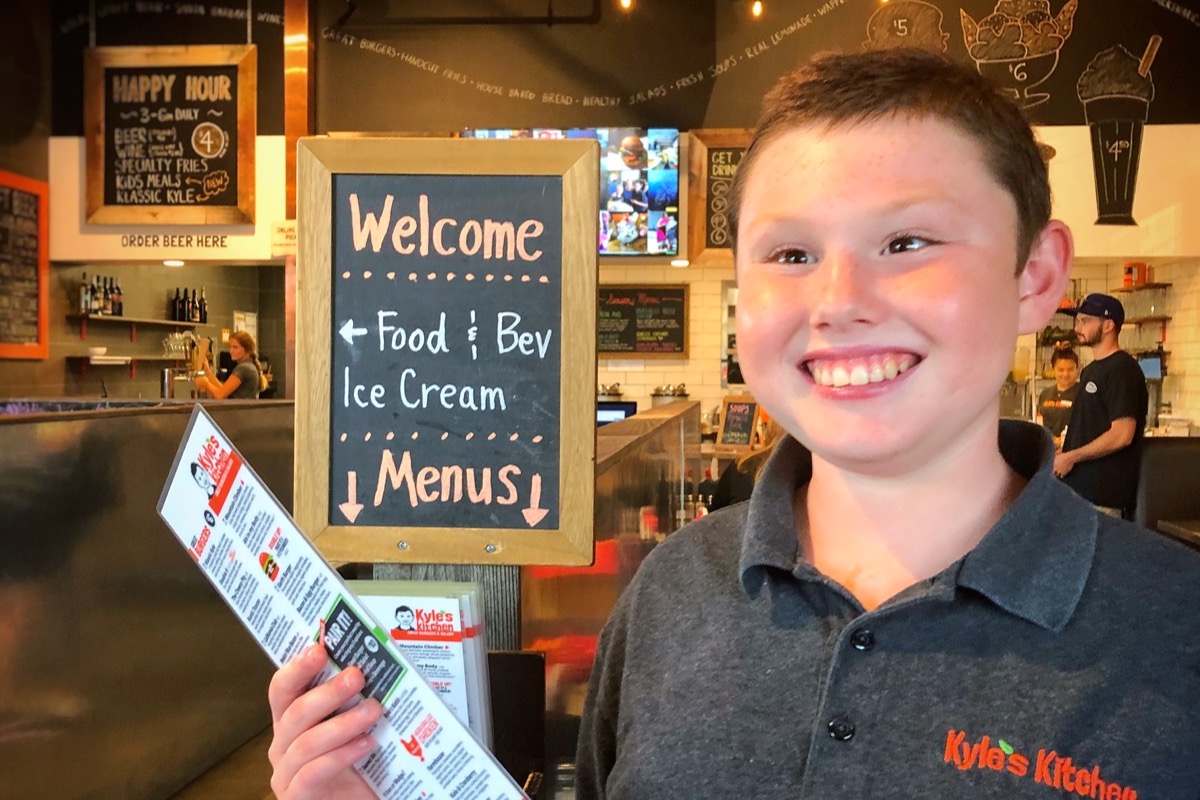 Kyle's Kitchen was inspired by our son Kyle (pictured above) who was born with a brain injury.  Our restaurants have been supporting our local special needs community for years, and
today more than ever, these families need our help!
To kickstart our GoFundMe campaign, our Kyle's Kitchen family will be donating 200 meals to special needs families in our community -  enough food to serve 1,000 people in need!  
And that's a great start, but with thousands more special needs families in our community needing meals, this must just be the beginning.
 So we need your help!
Every $1 donated by you to help #
FeedingKylesFriends
will also be
MATCHED*
by our Kyle's Kitchen Family.   Together, we can 
DOUBLE THE IMPACT!  


We all know someone with special needs.  Their lives are uniquely challenging in normal times. In today's COVID-19 world, families with special needs children around the globe are dealing with a new reality that is creating incredible amounts of stress in the home.
At our home, Kyle has been struggling.  Every family we know with special needs is struggling right now.   Here's why:
- Special needs kids need structure. It's very difficult to provide the same structure at home as they are accustomed to in school.
- Parents aren't all available to help at home (some are still working), and those that are available, often do not have the skills to fill in for their well trained special-ed teacher.
- Most kids and adults with special needs already have compromised immune systems, adding further risk and stress to the situation.
- The financial burden of paying rent, buying food and trying to maintain a home are real and very challenging.
- Finding the time to go shopping and leaving your special needs children at home feels unrealistic.
The added stress created by all these factors is exceptionally difficult on these families.
(Watch the video above from when Kyle was 10 years old and his restaurant had just opened.)
A little background information.
Kyle's Kitchen was inspired by our son Kyle, and our family owned restaurants have been giving back to our local special needs community since 2014 (learn more about Kyle's his story
here
 ).  It's why we do what we do, and our slogan is
EAT GREAT FOOD, HELP GREAT PEOPLE.
Over the past 5+ years, we've partnered with 34 different local special needs organizations, and donated over $150,000 of our profits to these non-profits who focus on helping families with special needs.  They are amazing people who have given their life to helping others with special needs reach their potential.
Now, in the time of most need, Kyle's Kitchen is here to help.  
To start, we are donating 200 Family Meals (enough food to serve 1,000 people) to our local special needs community.  We've recently created a Family Meal Deal that feeds 4-6 people.  Kyle's Kitchen will be donating 200 Family Meals to Special Needs families in our community.  
($37 Family Meal Deal pictured above)
We will be using our existing partnerships with Special Needs organizations to distribute the offers through digital gift cards so families can order online, and pick it up curbside or have it delivered.  A safe "no touch" transaction their whole family will truly appreciate. 
And that's a great start.  But, there are over 15,000 special needs family members in the Goleta & Santa Barbara community that are also in need of meals.
So, we need your help!
For $37 you can feed a family of 4-6 an entire meal from Kyle's Kitchen.  It's healthy comfort food that the family will thoroughly enjoy.  They receive their choice of 4 gourmet burgers made with grass-fed beef, 2 orders of house-made French fries, 1 Large family size salad and 4 warm garlic rolls.  A big meal for a family in need.
But, that's not all.  
For every $1 donated to this campaign, Kyle's Kitchen will
MATCH
* it so it we can
DOUBLE OUR IMPACT.
  So, if you are able to donate $37, you will be feeding 2 families instead of 1.  (*Kyle's Kitchen will match donations up to $10,000.) If we hit our goal of $20,000 raised, we will be able to serve 1,000 special needs families (5,000 family members)!
Which means, at less than $4/meal, everyone wins!
1) Special needs families receive the meals they desperately need.
2) Community members, like yourself can feel good knowing that your donation is being maximized to reach these families.  
3) For Kyle's Kitchen, this helps us re-employ more members of our Kyle's Kitchen Employee Family, whose own families are struggling due to the necessity for broad lay-offs that have had to occur during this coronavirus pandemic.  
Win. Win. Win.
Kyle's Kitchen has the experience, relationships, determination and passion to take on this important project and help special needs families in our community.   
Thank you so much for your consideration and support. 
The Ferro Family
Ember, Deena, Paige, Kyle, Jay & Ava (pictured left to right)
P.S.  Don't forget to follow Kyle's Kitchen on Instagram and Facebook to see how your donation is helping those in need!  
Our special needs families will be taking a picture of themselves with their  meal and posting with the tag #FeedingKylesFriends.

Fundraising team: Kyle's Team (2)