Help Families in Limuru Kenya
Habari!?!
I am a student who is interning at a hospital in Limuru, Kenya. In addition to helping with medical care, I have also visited children in this area.
I hoping to raise some money to give food to these kids, buy supplies for school, and supplies for the women's center. Just a little money goes a long way here, and everything that I will buy with the money is under the supervision of locals, who know the community and their needs. 
These kids are so sweet and have a lot of responsibility to take care of their sibling at very young ages (~5 years old). I know, without a shadow of a doubt, that these kids would absolutely love whatever we could buy for them!
Thank you so much for your help and prayers!
Love from Limuru!
Gabrianne
2/11/20
Today I visited the Women's Centre.
This is a place helps give shelter to women who are victims of sexual abuse. It's very heartbreaking because these girls are so young (12-16 yrs old). Parents would sell the girls for money, some traded sex for food, and others were raped. We hope to empower these women, and ultimately aim to teach these women skills they can use to provide for themselves and their children. I hope to raise money to get supplies to help teach these women these skills, such as sewing.
Love from Limuru,
Gabrianne
2/24/20
Asante Sana!
I can't believe we made our goal!!! I never expected to raise OVER the target amount, and I am so excited. This Thursday, I planning to go back to the tea village and use some of the funds for the children.
Meanwhile, the GoFundMe will remain open. There is so much we could do here, and I am grateful for any more donations! This is so awesome and exciting!
Thank you all so much again!!!
Love from Limuru,
Gabrianne
3/14/20
Thanks again to everyone for donating! I can not explain to you how grateful everyone has been. Together, these were the things we were able to do so far:
1. We fed a village of 70 families for two weeks
2. With the help of the girls at the women's centre, we sewed 150 bags, and filled them with panties, pads, and soap to give to girls in grades 6-8 at a local community school. 
3. We were able to purchase a much needed table for the women's centre (pictures to come!)
4. We donated an iron, ironing board, thread, ribbon, and seam ripper to the women's centre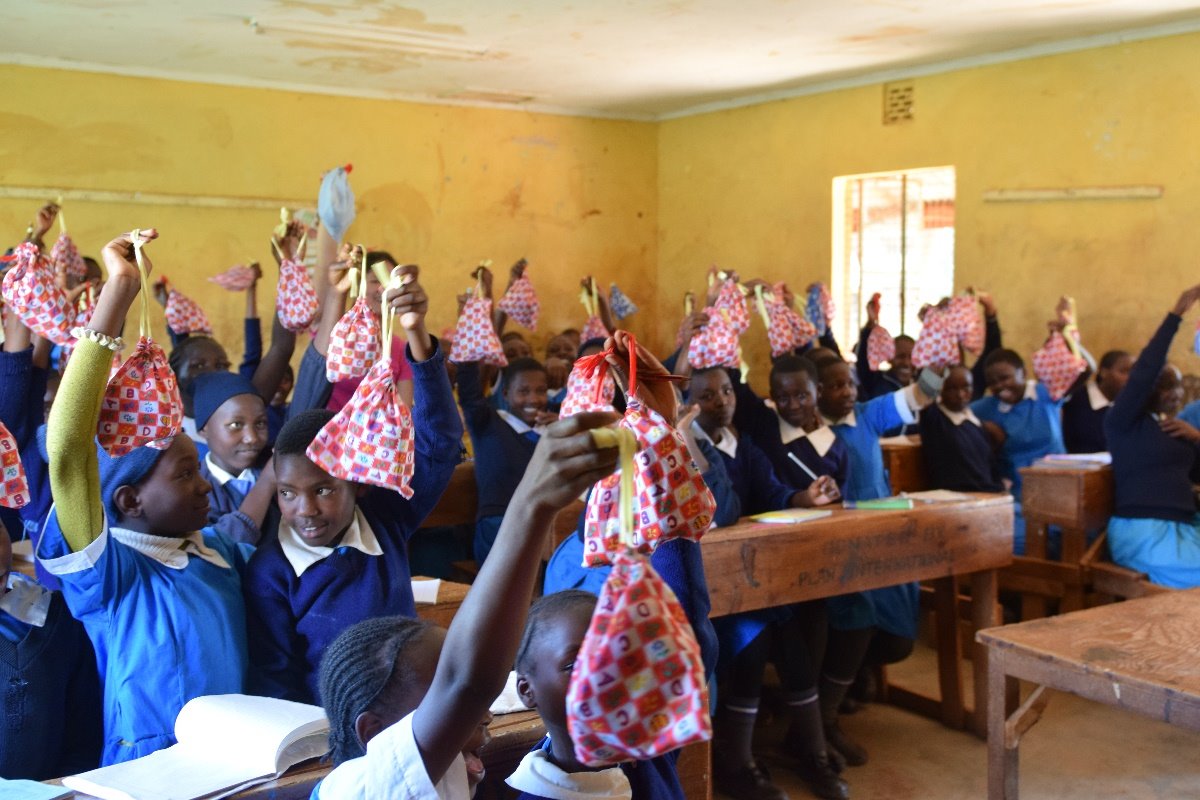 Some of the girls that received the bags:)
Giving food to people in the tea village; not everyone is here, as some were not able to leave the fields.
There was so much more that I had hoped to accomplish with the donations in my time here. However, it seems as though my time to leave is coming earlier than expected because of the travel bans. Fortunately, I still plan to use the money to serve this community. My friend and my supervisor along with the teacher at Hope School are planning to set up a feeding program for the school. Many of the children end up skipping school because they don't have food. This program will help increase the daily attendance of the children. This is what I currently going to do with the funds, however, I will keep you updated as time goes on. There are many unknowns at this time, but what is known is that everyone, myself included, is so grateful for the impact that you all have made on the lives of the people of Limuru.
Kids from Hope School in front of the school!
More pictures to come!
Asante Sana!!!
Love from Limuru,
Gabrianne
https://limurukenya.travel.blog/blog-feed/
Organizer
Gabrianne Ivey
Organizer
Boone, NC